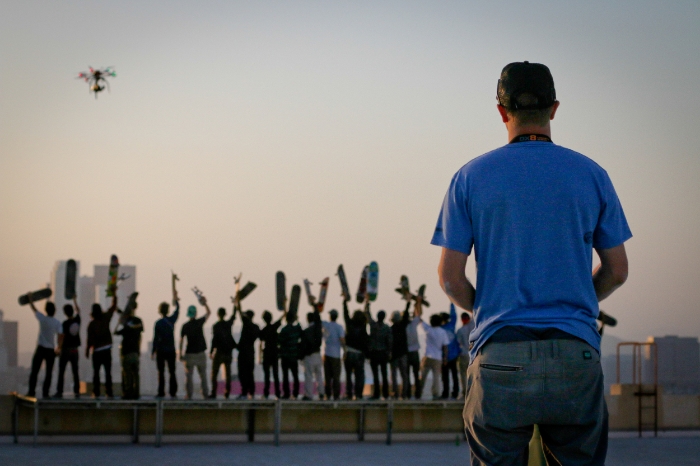 Big Drone For Skateboarding Movie
Posted on Nov 3, 2015 by Alex Fice
Ty Evans testimonial – AERIGON in We Are Blood from Intuitive Aerial on Vimeo.
The Aerigon UAV is still the only drone that allows payloads to carry the bigger digital cinema cameras like Alexas and REDs. Director Ty Evans used the drone in his new skateboard movie We Are Blood.
"With Aerigon the camera was able to follow the skateboarding action and capture shots that would never have been possible before."
Directed by Evans and produced by Brain Farm and Mountain Dew Green Label Films, We Are Blood profiles professional skateboarder Paul Rodriquez and his wide circle of skateboarding comrades. Filmed on locations around the globe, the movie relied on dynamic action shots, captured at different angles and perspectives that bring the audience into the skateboarding experience.
"For the type of filmmaking I want to do, it's important for me to get heavy camera equipment in the air and know it's safe," said Evans. "From the time I first tried the Aerigon three years ago, I was sold on it."
Evans filmed from the ground, on a skateboard, and in the air with helicopters and drones. He filmed at 5K and 6K, mastering in 4K for the UltraHD movie. The Aerigon was used with both RED Epic and RED Dragon cameras, including a Canon Cinema Prime lens.
From the first shot
The filmmakers used the AERIGON on the first day of production, to follow a skateboarder in a concrete drainage ditch, climbing its sides and doing board slides. The Aerigon followed him, wrapping around to see his movement from different vantage points. The pilot that day was Intuitive Aerial's Oscar Ohlson, while Evans operated the Aerigon gimbal.
"It turned out to be the most challenging shot we did and one of the most rewarding shots of the film," Evans said. "At the premiere people were cheering. It was gratifying."
Robert Mcintosh was the pilot for most of the rest of the aerial footage that appears in the film. "This is a more intense, focused version of flying," Mcintosh said. "You never know when you're going to get your shot and the skaters have to repeat their trick over and over till they get it right.
Evans is self-taught and began making skateboard films over 20 years ago. He started out with 16mm and 35mm motion picture cameras before switching to digital cinema. He has directed commercial work where he learned to handle bigger camera systems and larger production shoots. He and Mcintosh met during the filming of his previous movie, Pretty Sweet.