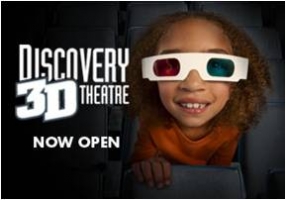 Discovery Networks Signs Its First International 3D Deals With Sky And Virgin Media In The UK
Posted on Jul 28, 2011 by Alex Fice
Both Sky and Virgin Media will be running more 3D programming from DiscoveryDiscovery Networks has signed its first 3D deals outside the US with its biggest UK distribution partners Sky and Virgin Media.
The content deals cover a number of key genres including Natural History, Engineering, Extreme Sports and Crime documentary.  The deal includes several Discovery Networks UK 3D commissions;  3D Safari by Renegade Pictures, a 10×60 series being filmed at Woburn Abbey and Beautiful Freaks with Nick Baker, a 1×60 Natural History special being filmed with Tigress Productions in Namibia.
Under the terms of each deal, some of the 3D content will originate from 3NET, the joint venture between Discovery Communications, Sony Corporation and IMAX Corporation in the US, including High Octane, a 10×60 series about extreme sports produced by Electric Sky Productions.