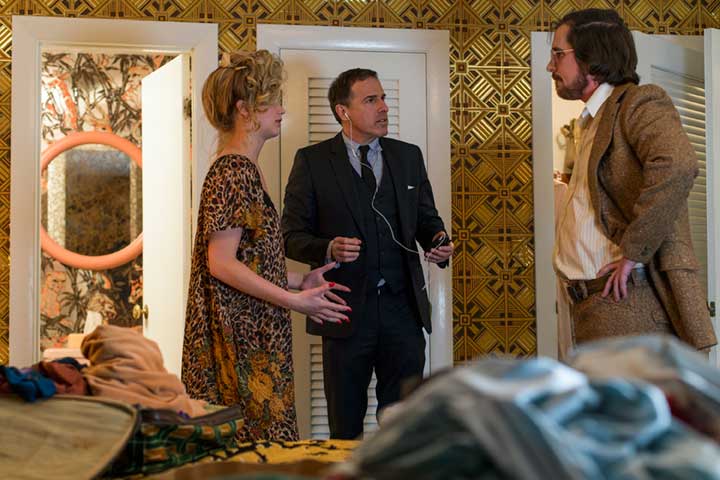 Cutting Through The Hustle
Posted on Jun 10, 2014 by Alex Fice
Director David O. Russell with actors Bradley Cooper and Amy Adams.
Editor Jay Cassidy is a long time film editor and with Director David O. Russell he was on familiar ground with a 2-perf 35mm movie American Hustle. He talks us through the experience of working with one of the most popular Directors working today.
David O. Russell is an old timer as far as cinematography is concerned. He always shoots on film and always shoots 2-perf 35mm because it gives him longer running times. Perhaps someone should tell him that he gets much longer time with digital. But he apparently knows this but uses film becasue he is superstitious. His main editor Jay Cassidy is used to working with him; "He is also superstitious because he did it on The Fighter and on Silver Linings PlayBook so didn't want to change when he got to American Hustle."
But for an editor does a film workflow make any difference to a digital one? As it turns out it doesn't except for the smallest of artefacts. "I grew up with film workflows so it's not that different from digital workflows, they're basically the same when they get to us. You're getting a colour corrected image at 1920 x 1080 with the right codec and so in that sense it makes no difference. In another sense you have to be aware of the artefacts on film that you get and some in digital that you don't get in film."
Talk to one of Hollywood's film guys and it won't be long before they start talking about the demise of the 'F' word. The transition to digital is happening much faster than anybody imagined and there are only a few companies that can turn around dailies like they used to.
Jay Cassidy wouldn't consider using any other editing platform mainly because he is heavily dependent on Avid Script Editing.
"The labs, the people who work in the labs, telecine, they're gone! Technicolor, EFilm and Company 3 who are the big players in Hollywood right now for digital intermediate can do film or digital. Deluxe the lab that owns EFilm is down to a very small crew and you can never get your dailies back on a daily basis like you used to. Most of that infrastructure has now gone."
As for American Hustle, they shot the film in Boston and the Dailies were driven to New York to be processed at Deluxe in New York and then the telecine was done either at the Deluxe facility or Company 3 facility, they are only a few blocks apart. Then they sent the dailies to the edit suite via Aspera to the Company 3 office which is quite close to where the cutting room was in Santa Monica. "So we would get the dailies in the middle of the day – that truly was like the 'old days' dailies but they had crossed the country in doing so. So we were seeing things right as they were being shot and of course we had constant communication with the unit. For instance for the character Irving's hair , there were sometimes distresses in his hair, beard and make-up. All of those normal types things that you have to look for, that's just part of the dailies routine.
"The cameraman is also sending digital files, still files to the colourist in New York and you're making sure that the colour he applies is what the cameraman wanted. That same drill goes for digital, you have to colour correct the dailies before you start working with it.
"We edit the 1920 x 1080 but once the film is finished the locked cut negative is scanned at 4k. In our case we're extracting a very small portion with the 35mm negative and the thought was that you'd simply wanted as many pixels as possible. There were also about 650 visual effects in the movie and so when you start working with them you want the highest resolution that you can manage. So we made a decision right at the beginning to do all of the VFX in 4k and all finishing and colour correction in 4k. I don't regret it at all, some of the little make-up fixes  and things like that would be very hard at 2k.
"All AVID's work they've done with the AMA means that they'll have 4k abilities pretty soon which will mean that the online tools will be Media Composer's. The communications between the online and offline tools will be much, much slicker. Right now that cross platform communication is a little crude. We're always rooting for AVID to come out with new things.
Director David O. Russell with actors Christian Slater and Jennifer Lawrence.
Jay was the first editor on the movie but was soon joined by Crispin Struthers and Alan Baumgarten.
"The fact that you had a very long script, 170 pages was shot and it was shot in short period of time and we had a relatively short period of time to finish it, made it an easy decision to bring others on. David is also a director that likes to pursue different variations so we knew right before we started that we needed a third editor on the crew. You're only one person and there's so much material, if you can bring in people that are good and you trust, you're just in a better position. The schedule was pretty brutal considering that at this time last year (February 2013) nothing had been shot, they didn't start shooting until March 15 and it was in the cinemas by December.
Crispin Struther said the experience was his third time working with director David O. Russell, having worked as an assistant editor on The Fighter and an editor on Silver Linings Playbook.
"For every scene, (Russell) shoots so much more than you're ever going to see," Struthers said. "It's not labourious. It's fun, because we have these amazing performances."
"Part of his style and part of the fun for us," Struthers said, "is we get an idea of what he wants in these scenes because we can hear him directing and making up things on the spot. We can hear him changing the script. "We can see him telling them what he wants them to do. It gives us a great idea of what he's going for in the scene."
Struthers was given up to six hours of uncut footage at a time, which called for difficult cutting decisions. The original version of the movie was nearly three and a half hours long, over an hour longer than the final product.
It's not the cutting that requires the most thought, though. Struthers said the real work was creating characters the audience will love. As an editor, he plays a major role in character development, and the characters in Russell's movies can be difficult to love.
"One of the keys to any of David's movies is humanity," Struthers said. "It's raw and it's real. In The Fighter, you've got a crackhead; in Silver Linings Playbook, you've got a bipolar mental patient; and in American Hustle, you get this con man that screws people over. These are our heroes, and we have to make you like these people. We failed if you don't (relate to) them."
Jay Cassidy had a similar experience with the director: "While he was shooting he didn't really look at any cuts. He looked at dailies to the degree he needed to but hardly everything, but at the same time he finished shooting in May in New York and he was in the cutting room on the next day in LA. When he got back he tended to watch cuts that we'd done and also catch up on dailies that he feels he needs to see at that moment. He doesn't ever watch an assembly, he prefers to work through the scenes a bit so you get something together that he can watch. Instead of a five hour assembly he perhaps is watching a three hour cut the first time. That's a strategy he's evolved and so we certainly accomodate it.
"As far as him being there, he's there a lot and he tends to talk about ideas to execute and then he'll maybe go in to another room with another editor and you execute that and he'll come back. You will also re-watch dailies with him if it's relevant to the moment. He also likes to build alternate versions of scenes and then everyone has their say on what works.
"One producer is on the set with him everyday, John Gordon who has been with him since 1996. He was also in the cutting room from the beginning. As David gets confident with the cut and it comes down to a manageable, screenable event he brings in the other producers to get their reaction .
American Hustle had seven AVID systems on the movie. Three editor systems, two picture assistants, one VFX editor, and one video satellite for the music editor's ProTools. All attached to an Avid ISIS.
The VFX editor was down the hall with the in-house VFX team.  Because they had Avid ISIS, they were able to attached that system through the building's pre-wired ethernet lines. The VFX editor would update the cut every morning with the latest VFX work, they'd review and integrate VFX iterations.
The sound editors were not attached to the ISIS as they were at a different location.   They would turned over AAFs to them for each of the temp dubs, receiving stems back from the re-recording stage.  They would load the stems into their system and carried them on the timeline so they'd always have the most up-to-date mix for editing.
Media Composer 6.5.3 was used and the media was 1920×1080 DNxHD 115 codec. The Media Composers were configured with the Nitris hardware. The film was scanned and conformed by EFilm in Los Angeles.