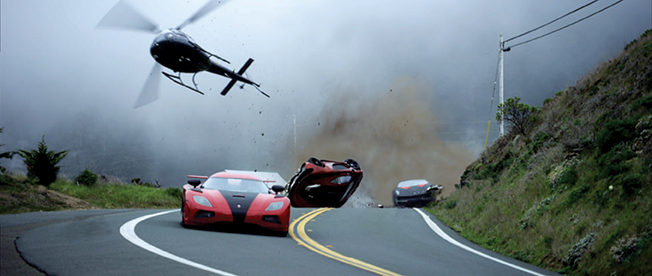 Record And Store For 'Need For Speed'
Posted on Jun 10, 2014 by Alex Fice
From Codex on-set recorders to TerraBlock shared storage enabled a complete rough cut of the movie by the time it had wrapped.
DoP of for Need For Speed Shane Hurlbut knew he was on a high technical mission when the director eschewed heavy VFX for on-set realism. Some sophisticated record and storage tech came to his rescue.
Indie production company Bandito Brothers used Facilis Technology's TerraBlock 24D as an on-set shared storage solution to accelerate 4K post production for director Scott Waugh's Need for Speed which released in cinemas worldwide this month. Produced by DreamWorks Pictures and starring Aaron Paul, the film adaptation of Electronic Arts' series of Need for Speed video games follows street racer Tobey Marshall as he embarks on a cross-country race for revenge against the former business associate responsible for putting him behind bars.
Bandito Brothers Sr. Director of Post Production Lance Holte. "Having an high-performance solution like TerraBlock proved essential on this project, especially for working with 4K RAW footage; it allowed our editors to collaborate more efficiently, and handled everything we threw at it – even when hammering multiple machines with heavy volumes of data, giant file sizes and numerous streams."
To keep post production on schedule, Bandito Brothers stationed editors on-set in various locales across Atlanta, Detroit, Los Angeles and San Francisco, and began cutting the film during shoots. Leveraging files stored on a TerraBlock 24D with 96TB capacity, the post production team completed offline editorial in Avid, conformed files to 4K RAW for online editorial in Adobe Premiere, colour graded the footage using Blackmagic DaVinci Resolve 10 and simultaneously transferred 4K footage to Bandito Brothers' Los Angeles-based VFX facility Cantina Creative. By the time filming had wrapped, Bandito Brothers had a complete rough cut of the film.
Codex Onboard S recorders were used to capture intense racing sequences and other material. Cinematographer Shane Hurlbut ASC deployed eight Codex recorders to support more than 35 cameras that were used to shoot the movie, often under the most extreme conditions.
Hurlbut's camera package included multiple Canon C500s and ARRI Alexas. Prior to the start of production, Hurlbut conducted tests with the cameras and Codex recorders to ensure they could stand up to extreme conditions and deliver the expected results.
"We placed an Onboard S in a car, then drove it around a track at 135mph; it came through with flying colours," said Hurlbut. "Codex recorders are tried and true. They can take the pounding, vibration and speed."
Hurlbut noted that Codex recorders were also essential to recording high-speed media with the C500. "Codex recorders are my go-to device for the Canon C500 – without them you can only capture 1080p. 120fps, 72fps, and 48fps were rolling on every stunt event, and that was for 58 out of the 67-day schedule."