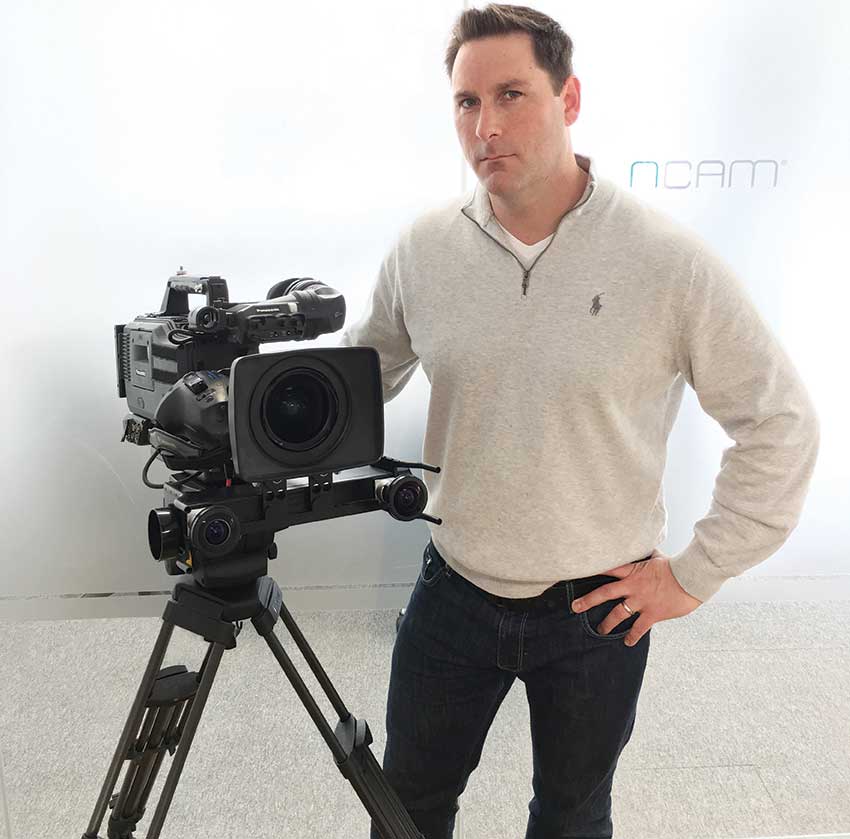 Creative haven
Posted on Jan 23, 2020
Production and post innovator, HARBOR, offers clients a forward-thinking environment, while its award-winning talent pool understands, respects and supports the creative community
---
Partnership feature
HARBOR has been quietly disrupting the old, fragmented approach to filmmaking since Zak Tucker, Joe Gawler and Theo Stanley launched the independent studio in New York in 2012.
Since then, HARBOR has developed a reputation for providing award-winning talent, service excellence, technical innovation and collaborative culture, crafting premium content for the feature film, episodic and advertising industries. Supporting clients with live-action, dailies, and creative and offline editorial to design, visual effects, sound and picture finishing, HARBOR has created a haven for all filmmakers and advertising creatives.
What has consistently set HARBOR apart from its competitors is its ability to bring together all production and post-production disciplines under one roof. The combination of premier talent, state-of-the-art facilities, a unified approach allowing for complete creative control and its 'home away from home' feel, has made HARBOR one of the most innovative and successful post companies in the industry.
Supporting both tent-poles and award-winning independent productions, HARBOR's mission has always been to hand-pick its talent and leadership to offer a unique culture and a humanistic approach.
This philosophy is what keeps filmmakers coming back, and its reputation and reach is now global, with new operations in LA and London.
The Talent
HARBOR's award-winning talent roster is filled with industry veterans and emerging new talent across all craft disciplines, including colour finishing, conform, VFX, CG, animation, sound finishing and creative editorial. All artists on the roster are cross genre, moving between feature films like Once Upon A Time in Hollywood and Toyota-branded content seamlessly. HARBOR stands to inspire the artists on its roster, while also invigorating the creativity of its clients.
Below (left to right) Adrian Seery, senior colourist, Sheila Lobo, producer of picture post and Elodie Ichter, senior colourist
In colour, veterans Joe Gawler and Yvan Lucas lead the team for long form and Adrian Seery leads for commercial advertising. The team boasts more than 400 credits including Arrival, Once Upon A Time in Hollywood, The Irishman and Solo: A Star Wars Story. New talents include Elodie Ichter, Katie Jordan and Billy Hobson, as well as Roman Hankewycz whose work can be seen in the film, Midsommar.
HARBOR exists to elevate the art, science and creative experience of moving image making
The sound team includes award-winning artists Rob Fernandez, Josh Berger, Tony Volante, Robert Hein, Dave Paterson, Glen Payne and Damian Volpe, formerly of Sound One, who joined HARBOR in 2013 to build its sound operation. In ADR, award-winning mixer, Bobby Johanson, joined in 2014, completing the sound offering. Since then, the sound department has built the largest IMAX Dolby Atmos stage in New York, and partnered with Dolby on many initiatives to support Dolby Atmos. The artists have been recognised for their sound achievements on titles including Bessie, Mudbound, Master of None Series 2, and Fosse/Verdon.
Above Zak Tucker, founder, CEO and president, HARBOR
Paul O'Shea, formerly of MPC Los Angeles, heads up the visual effects teams, with lead CG artist Yuichiro "Yama" Yamashita for 3D, and 2D creative director Q Choi. The VFX artists' brand clients include Nike, McDonald's, Coke, Adidas, Samsung, Amazon, Volvo, Enterprise, Facebook, Dolby and Red Bull to name a few.
HARBOR's talent roster for commercials includes veteran editors Bruce Ashley and Paul Kelly, VFX supervisor Andrew Granelli, colourist Adrian Seery, and sound mixers Mark Turrigiano and Steve Perski.
Access to HARBOR's impressive talent roster is mobile, supporting filmmakers seamlessly, across the globe, throughout the lifetime of their projects.
Above Editorial suite at HARBOR
The Leadership
HARBOR is led by co-founder and CEO, Zak Tucker. For more than 20 years, he has been strategically disrupting to create one of the first end-to-end, cross-genre independent production studios of its kind.
Zak started as an editor for commercials and documentaries, soon progressing to directing. He launched Swete Post in 2000 and HARBOR in 2012. From a staff of four and a footprint of 400 square feet, Zak built HARBOR into a staff of 130 and more than 80,000 square feet in three global production centres in LA, NY, UK.
Above HARBOR Atmos mix stage in Soho, New York
HARBOR LA is based out of Santa Monica and is led by HARBOR veteran executive producer, Darrell Smith, VP Picture Post west coast, Marcus Alexander, and EVP of Sales Features & Episodic, Russ Robertson. Russ decided to join HARBOR after a 20-year career with Deluxe and Panavision.
"I am so happy to continue my career with a company that has a singular vision," says Robertson. "HARBOR has redefined how post-production services should be offered and is constantly growing. We can now offer our world-leading creative talent in three of the largest production centres in the world."
Spearheading the UK, James Corless, commercial director, and Thom Berryman, operations director, joined HARBOR earlier this year, following distinguished careers with Pinewood Studios.
Above Vice President of picture post, Marcus Alexander, and senior colourist head of dailies, Darren Rae
The Technical
HARBOR has created bricks and mortar in the most prominent production hubs: New York, Los Angeles and the UK. "HARBOR's mission to provide bespoke craft artistry at scale led us to expand from New York to LA and London, so we can support filmmakers wherever they need us across the globe," says CEO, Zak Tucker.
The New York campus is home to live action, dailies, creative and offline editorial, design, animation, VFX, conform, sound and picture finishing, offering filmmakers the opportunity to collaborate seamlessly with post-production artists at the onset of production.
The LA post-production studio reflects the quality of its talent. It has all your mod-cons, including an open, airy kitchen and lounge, plus five grading theatres for feature film, episodic and commercial productions, offering private connectivity to HARBOR NY and HARBOR UK, with real-time colour-grading sessions, VFX reviews and options to conform and final delivery in any location.
Completing the footprint, HARBOR's new UK operations, based out of London and Windsor, offers in-lab and near-set dailies services, along with its VFX pulls and delivery system, ANCHOR.
Support, flexibility and innovation are watchwords in the HARBOR mission as it deploys a fleet of editorial and mobile dailies systems globally. The company can support projects editing near-set or production bases, as well as providing on-site install and support, and implementation of content security requirements.
The Future
"The sheer scale of demand for premium content creation is mandating really intuitive automation for appropriate post-production processes" explains Tucker. "There are literally not enough people and expertise to achieve it all at a high level and meet the turnaround if you don't automate, but our future will see an approach coupling automation with high-touch human QC, intervention and customisation. Not everything will be a cookie cutter result. The main thing we do in post is the enhancement of the vision of the filmmakers and we're working relentlessly to put options at their fingertips.
Above HARBOR'S head of studio services, Michelle Kaczor, and digital lab manager, Andrew Minogue
"The traditional model isn't going to drop off a cliff, there's too much at stake for everyone to throw out what we've already done, but we're looking at how to customise the combination of the traditional model with a non-linear model so that we can address the filmmakers' needs."
We see creative possibilities arise that wouldn't have in a linear traditional process. That's what sets HARBOR apart
Post companies are increasingly moving upstream, getting involved in pre-vis, near-set dailies, near-set editorial and even taking on budget consultancy roles at the script writing and line producing stages.
"For HARBOR, one of the most intriguing innovations is around facilitating less linear post-production workflows where filmmakers have more interaction with all their post teams and divisions, from dailies and editorial to VFX, colour and sound," explains Tucker. "They are then more easily able to iterate with a real-time feedback loop so creative options are maximised. A good example of this would be final colour correcting as soon as there's a rough cut, rather than waiting until picture lock. This way, the editors and directors work with final colour updating at their Avid along the way so the guide track actually reflects what the final show is going to look like."
One area Tucker highlights is VFX pulls and retrieval automations, which especially applies on larger VFX features and episodics and it's something HARBOR has heavily invested in. "To automate the delivery back to the post house from the VFX vendors and the offline suites, maintains colour pipelines and metadata integrity so you can iterate the reiterate and deliver on time. Auto-conforming and auto-updating on offline suites along with exposing the pull system means our clients can then do 24/7 pulls and retrieval, only requiring human intervention for QC, troubleshooting and customisation," explains Tucker. "Time and again, we see creative possibilities arise that wouldn't have in a truly siloed, linear traditional process. That's what sets HARBOR apart from the competition."
Above HARBOR GRAND IMAX Dolby Atmos mix stage in Soho, New York
The creative approach
HARBOR's big idea has always been to ease the creative process for filmmakers as much as possible, enabling them to work in a non-linearly fashion like never before. Allowing artists to push the envelope, while protecting the creative vision of the filmmakers, was at the genesis of HARBOR's formation and that philosophy remains and flourishes.
Discover what Harbor – an inspiring, innovative and secure space – can do for your creative productions today.
For more information, please visit the HARBOR website.