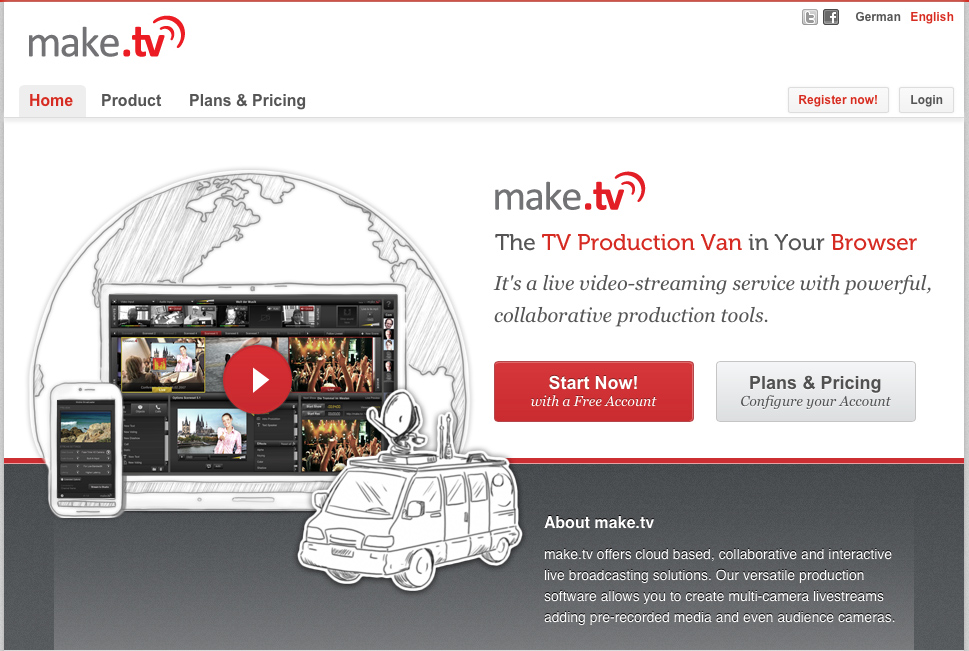 Cloud-Based Live TV Production Company make.tv Welcome LiveU's HD Video Feeds
Posted on Dec 3, 2013 by Alex Fice
Described as a 'TV Production Van is your browser' is make.tv, one of the first companies to offer cloud-based production studio technology. Using a web based interface they promise to run a production suite with collaboration and interactivity with multi-camera streams and the ability to add pre-recorded streams. So like a normal physical live production environment but on the Internet.
LiveU, who specialise in portable live video-over-cellular solutions, have announced a partnership with make.tv that will see the integration of the two technologies to provide end users with direct access to LiveU feeds as part of the make.tv production technology.
LiveU's live HD video feeds will be transmitted directly to the make.tv Studio where the stream can then be mixed with other incoming live streams and added to with built-in designs, effects, interactive functionalities and uploaded media. The final live stream (or "line cut") can be broadcast live to any RTMP-capable streaming server or destination, for example YouTube Live, Ustream or CDNs, including Akamai or Limelight.
Ronen Artman, VP of Marketing, LiveU, said, "For mobile and remote production, cloud-based solutions, using a well-designed and integrated GUI, provide a new level of flexibility for innovative users. By fully integrating our technology, make.TV will be able to provide, cost-effectively, an even greater experience for viewers, bringing the world closer to home. Not only does LiveU's technology – be that backpack, belt-clip, smartphone-app or software-based – provide tremendous mobility and flexibility but the studio can now be operated from a laptop at any location with an Internet connection."
make.tv CEO, Andreas Jacobi, said, "The technology can be used for any live, breaking news or sports event where multiple cameras are in use. It's also an ideal solution when contributions are coming in from multiple locations with reporters and editors also in different locations. We have harnessed the power of the cloud to create this integrated solution."