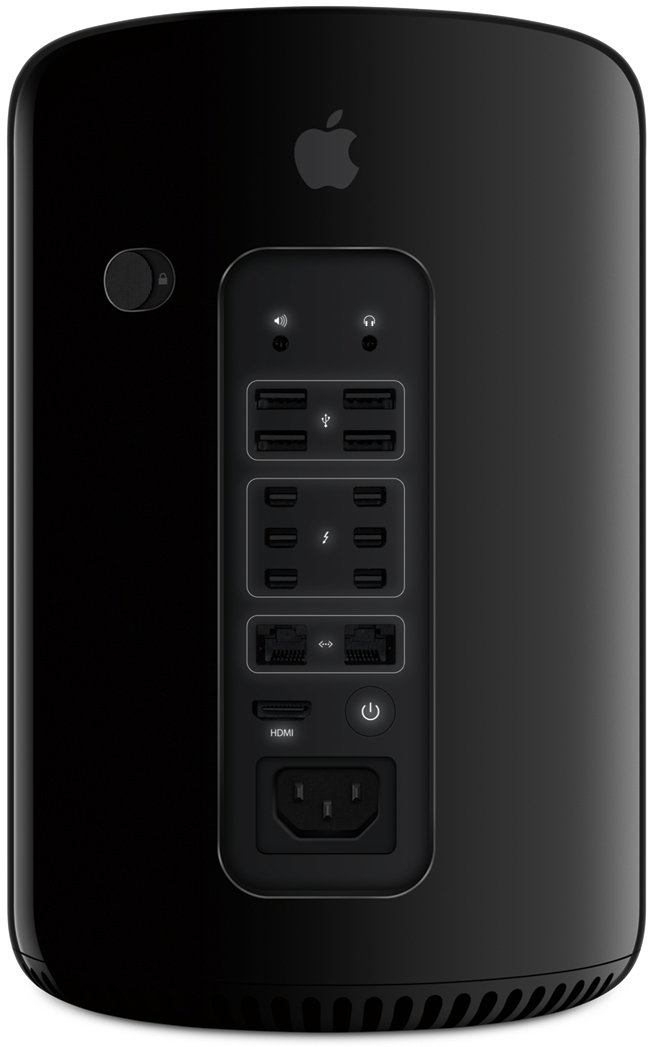 Choosing Between The Odd Couple
Posted on Nov 22, 2013 by Alex Fice
Style-wise, light years apart, the HP Z820 is 17.5 inches high with the new Apple Mac Pro only 9.9 inches high and not fitting our traditional image of a desktop computer at all. But is it style over substance?
HP is approaching the professional video market with enhanced products across their entire line. Apple is approaching it with one product that looks like it has just landed from the future. Which one is more likely to succeed?
'When the cat is away, the mice will play', well it makes sense if you see the cat as Apple and the mice as companies like HP and Dell. Apple has arguably been absent from the pro side of video hardware for a couple of years and this year's Mac Pro launch has created more questions than answers from a heavy-hearted user base.
HP can hardly be aligned to the size of a mouse, they make some beautiful workstations and have now made them even better.
At a Conference in New York in September, the 'M' word (Mac) was whispered a few times by the HP hierachy but everyone knew who they were aiming these new products at. They were keen to say that they weren't giving up the pro market, the insinuation was that Apple were.
So what are these new products? The mobile products, Z Books, are perhaps more innovative than the uprated workstations. There are three of them, an UltraBook 14inch, a 15inch and a 17inch. The 15 and 17inch Z Books have Thunderbolt 2 included and some generous expansion options. There is also the choice of having DreamColor, HP's colour controlled protocol as part of the set-up which promises consistent colour through to distribution and final screening. The new products are thinner than before and perhaps most importantly lighter.
Inside are fourth generation Intel Haswell dual- and quad core processors and new graphics tech from NVIDIA and AMD, including the newly announced Keplar-based products from NVIDIA.
The Z Book 14inch also comes with the option of a touch-enabled panel. The 15inch has an option for 3,200 x 1,800 pixels display.
The Z Workstations have also had a major upgrade which concentrated on faster CPUs, faster memory and the introduction of Thunderbolt 2 across the entire range. The HP Z 420, 620 and 820 have all been updated to include the latest Intel Xeon E5-1600v2 and E5-2600v2 families of processors, also called Ivy Bridge, as well as new memory running 16 percent faster .
The Thunderbolt ports are second generation which promise to increase data transfer up to four times faster than USB 3 and with the ability to connect multiple devices.
Looking at the details from the top down, you have the top of the line Z820 workstation which now offers up to 24 cores (48 with Hyperthreading), up to 512GB of memory, up to 15TB of storage and up to two NVIDIA K6000 graphic processors.
The Z620 offers up to 24 discreet processing cores, up to 192 GB of memory, up to 12TB of storage and one NVIDIA K6000s or two K5000 display processors.
The Z420 includes up to eight processing cores using the latest Intel processors. 64GB of memory and up to 12 TB of storage. Graphics is handled by NVIDIA K6000 or AMD W7000 or dual NVIDIA K2000 cards.
There are also new Z displays including Z27i and Z30i IPS products, the 30 inch display being the 10-bit one which also offer near 100 percent Adobe RGB colour space. Power savings are down 37 percent across the board and are ENERGY STAR rated.
HP v Apple
So the question is are the new products from HP good and sexy enough to entice hardened Mac users? Well yes and no, there is now a price on the new Mac Pro but the system is closed to certain degree with a lack of expansion. But diehard Mac fans love the futuristic look and perhaps ignore the fact that essentially these are throwaway computers as you can't replace any of the parts.
HP are making a huge statement with their new products and especially with the inclusion of Thunderbolt across the whole range, except for the UltraBook. Apple were there first with the new transfer medium but HP are aligning themselves with media professionals to show how the Z Books and Z workstations can work together to deal with the increased amount of data coming out of digital capture.
Mac Pro IO includes six Thunderbolt 2 ports all able to daisy chain six peripherals – that's a lot of cabling.
Ex-Mac users are also saying how Windows 7 is good enough for them even though they might lovingly remember the Mac interface. One VFX supervisor, Mark Russell, who is working on the movie Wolf Of Wall Street, says that he only uses his Mac for Emails now. (He admitted later that this statement was more of a soundbite than reality).
The HP Z Books 15 and 17 are available now and the 14inch this year. The newly uprated Z workstations again are available also available now at $1,399 for the Z420, $1,689 for the Z620 and $2,439 for the Z820. But these are all starting prices and customisation is key to getting what you need.
But perhaps the biggest single step towards a higher resolution future for visual media is Intel's. Their Thunderbolt 2 technology is now appearing on new Workstations like the HP new range of workstations and Z books. The specification is a doubling of what we had before, and before was quite fast! The second iteration offers a 20 Gbps bandwidth which put quite simply lets you deal with 4k video, most new storage devices will let you capture video at 1500Mb/s once a Thunderbolt 2 controller is installed.
Mac Pro
We asked some post production professionals last year what they would want from a new Mac Pro. Most of them just wanted a new one, very soon! But it was  Roy Trosh from The Mill in London who thought an unexpandable unit would be a step backwards: "…that would be a pain in the arse to get all your peripherals all 'Thunderbolted' in to a box. It would make the installation really messy for a place like us. We would much rather have a single box where we could plug our video cables in like you can with a Flame really. For the high end we are buying HPs."
There's no doubt Apple are taking a chance with their new Mac Pro. It obviously ticks all the boxes as far as design is concerned but is locked in to what it ships with. Configure-to-order options only include faster 8-core or 12-core Intel Xeon E5 processors, AMD FirePro D700 GPUs with 6GB of VRAM, up to 64GB of memory, and up to 1TB of PCIe-based flash storage.
AMD On The Rise
The guys on the AMD stand at the recent IBC Convention were trying to suppress their smiles as they knew that the all new Mac Pro was soon to be unleashed on the professional Mac community with their chipset inside it. They had asked Apple for at least a mock-up for their IBC stand but no luck.But other things are also going AMD's way with the integration of their FirePro cards and OPEN CL into some heavyweight post production platforms. Adobe, Autodesk, Blackmagic Design, Dell, Fusion-io, and Supermicro, a PC maker, were all on their stand, Premiere Pro and DaVinci Resolve on demo to showcase video production workflows with a variety of 4K sources using AMD FirePro.They were challenging visitors to see if they could 'hang' the software, especially Resolve which was running on a SuperMicro with three FirePro cards. Open CL allows the card driving the monitors to share GPU power with the other cards. Suffice to say the demo was impressive, Green = no rendering all the way. In fact this was the first public showing of real-time 4K colour correction with Blackmagic DaVinci Resolve 10 and Supermicro with multiple GPU support; the first implementation of edge blending, image warping, and colour correction with Scalable Display solution based on AMD FirePro DOPP (Display Output Post-Processing) feature. Other firsts include new Dell mobile workstation lineup with AMD FirePro graphics, 2D / 3D video effects and post production using OpenCL in Adobe Premiere Pro CC. Also on show was an integrated stereo camera within Autodesk 3ds Max with support for Active Stereo; OpenCL-accelerated Bullet Physics extension for Autodesk Maya 2014.