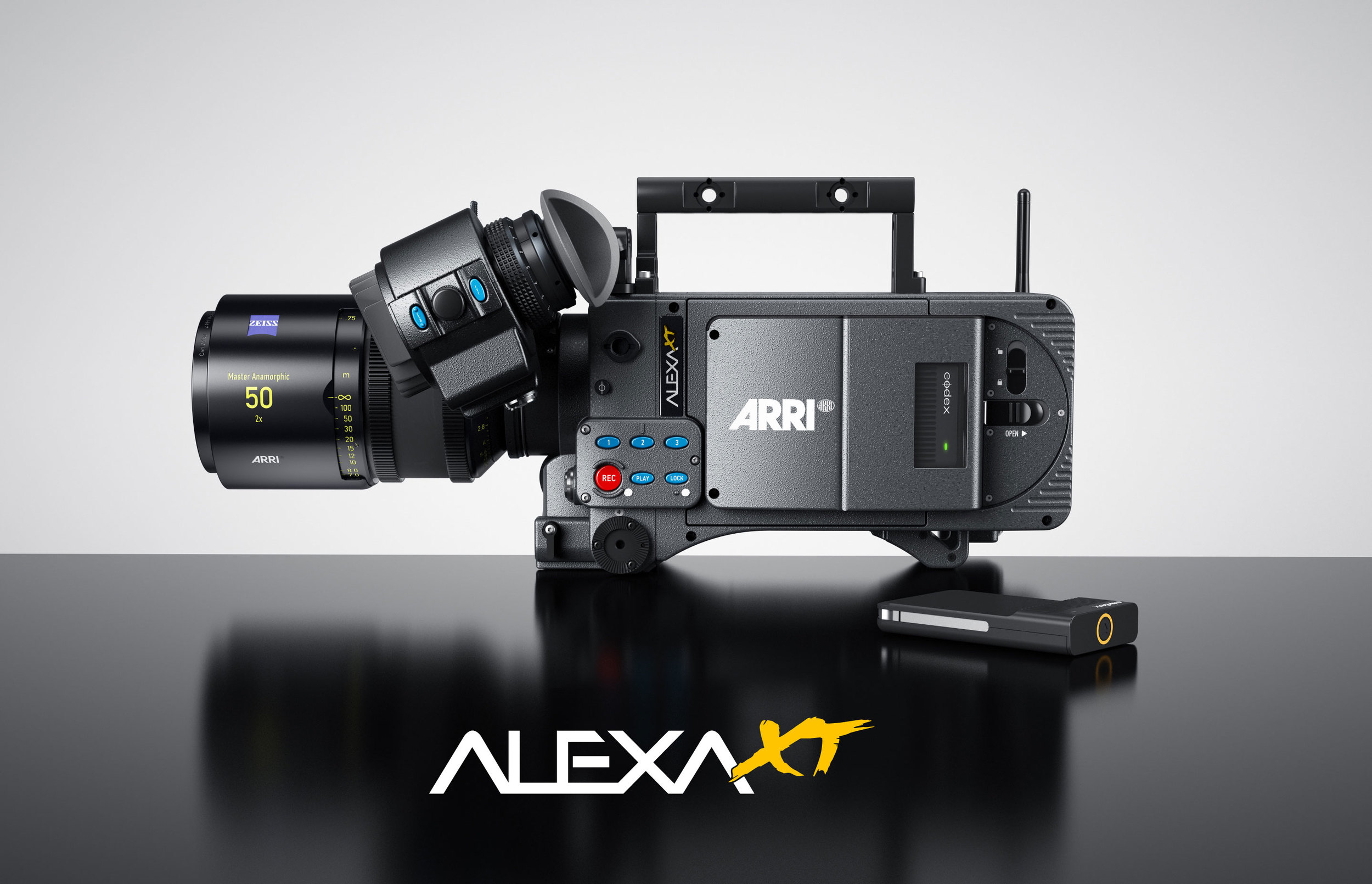 Arri Releases 9th Software Upgrade For Their Alexa Cameras
Posted on Dec 2, 2013 by Alex Fice
ALEXA XT now with Arri's 9th software update.
Arri are gifting even more features to their ALEXA camera range with the release of 'SUP 9.0' Software Update Packet 9.0 for ARRI ALEXA XT cameras and ALEXA Classic cameras. One of the headline features is with the XR Module Upgrade, DNxHD becomes available in 444 colour space for cameras with a DNxHD license.
DNxHD 444 supports Log C, a cornerstone of the ALEXA system's approach to high quality image acquisition. DNxHD 444 recording will be of great interest to the many corporations and production companies that work with MXF files and the SMPTE-standardised DNxHD codec, which offers high quality at low bandwidths.
With an absence of subsampling or averaging of chroma information, the 10 bit 4:4:4 RGB codec provides an basis for creative grading, colour keying and multi-generational finishing and mastering.
DNxHD 444 clips can be recorded at up to 30 fps on 32 GB SxS Pro cards and up to 60 fps on 64GB SxS Pro cards, CFast 2.0 cards or XR Capture Drives.
Other new features include improved ProRes Recording. ARRI has increased the maximum frame rate of the highest quality ProRes codec (ProRes 4444) to 120 fps in 16:9 HD mode. This requires ALEXA XT cameras or ALEXA Classic cameras with the XR Module upgrade and the use of XR Capture Drives or CFast 2.0 cards. It is now possible to keep shooting ProRes 4444, no matter what the frame rate.
In response to requests from nature documentary cinematographers, ARRI has developed ProRes pre-recording for all ALEXA cameras. When pre-record is enabled and the REC button is pushed for the first time, the camera continuously captures images, audio and metadata into a temporary ring buffer. When the REC button is pushed a second time, the camera keeps everything in the buffer and continues to record from there, making it possible to capture unpredictable events.
With SUP 9.0, ALEXA features the ability to detect an incomplete metadata file, as can be caused by a sudden power loss, compare it with the recorded frames and reconstruct it, allowing the media to be used again.
Also support for the Cooke /i protocol as part of the ARRI Lens Data System (LDS), already present in ALEXA XT/XR cameras, will now be extended to ALEXA Classic cameras with a PL-LDS mount. Being able to recognise the ARRI LDS, as well as the Cooke /i system, allows ALEXA to read and record lens metadata from all lenses with built-in encoders for more efficient working on the set and speedier VFX in post.