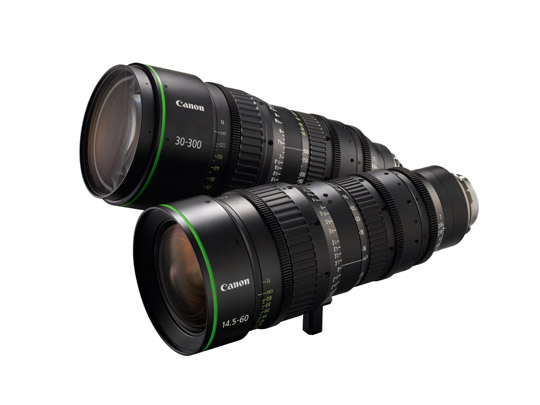 Canon's New Cine Zooms Look To Eliminate Focus Breathing
Posted on Jul 26, 2011 by Alex Fice
Canon claim a virtually non existence of focus breathing with these new zoomsBased on a new optical design platform, these two new precision-matched wide angle and telephoto cine zoom lenses from Canon feature what they call 'multiple imaging enhancements'.
The official explanation is "The Canon FK14.5-60 wide angle cine zoom and the Canon FK30-300 telephoto cine zoom incorporate Canon optical designs that simultaneously optimise and enhance multiple imaging qualities while minimising optical aberrations and distortions."
Both lenses are also potentially more compact and lightweight than other contemporary PL-mount lenses and feature a totally new optical design that Canon claim virtually eliminates focus breathing.
The new FK14.5-60 wide angle cine zoom lens and FK30-300 telephoto cine zoom lens are both engraved with large, highly visible zoom, iris and focus scales for film-style operation. Both also have a common 136mm front diameter for use with industry-standard accessories. The location, diameter, and rotation angle of the lens gears are also identical, which makes it easier to change lenses on set.
The wide-angle FK14.5-60 maintains its T2.6 maximum aperture over the entire focal range, and with the virtual absence of focus breathing offers new freedom in exploring original picture creation. The lens preserves a high MTF (modulation transfer function) at wide-open apertures, shows well-controlled light distribution across the image plane, and greatly reduces ghosting and veiling glare from strong light sources.
The focal ranges offered by the new wide-angle FK14.5-60 and telephoto FK30-300 cine zoom lenses have been designed to meet the needs of modern HDTV programme production. The short depth of field, high sensitivity, high contrast ratio and picture sharpness of both lenses give producers of TV movies, drama series, commercials and music videos the necessary creative imaging flexibility.
Both lenses are equipped with precision back-focus adjustments to make lens/camera set-up quicker and easier, which is especially useful in multi-camera TV production environments. In addition, both lenses provide good control over geometric distortion. This helps prevent visible anomalies when shooting at extreme wide angles on large studio sets that contain extended straight edges.