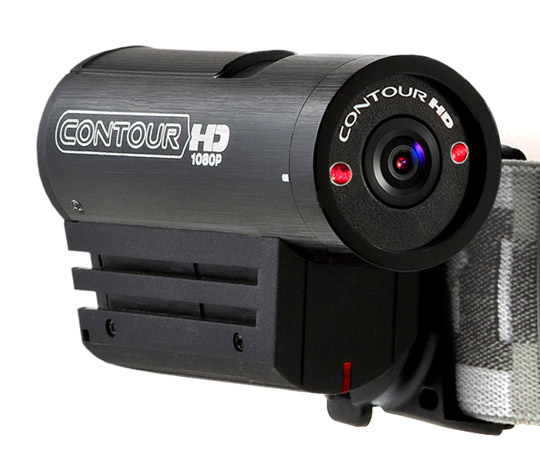 Small Format Camcorders Challenge GoPro
Posted on Jul 26, 2011 by Alex Fice
The cigar shaped Replay HDThe very small HD camera market just got interesting with the release of the Replay XD1080 camera. The all important measurements are 28 mm in diameter x 93 mm length with a 27 mm mounting diameter. Weight is 85g including battery and MicroSD card. The cameras can use cards up to 32GB, 1 GB is 30 minutes. You do get a 4GB card included with the camera.
A market which has been dominated by GoPro products in the last year now has another player and one that has watched GoPro flourish and perhaps learnt from its mistakes. The initial feeling is that it's cigar shape is easier to work with than the GoPro in a hard plastic square case, especially for providing 3D in very small places.
The XD is water resistant not proof and is engineered from aluminium. Replay's marketing mentions aerospace and military spec for the body, whose military we're not sure. There is a 'vibration feedback LED light' which I suppose tells you when it's too bumpy to shoot,  but perhaps you wouldn't be looking at it when you're flying down a ravine!
Specs are similar to GoPro, H.264 file format and resolutions of 1080/30p downwards. There is going to be an audio line-in available very soon via an adapter. Streaming HDMI and import to iPad catches the eye. Also the field of view is good at 135˚ although the 1080 resolution is negated.
The lens is a 6-element f3.1 wide angle type with an optional pro lens adapter and filter kit, made by Replay presumably. Changing modes on the GoPro can be tricky especially if you're pushing through the plastic case, Replay claim their mode changing is a cinch, a quote from their marketing "There's no need to count button presses or reset your settings each time you use the Replay XD1080." You do that with the GoPro.
The cost of the XD1080 camera alone is USD$299 but of course you will need some mounts which range from about $15 to a suction cup mount at $79.  The proof of the XD1080 is how it resolves the resolution with such a small lens, but the form factor is a winner.
The Rollei 'Bullet' camA little digging has thrown up a couple of other pretenders to the GoPro crown. One is a product called Contour HD and another is the Rollei bullet. On the face of it the specs for these tiny camcorders are very similar and might even be the same basic camera underneath. So it becomes the form factor that differentiates the products (that and the marketing) and up until now GoPro has won through mainly because it was first to market.
But look at Rollei's Bullet cam (left). Like the ReplayHD you have a fully encased in aluminum product but this time only a 720p resolution at 30fps. FOV is good at 170˚ with a f2.8 aperture and footage is recorded on MicroSD media. Battery life for video is only two hours and codec is AVI file format.
Compared to the great looking Bullet the Contour HD seems old fashioned and a version 1 product, although you do get the full 1080p at 30fps and 60fps at 720p. FOV is down at 135˚ but only at 720p and recording is again to MicroSD although file format is the usual H.264 – because of experience with DSLRs most people now know what to do with that – change it!
Audio abilities aren't hugely pushed by either manufacturer mainly because most people who use these cameras place a hard rocking soundtrack on top of the death defying footage they shoot.
Mounting the cameras are the key and both have the usual different designs for where you want to do this.
Whether they convert in to the professional market is to be decided by that market but these new form factors seem to be a real improvement to GoPro.
www.contour.com   www.rollei-bullet.com
The Contour HD Cam