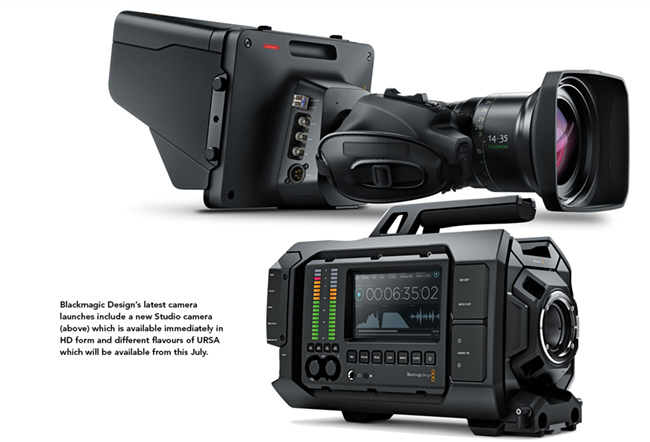 Blackmagic Design Studio HD Camera Available Now For Under $2,000
Posted on Apr 25, 2014 by Alex Fice
Blackmagic's URSA and new readily available Studio camera.
Blackmagic Design did their usual thing at NAB and launched a new camera. Two in fact. URSA and their STUDIO camera.
The thinking is that they needed to design a professional full sized camera that had all the extra on set equipment built into it, so there was no need to rig it up as much. They also wanted a camera with enough size to fit a very powerful cooling system so we could run high frame rates without fan noise.
The result is URSA, their new camera for professional shoots. It features a machined aluminum design that's been designed for large film crews. They designed the camera to be divided into separate DOP, camera assistant and audio engineer workstation areas so multiple crew can work around it at the same time.
The DOP station features a 10 inch fold out on set monitor and separate 5 inch screen for settings, camera status and scopes. The camera assist station features a separate LCD screen for camera settings, status and scopes and the audio station features audio meters, controls and audio connections.
URSA also includes an upgradable Super 35 4K image sensor with global shutter, 12G-SDI connections, XLR audio inputs with phantom power and dual CFast based RAW and ProRes recorders. There is a total of 3 LCDs built into this camera.
The camera is user upgradable. What this means is the whole sensor and lens mount simply unbolts from the front using four bolts and then it can be removed and replaced. So in the future when new sensors are available you can upgrade simply by swapping the sensor and lens mount assembly.
URSA is available initially in three models. One includes EF lens mount and one has a PL lens mount. An example of how you can upgrade the camera would be if you ordered the EF one, you could later purchase the PL lens mount and install it yourself.
Blackmagic Studio Camera
This new camera features a very large and bright 10" viewfinder, built in 4 hour battery, talkback, tally indicators, balanced XLR phantom powered microphone connections and built in optical fiber and SDI connections that let you connect to a live production switcher with a single cable.
There are two models of this camera and the Blackmagic Studio Camera is a HD model that operates up to 1080p60 and is available now for $1,995 while the Blackmagic Studio Camera 4K updates up to Ultra HD 2160p60 with 12G-SDI and will be available in July for $2,995.