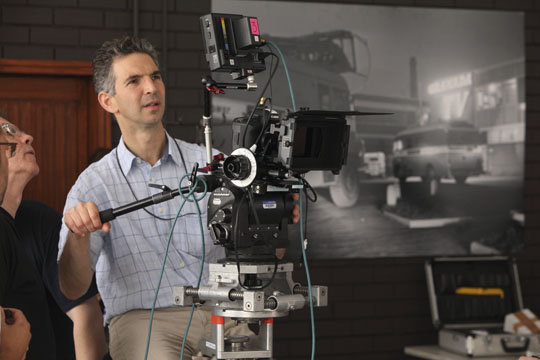 BBC Approve Video DSLRs On a Case By Case Basis
Posted on Sep 2, 2010 by Alex Fice
DP Tim Palmer with the Canon 5D Mk2 rig shooting the BBC's Road To Coronation StreetThe rise of the video DSLR is concurrent with the world's acceptance of a certain amount of compression, for compression you can read 'effected'. I know some audiophiles who can't listen to mp3s because they can hear the compression and I know some videophiles who see the shortcomings in the compression of video DSLRs and hope that the madness of shooting with them will stop as soon as possible.
DSLRs are great for music promos and have had some success in independent films and one was even used in an episode of House in the US when an extreme depth of field was needed – that particular use had the fans jumping.
But surely television drama is a step too far for these compromised consumer products? You would have thought so but as director of photography Tim Palmer explains even at the home of the harshest critics of cameras and formats there was room for another compromise.
"When I first met the Director Charles Sturridge, we had been thinking about the same thing without having discussed it. We both co-incidentially been thinking about the 5D, I've done a lot of work on it this year and had just done a commercial with it as a narrative drama piece and the camera worked very well indeed.
"Going in to the meeting for this drama I knew it was very low budget, it was BBC4 so they wouldn't have any money for anything but at the same time it was a period film and they would want to have a very sumptuous look to it. Having had experience of the 5D and having been a stills photographer in my early days I knew that the camera could deliver better than cinema quality pictures better than a cheap broadcast video camera.
"Obviously the BBC were very unwilling to sign off on something like that because it wasn't on their approved list and initially they were saying that for an HD programme they could only support 25% of the programme shot on a non 'so called' HD camera.
"We shot a lot of tests which looked wonderful but the engineers at the BBC were saying that there was aliasing and moiré patterns that would make them fail the use of the camera for HD broadcast.
"However we'd done a lot of independent research and shot more tests and shown them to people. When the tests came back from the BBC they said there was aliasing but they suggested that we shoot more tests in a type of scenario that the production would encounter, like a scene with actors looking backwards and forwards with mid-shots and close ups.
"This was all dragging on however and was the weekend before the shooting started on the Monday. No one had officially signed off on anything so it was the producer's decision that we would start shooting on the 5D and hopefully impress them with the quality of the pictures. We had a Sony 750 camcorder with a Pro35 adapter and Zeiss Prime lenses waiting in the wings for when we'd shot our 25% allocation.
"It was a real gamble and I've got to credit the producer for being prepared to take that gamble, most producers would have just cowered under any negativity from the corporation and said absolutely not but she went in to it because she could see that the pictures looked good and she trusted the director and myself.
"We shot some scenes on the Sony 750 as well. We literally shot a scene on the 5D and without changing anything we put the 750 in the same place and re-shot a few shots. Of course in the next day's rushes the 750 material didn't look nearly as good as the 5D material which had this incredible and creative depth of field. It just naturally looks so cinematic and I think and the director is convinced it makes the actor's performances that much more intense because you, by default, focus on their faces so much more clearly. We were getting that with the Pro35 but it's still not the same, the Pro35 is like standard 35mm but the 5D is like VistaVision, twice the size.
"Executive Producer and part of the approval process at the BBC, Ian Potts, was very supportive in our early days saying 'You have these technical issues that would fail our broadcast tests but it's very interesting what you're doing and please do some more tests because we'd love to see what you do'. After seeing the four day's worth of rushes he was so completely smitten with it and said it was some of the best material they'd ever had, 'finish the film on it'. It went from nought to 60 in half a second.
"We felt utterly vindicated and Neil from 360 Media at Granada who are doing the grade has told us that it's 99% OK. So there must be the odd little moiré or aliasing shot but nothing that you wouldn't get normally with any format really.
"We're very excited about it, it is the first mainstream broadcast drama that has been shot on the Canon 5D Mk2. I would say that about 15% of it was shot on the Sony 750. On the fourth day we were in a kind of no-land where we were up to our 25% allocation but the BBC were still deciding so we did shoot for a day or two on the 750 and then got the green light and were back on the 5D from then on, we're also had a problem with the 750 so had to go back to the Canon.
"The next day we heard from the BBC that they'd given us the green light in using it. We didn't re-shoot any of the 750 material, it just went in there with the 5D – as long as it's individual scenes and not inter-cutting then you'll be fine.
Preparing for the 5D
Tim has been using a 5D Mk2 package from a company called RGB Photographic www.rgbphotographic.com in the East of London and trusted them to put together a rig for the shoot, "I've been using their rig all year and it's a really good 5D package. They've really thought about it and it's not just forcing different bits of gear together. I use it with a set of old Nikon manual focus primes which have fixed start and end focus points, not like the Canon lenses which make it impossible for a focus puller. A focus puller can treat the Nikon like he would a cine lens. RGB have a very comprehensive set of lenses from the 20mm all the way up to a 180, exactly the right set of lenses. It all fits in to a neat Peli case with focusing rings, Mattebox and camera mounts so it can go on a tripod and a dolly. We even had it on a steadicam.
"I think it's the fixed focus manual Nikon primes that makes the package workable for television drama production because you can treat it like any other camera system. RGB has sent all the lenses to an old school camera repair shop, a chap called Graham Playford playfordrepairs.com who I've known for about 20 years and still services old Nikon, Leicas and Canon cameras and lenses back to the thirties. He took all the lenses and took all the hard stops out of them. With stills lenses there are click stops which is not practically because you need to be able to adjust the iris manually during a shot sometimes. So you have a smooth turning iris ring. The lenses are all 1.4 so very fast.
"We did a night shoot on one of those classic Bolton back-to-back streets which ironically I had shot on before when I was DoP on Life On Mars. On that we had two cherry pickers, 18ks and everything from the lighting company. We lit the whole street again this time and the biggest lamp I had was a 2.5 HMI just running off local power. It looked different but I was 100% happy with it.
Look out for
"Avoid fast pans over vertical objects but in practice when you're filming actors and actors are moving around and you're following their faces you don't notice it really. There might be a bit of skewing on a lamp post on the edge of frame. If you're watching a good story and it's looking good you don't think about it."
 Channel 4 in the UK has also green lit the use of video DSLRs and next month we will be reporting on how chef Jamie Oliver has got the camera bug.
POST WORKFLOW WITH A CANON 5D MKII FOR A BBC TELEVISION DRAMA
The Canon shoots using Quicktime H264 files at 45Mbps (Megabits per second) – about 6 MBps (Megabytes per second). H264 isn't a very user friendly file format to edit with however so the files are then transcoded direct from the Canon 5D flash card (or copied across to a folder maintaining the same directory structure, or to a .dmg created via the flash card disc utility) via Final Cut's Log And Transfer tool as either Apple Pro Res or DVCPRO HD.
For their purposes they transcoded to Apple Pro Res HQ 4.2.2. at about 184 Mbps (23 MBps), 1920×1080 25P.
At this stage all the files are renamed (including the original Canon files) to the correct slate and take number but maintaining the original Canon files names in the Log Note entry part of the Log And Transfer window. This is because the file name created by the Canon is meaningless in an edit environment and tend to be repetitious over quite a short period.
Because of the quick turnaround and comparatively small amount of rushes, they elected to work at full resolution so that when they finished there was no re-conforming necessary – they'll simply hand over the Final Cut project and all it's associated HD files for immediate grade and on-line finishing (titles and fixes etc.)
Anyone shooting over a longer period of time, or working with material that requires a lot of effects work, might want to re-compress the Pro Res clips down to smaller bit rate or proxy files and then re-link to the original clips at the on-line stage.
In terms of gremlins that they encountered the work-flow was extremely efficient. The problems they encountered were more to do with manpower and turnaround time which the restricted budget imposed. It does take time to transcode and you will need a second edit machine to do so if this is to be performed in the cutting room.
If the Digital Camera Assistant on set is going to do this then it lessens the impact on the cutting room. But you do need one or the other. It cannot be done practically without either a DIT or a second edit system and maintain rushes turnaround to any degree that will provide timely clearance.
The most important thing is to be extremely accurate with your naming protocol when transcoding the clips. You should always keep at least two backups of the original Canon H.264 files and at least one backup of your transcoded files so getting the naming right at the outset is essential – you don't want to be constantly renaming clips across various backup drives.
Also you should have a slightly different naming protocol for sound files so there's no confusion between picture and sound (especially when asking Final Cut to reconnect clips). For instance a four digit number for picture slates and a three digit number for sound slates which easily removes confusion (which again underlines the importance of accuracy). Hand in hand with this goes the importance of organising the Capture Scratch structure, which is more a general issue with Final Cut Pro than a problem with the Canon.