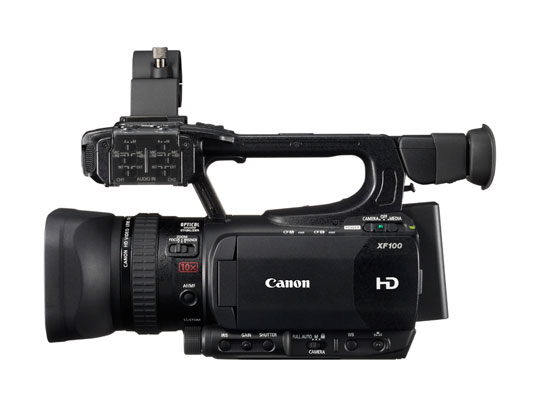 Canon Launch Small Format 50Mb/s Camcorders
Posted on Aug 31, 2010 by Alex Fice
The new Canon XF100 camcorderCanon today expanded its XF series of professional camcorders with the launch of the XF105 and XF100 – their smallest models ever to include the broadcast-quality MPEG-2 Full HD recording codec (50Mbps, 4:2:2).
Like the XF300-series, the XF105 and XF100 record MPEG-2 Full HD video in industry-standard, open-source MXF (Material eXchange Format) files to Compact Flash (CF) memory cards at transfer rates of up to 50Mbps, with 4:2:2 colour sampling.
Both models offer Relay Recording and new Double Slot Recording – a feature that allows users to record the same footage to two separate CF cards simultaneously. Additionally, during recording a card not in use can be exchanged or initialised.
Canon MPEG-2 MXF video files are fully compatible with major editing and processing software packages from Adobe Systems Incorporated, Apple, Avid Technology and Grass Valley, ensuring videographers can immediately integrate XF105 and XF100 into their workflow. Canon XF Utility software and plug-ins for Apple Final Cut Pro and Avid Media Composer are supplied as standard.
Both models feature a new 10x zoom, 30.4mm wide-angle Canon HD Video Lens, with fast aperture performance up to f/1.8. A three-level digital tele-converter function can also be used to extend the lens' focal length by 1.5x, 3x or 6x – enabling users to get closer to the action if required.
The XF105 and XF100 also benefit from the advanced Canon Optical Image Stabilizer (OIS) system adopted for XF camcorders, offering three different modes of stabilisation – Standard, Dynamic and Powered.
A new 1/3-type, 2.07 Megapixel (MP) Canon CMOS sensor captures Full HD video at native 1920×1080 resolution. Adapted from the 3CMOS sensor system employed in XF300-series models, the XF100-series sensor is equipped with a Bayer pattern colour filter. High-speed data readout technology also minimises rolling-shutter skew that can occur in conventional CMOS camcorders.
Like the larger XF300-series models, XF105 and XF100 offers 1080/50i, 1080/25p, 720/50p and 720/25p modes, and different recording bitrates to complement existing workflows. Fast and Slow Motion, Interval Recording (time lapse) and Frame Recording (for stop-motion animation) are all possible, as is a 3-second Pre Record, or cache, option.
The XF100-series provides even more choices in the shape of new Infrared and 3D Shooting Assist functions. Infrared (IR) shooting mode can be activated using a switch on the front of the camcorder, beneath the lens. With a built-in IR lamp and both green and white light shooting options available, XF105 and XF100 can capture genuinely dramatic night-time footage – perfect for assignments like wildlife or documentary shooting.
Two new 3D Shooting Assist functions are also available on both models. OIS Axis Shift uses the lens-shift Image Stabilizer system to allow users to correctly align two connected camcorders during stereoscopic 3D video recording. A Focal Length Guide helps to precisely synchronise adjustments to zoom.
For monitoring during shooting, both camcorders feature a large, side-mounted LCD. A built-in waveform monitor and Edge Focus function are also included, with menu selections performed using a joystick interface.  A 0.61cm, 260k dot electronic viewfinder with 100% coverage is also available.
A manual lens ring provides control over focus, zoom and iris, and a side-mounted switch allows the user to switch instantly between each mode. A number of settings, including iris control, can also be adjusted using a custom key /control dial combination.
A dedicated button enables on-demand switching between manual focus and auto focus (AF). In addition to Canon's Face Detection AF and unique Instant AF modes, a new Face-Only AF mode is included, which limits auto-focusing to detected faces only – a feature particularly useful for 'single shooters' such as on-location news reporters.
Users can configure more than 90 individual, image-related variables using the
Custom Picture function; including selecting one of six preset gamma curves. Operators can also assign one of 34 individual functions to 10 customisable buttons, allowing them to optimise the camcorder for their personal shooting preferences or stylistic considerations.
Up to 9 'customised pictures' can be stored to each body, with CINE.V and CINE.F gamma settings among three presets supplied as standard. Preferred settings can be saved and transferred from one camcorder to another via SDHC cards – particularly useful for maintaining a creative style across camcorder bodies, or for organisations that may want to ensure uniform set-up across multiple camcorder units.
Each camera's high-quality images are complemented by professional-quality audio capture. Independent audio can be recorded by connecting external microphones to the two XLR inputs, while a front-mounted integrated microphone captures stereo sound. Both models are capable of recording 16-bit linear PCM audio at 48 kHz, providing sound quality fit for professional or broadcast use.