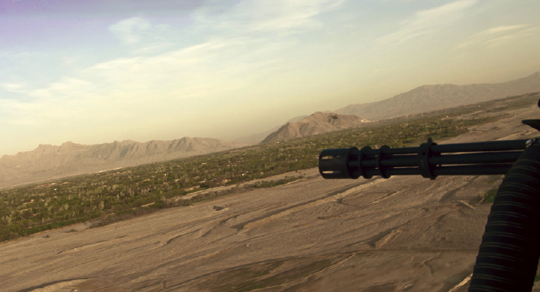 Battlefield RED – (Archives)
Posted on May 11, 2010 by Alex Fice
Scott Matthews took his RED ONE camera to the frontline of Afghanistan to record how the US Army is fighting the war in glorious 4KWhen I was notified that I would be deployed to Afghanistan this year, I was excited. Not just because of my new mission in the military (that of a Rescue crewman), but because it was going to be an opportunity to film on our new RED ONE camera in a Combat Zone.
I had originally enlisted in the California Army National Guard in 2001 with the goal of piloting the Black Hawk helicopter part-time in a Medevac unit. This required choosing an enlisted job while waiting for a pilot school slot. I chose the job of Mechanic so that I could learn about the helicopter before piloting it. One month later the attacks of September 11th occurred, and I would be deployed to Afghanistan in 2003 before I could achieve my goal to be a pilot. I had never actually done mechanic work before this training and was actually attending college for a Digital Motion Picture degree at the time. I had run into a great opportunity to pick up Canon XL1 through a friend and explained to my superiors the potential of a great unit video if they'd approve of me bringing the equipment, which they did. The deployment started out at six months and ended up being a 10 month stay in Afghanistan. During the course of my filming, I put little web videos up on the unit web site for the family members back home, and a couple made their way up the chain of command to the Bureau of the National Guard in Washington D.C. where they requested that I focus on filming as much as possible (they liked my cinematic v. broadcast news style approach), and when I returned home, I was offered the opportunity to film for recruiting productions under contract (I started the company Glory Cubed Productions with my long time friend).
From that point on my colleagues and I have been watching the advancements of digital video acquisition for progress in the field environment, enjoying the versatility and efficiency of the Panasonic P2 series of cameras. When we began to read about the RED and the potential of affordable super-high resolution video acquisition that we could use for not just web/tv but now theatre quality potential, we were hooked. In the early days of reservations, Jarred Land of RED held a contest offering his slot in line (#97) for the winning "next generation camera feature" idea, which my business partner — Brian Reisdorf — won (Depth Map Channel Recording). And the rest is history.
This time when I would go back to Afghanistan (Feb 2008), it would be for a much shorter period of time as I was just going to be augmenting another unit until one of their own arrived, and I would have to have any extra equipment I wanted shipped to me after the fact. I wasn't sure if I would have the time or daylight to make it worthwhile so I couldn't have the camera pre-shipped. After getting into the schedule over the course of two weeks I determined it would be feasible and had the camera and whatever accessories they could part with sent to me. This turned out to be an Angenieux 20-120 T2.9 and a Cartoni Focus tripod. An unwieldy and unstable (almost 40lbs handheld) combination to be sure, but this was another opportunity of a lifetime, adapt and overcome.
Scott's camera had all plugs/ports taped over with gaffer tape, and the only item plugged in was the LCD – no soundAs it turned out I would only be filming in the late afternoons, and my environment was surrounded by large Afghanistan mountain ranges. I would not have to worry too often about overexposing, more so the lack of light as I tried to squeeze in as much as possible with the time I had. The camera has been rated at 320 ISO and I left that setting alone understanding that changes were all metadata in the end anyway and the lens was usually going to be wide open or close to it as it was. The camera had all plugs/ports taped over with gaffing tape, and the only item I had plugged in was the LCD. As I was not going to be recording sound (it's pretty loud around an airfield anyway), I had the internal fan setting to automatic, and blew the camera down with compressed air after each shoot.
I was able to film just four times (once on a flight) each time setting the white balance, and selecting the resolution, frame rate and shutter speed. The main buttons and the joystick knob allow for quick access if you know where you want to go, getting used to all the options and their location in the menu map/tree is very important and the graphical menu maps people have posted for print out along side build changes was a great help. Speaking of builds I was shooting on Build 14. Having been shooting on the P2 cameras for a while, I'm used to 'shooting to edit' and having so many options in one camera. I had four of the 8Gb CF cards with four min recording time each and so carefully considered each shot to grab and whether I wanted full sensor 4k or the 2k window for 72fps slow motion. I chose to shoot 4K as often as possible as it provides the most options for digital stabilisation later, and you can 'window' the footage yourself by blowing up the image in a 2k timeline, I appreciate the look/feel of the full lens/sensor capture and the lens' characteristics v pulling the centre out of it to create a digital zoom of sorts. When it came to focusing, I used the focus assist bar that extends horizontally across the image on the LCD (you can adjust vertical height of the bar and vertical placement) with a histogram at the bottom that spikes when the image in the bar is most in focus. This feature was essential in capturing on the fly moments. I could pan the camera to a subject quickly dial the focus of the portion of the subject I wanted to the highest spike on the focus assist, and then make finer adjustments if time permitted. For the most part I was quite a distance from my subjects and was at infinity anyway. When it came time to take the camera flying, I found a few bungee cords and hung the RED facing out the cabin door from three points. This worked relatively well, and the digital stabilisation on some of these shots makes for very smooth motion, in hindsight I should have run a higher shutter speed (I was using 1/60 or 1/92) to avoid the majority of motion blur as the helicopter shuddered occasionally, in order for digital stabilisation to be most effective.
See some of Matthew's footage at www.glorycubed.comAt the end of each day, I could take the footage and drop the automatically created proxies directly into a Final Cut Pro timeline on my MacBook Pro and it would auto-adapt the sequence to the clips. I edited three little clips together while in Afghanistan (mastering to 2K ProRes 422 HQ and compressing to web from there), and a final edit when I got stateside, all off of 2K proxies which I think are stunning even though not considered fullest quality. We have just got access to an Assimilate Scratch system at DR&A in Nashville, TN, and will try a cleaner conformed/graded edit shortly.
The camera behaved solidly, I had no issues (wish I had an EVF though), and the only "Aw crap!" moment came while flying and as I reached for the body of the camera, I hit the on/off button right as I was approaching my one and only moment to get an air-to-air aircraft shot. Because of this, I wouldn't mind an "ARE YOU SURE?" prompt before powering down. The startup time was approximately 90sec, which is to me, the main drawback to using the camera for run'n'gun filming (right above critical focusing), but the images are worth the wait.
With more planning I would take a wide Prime, the lightest zoom possible (the new Angeniux Rouge looks light/promising), and a tripod that can handle the resulting weight appropriately. Whenever I have shown anyone the footage, the recognition in the jump in quality from HVX/HPX/Varicam is instantly recognisable. Their eyes instantly widen and words like "Amazing" or "Epic" flow. It is because of this look and scalability that I am trying to get the Department of Defense interested in a special team to film current/modern operations with a RED based package tailored for field use. While video has allowed for quantity of footage coming back from the field, the look, scale and longevity of it has taken such a hit for dissemination to the public.
I am constantly reminded of the footage from past conflicts as WWII or Vietnam that were shot on film, and the small amounts that are always repeatedly used in film/documentary when referring to those periods. Now the equipment exists to continue to avoid the hassle of film in a field scenarios, and at minimum in the controlled environments of a combat zone, the daily life and routine of current military operations around the globe can be recorded at least for posterity alone at a look and resolution appropriate for any use now and into the future. With the advent of RED's upcoming small form-factor 3k Scarlet, even direct combat operations can be acquired at a resolution that is as versatile, providing a combination of camera equipment that can document our generation's history as it deserves, lest cell-phone/YouTube quality be the standard of the day.
Footage I shot of Operation Enduring Freedom in Afghanistan 2008 on the RED ONE Digital Cinema Camera. I edited this piece together (using some footage from my previous Afghanistan clips) as a demo to show the capabilities of this new technology, and how it can bring quality, scalability, and longevity back to combat zone footage unseen since WWII/Viet Nam era. The actual resolution of the footage is 4096×2048, almost 5x full 1080P High Definition. I only had the camera for 5 days of shooting, and this is what I pieced together for concept presentation purposes.
It is my hope that the DoD shows interest in assembling a specially trained team of service-members to film on this new equipment and provide footage to disseminate back to the public at a quality this generation deserves, both home and abroad.
Jason Wingrove of FXGuide recently interviewed me regarding this footage and my thoughts on advancing this quality for Combat Zone acquisition. It is episode #015 here: http://www.fxguide.com/redcentre There have been a couple magazine articles as well, High Definition #31 (Aug08), Government Video (Aug08) and Videography magazines (Aug08), and DV Magazine (Sep08).
Camera = RED ONE
Lens = Angenieux 20-120 T2.9
Music = Klaus Badelt – Rescue Dawn