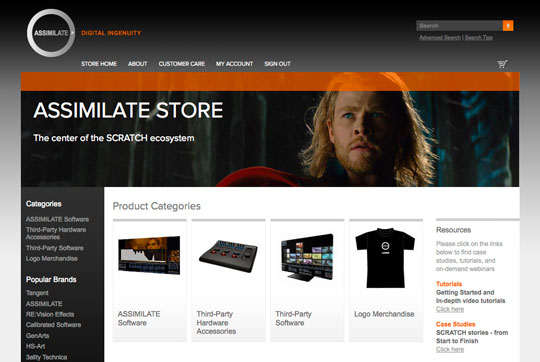 Assimilate Open Their Online Store For Theirs And Others Products
Posted on Oct 25, 2011 by Alex Fice
Assimilate's new eSTore will have a free trial version of SCRATCH Lab available from November 17Producers of the Scratch range of post production and digital cinematography lab products ASSIMILATE have announced that from today they will be offering an online store for theirs and others people's products.
"ASSIMILATE has partnered with leading technology vendors to create this unique portal. Now artists in digital cinema and broadcast can experience the convenience of instantly purchasing and downloading SCRATCH Lab online, while extending the capabilities of their full SCRATCH and SCRATCH Lab systems across many areas of professional content creation – including DI colour grading, 3D stereo, VFX, on-location and post-production workflows, subtitling and image-restoration." Commented Assimilate's Steve Bannerman.
The ASSIMILATE Store is divided into four categories: ASSIMILATE software; third-party software; third-party hardware accessories; and ASSIMILATE logo merchandise.
At launch available purchases include products from 3ality Technica, GenArts, RE:Vision Effects, 4K Co. Ltd, HS-Art, Calibrated Software and Tangent. Several third-party products are exclusive to the ASSIMILATE Store.
SCRATCH Lab and SCRATCH Six, ASSIMILATE's data-centric DI system for the playback, conform, editing, colour grading, compositing and finishing of RED camera and high-end digital workflows, will continue to be sold via the company's network of resellers worldwide.
ASSIMILATE's SCRATCH Lab is available immediately on Windows/Mac OSX as a download or for purchase. A new free trial version will be available in next month.