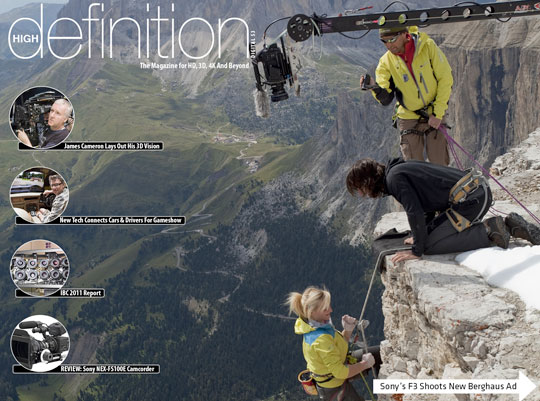 Just Published HD Magazine DIGITAL EDITION 53
Posted on Oct 25, 2011 by Alex Fice
Director Alastair Lee peers down a mountain face in the Italian Dolomites to get a shot for his new TVC for BerghausHD MAGAZINE'S Digital Edition 53 includes our review of the gear to see at this year's IBC Convention in Amsterdam where we also bumped in to Hollywood legend James Cameron and his partner Vince Pace. Their interview is interesting for the fact that they are the first to predict the end of the convergence puller and stereographer.
Also in the issue a case study featuring Sony's PMW-F3 camera which Alastair Lee chose to shoot his maiden TV commercial for Berghaus outdoor clothing. Another case study explains the technology behind a new 'car' game show called Driving Wars. The premise of the show is that remoted drivers control cars on a number of tracks safe in the knowledge that if they crash only the car will be damaged. But to allow for this 'carmagedon' to unfold a clever new way of sending video and instructions had to be thought of.
There is also our review of Sony's FS100E camcorder which is the latest product to join Sony's 35mm digital cinematography revolution. Also our usual gear list is joined by a new 'video watch' feature which includes some interesting videos from numerous video sharing sites.
The new edition is only 99p to buy or you can buy an annual subscription for only £5 which gives you about a 35% saving on buying a year's single editions.