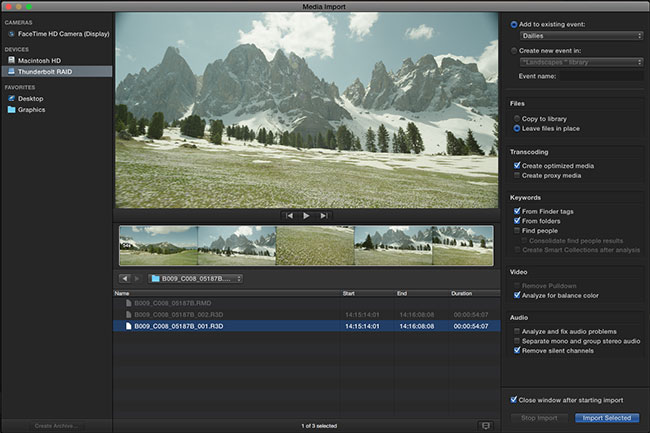 Apple Announce Upgrades to Final Cut Pro, Compressor and Motion
Posted on Apr 13, 2015 by Alex Fice
The new 3D titles in Motion should be very popular as 65% of users use this feature.
Even though Apple don't do trade shows anymore, they still announce at them to bring attention to their pro Apps. Apps like Final Cut 10.2, Compressor 4.2 and Motion 5.2.
For NAB there are a few announcements that catch the eye, like in Compressor there is now a fully compliant iTunes Store package entirely within the App that allows you to encode and run QC on without the use of an outside encoding house or indeed buring a DVD. You still need an Apple certified  delivery partner – who will help get to the last stage even faster with features like ongoing billing support or audio translation – and of course there is still an acceptance process to go through, but the rest is up to you.
Also the 'Send to Compressor' operation has now been speeded up by using the GPU's power. That means that a ProRess 4:2:2 file sent to compressor is now 3.2 X faster than before using the same hardware. Also hardware acceleration for H.264 for single and multi-passes are now 2.7X faster.
• For FCP X Apple has been working with RED mainly on the ingest of their RAW file structure. A new RED download that plug-ins to FCP X will also allow GPUs to be use for improved performance, so if you've got the Mac Pro with dual GPUs you're looking at a potential massive speed up. The render time is now approximately 3.2X faster. If you're optimising to ProRes in the background that now speeds up to 2.4X faster. All very welcome with news of 8K coming from the next RED module.
Apple are also now able to read the anamorphic flag that are in the RED files.
Other FCP X announcements are camera support for Sony's XAVCS, all the CODECs in the Panasonic AVC Ultra family, JVC H.264 Long Gop. There is also an enhance Optical Flow slow motion effect and the import window has been cleaned up so it's a single window now not a two stage process.
FCP-X's new single page import window.
• Apple are calling their big news the changes to Motion and more specifically Text or titles. 'Titles' is the number one Motion graphics feature used by FCP editors – 65% of them make titles. 2D titles are nice but the world has moved on to 3D. Now you can make them. There are now 100s of materials and surfaces to choose from with control over lighting with rotation in 3D space. There are also 100s of templates with some from famous designers.