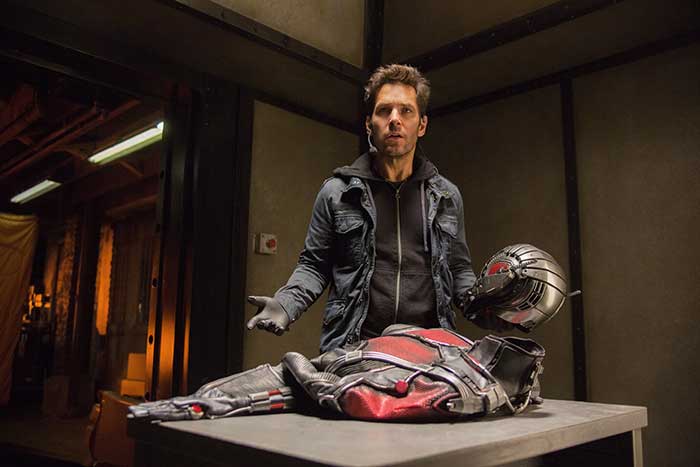 Ant Man's Size Issues In 3D
Posted on Aug 5, 2015 by Alex Fice
Prime Focus World's Richard Baker
Prime Focus World's senior stereo supervisor Richard Baker reveals how the team worked with Fusion Studio to bring the miniature universe of Marvel's latest superhero blockbuster to life.
As the first company in the world to convert a full Hollywood film from 2D to 3D, Prime Focus World has become well known for its stereo conversion process since its work on Avatar in 2008.
Senior stereo supervisor Richard Baker would know: he's been there from the very start. "Back then it was a completely new business, there were very few skilled stereo artists out there, no one really understood what was required to do a full feature," he reveals. "There was a massive learning curve for everybody. We realised we were going to have to invest in recruitment, training and tools.
Today, Baker and the Prime Focus World team of paint and stereo artists are a well oiled global machine, using a patented, stereo conversion pipeline that incorporates Blackmagic's Fusion Studio to bring blockbusters, including Gravity, Guardians of the Galaxy, and The Avengers: Age of Ultron to cinemas in 3D. Recently, work was also completed on their third collaboration with Marvel – this summer's brand new superhero epic, Ant-Man.
Starring Paul Rudd, Ant-Man tells the story of con man Scott Lang, who embraces his inner hero with the help of a suit that gives him the ability to shrink to a minuscule size while increasing in strength. Though no strangers to converting 2D superheroes into 3D, dealing with a main character at such diminutive sizes presented a new challenge for the Prime Focus team, who had 582 shots to complete for the film
Creating Miniature Worlds
"Ant-Man was a really exciting project because even though we've done a few with Marvel now, the scale of Ant-Man made it quite a unique story to deal with," says Baker . "I'd say that the biggest challenge for this show was getting the scale to work. Although we'd established a style early in the process, it took a few iterations to get the shots looking exactly right.
We were going through some look development with the client and had to figure out whether we needed to play the camera as it would be in the real world, or whether it needed to be Ant-Man's size so that when the viewer is in that world, everything is perceived as being massive. Either way, being able to play with scale is something that is perfectly suited to stereoscopic conversion, and the process was really fun."
Establishing the changes needed for Ant-Man's tiny world when compared to say a normal environment at standard scale meant that the stereo team had to look at how they would manipulate the depth when converting the film into the two different left and right eye viewing angles needed for stereo.
"Basically in stereo if something is positioned even slightly out of place it's probably going to look too big or too small, emphasising its scale. So say you've got a character and he's in front of a wall. If you push him closer to the wall or flatten him off a little, reducing his internal depth, he's going to start looking larger than he actually is, while if he's pulled in depth more negative than he is in the real world he's going to start looking miniature," explains Baker. "In Ant-Man's world when you're tiny and looking at a scene from his point of view no more than one inch tall, you want the background to feel huge so our job was more about compressing the environment so that there wasn't so much layering and internal depth to it compared to the character, compressing it positive and flattening it to make it appear larger."
Surprisingly, one of the key scenes worked on was also one of the first; completed early to be delivered for a 4D experience at Disney theme parks. "We call it the 'first suit experience', when he uses the Ant-Man suit for the first time," Baker continues. "This was interesting because it's the first time the audience experiences the macro-filmmaking look, as Ant-Man shrinks in the bathtub, has to outrun a cascade of water from the tap, survive a trip across a crowded dance floor and outrun both a hoover and a mouse."
Expert tools
To create these effects, the PFW team used View-D, its proprietary 2D to 3D stereo conversion process first launched in 2009. Constantly evolving to advance stereo technology for the future, the process involves a host of in-house tools such as DepthGen, which allows for cleaner results in stereo by improving on any discrepancies caused by the shift between the left and right eye at a sub-pixel level; and AssistedBreakout, a semi-automated tool that simplifies the comps PFW receives from VFX vendors, to help extract elements more easily for the conversion process.
An important component in the pipeline is Blackmagic's Fusion Studio. "We build lots of proprietary stereo tools in the development of our stereo pipeline, and we appreciate how well organised Fusion is for developers, providing a stable SDK, without the need to re-compile plugins for every new release," reveals Baker.
For Baker, the most important advantage Fusion gives to Prime Focus's advanced stereo pipeline isn't the stable SDK, though. "Fusion's fast, light and gives us precise control in 3D, allowing us to make lots of very fine adjustments, which is exactly what we need for our stereo work," he explains. "I think one of the great things about Fusion is the way it handles large amounts of roto because in conversion, everything in our pipeline is rotoscoped. Fusion just processes all that large data and it means the artist has more interactivity frame by frame, so it makes the whole project more workable overall."
The team is now involved in working on Ridley Scott's next film, The Martian, and David Yates's Tarzan.