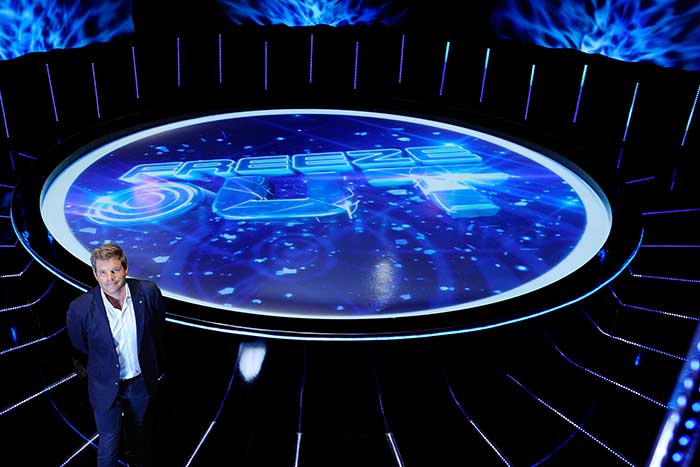 ITV's 'Cool' New Quiz Show
Posted on Aug 5, 2015 by Alex Fice
The ice table brought its own challenges to the studios.
BBC Studios and Post Production (BBC S&PP) has provided full studio and technical services at Elstree for Talkback's latest production for ITV daytime, Freeze Out. A first of its kind on British television, Freeze Out is the only quiz show to ever feature an ice table within gameplay, bringing a range of new challenges for BBC S&PP.
The ice table takes three days to set. Game graphics are then projected onto the six metre wide surface and captured via an overhead hothead camera. As the ice table had to be built-up 24 hours a day during the show's run, the studio temperature needed to be carefully regulated. To keep it frozen an external chiller plant operated around the clock outside the studio.
Recorded in BBC S&PP's 7,550 sq ft Stage 9, the camera set up for Freeze Out comprised five peds, one jib and one hothead.
Meryl McLaren, Commercial Manager at BBC S&PP said: "The lead time on Freeze Out was very short so our past experience of managing fast-turnaround games-based entertainment shows stood us in good stead".
Hosted by Mark Durden-Smith, and officiated by former Premier League / Professional football referee Uriah Rennie, Freeze Out is a game of skill and quizzing ability. Contestants compete around a giant circular ice table, answering questions to win 'sliders' to glide onto the ice table and hit the targets to be in with a chance of winning a £10k cash prize.