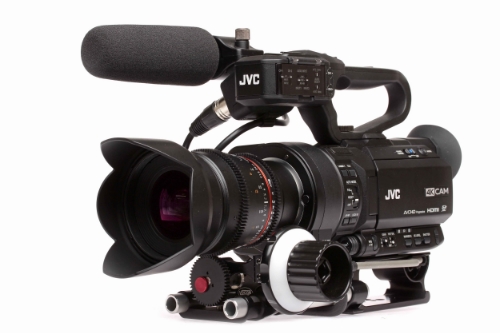 New JVC GY-LS300 4KCAM Gets v2 Firmware Upgrade
Posted on Aug 4, 2015 by Alex Fice
The promising Super 35mm CMOS sensor camera launched earlier this year has had a substantial v2 upgrade. The camera has been designed for the Independent film world as it offers full frame cinematic ability at under £5,000.
V2 adds JVC Log mode that is a look curve designed to look like film and to be graded with a higher contrast ratio. There are also new Cinema 4K and Cinema 2K recording modes and a slightly baffling 'Prime Zoom' feature. This allows zooming when using Prime lenses, there is an explanation below. The upgrade will be available in September 2015.
The new JVC Log mode promises to deliver a wider latitude and high dynamic range – up to 800 percent – to rival the look of film. The camera's Super 35 CMOS sensor delivers a higher contrast ratio between dark and bright areas within the frame without saturation while providing details within highlights and shadows. V2 also adds 4096×2180 Cinema 4K and 2048×1080 Cinema 2K recording modes at various frame rates, each with a 17:9 aspect ratio for digital cinema presentations.
Zooming Primes?
Prime lenses have a fixed focal length, but the GY-LS300's new Prime Zoom feature takes advantage of JVC's Variable Scan Mapping technology. Here's the JVC explanation: 'This was created to electronically adapt the active area of the camera's sensor to provide native support for various lenses when paired with third-party lens adapters. When used with a Micro Four Thirds (MFT) prime lens, the image can be adjusted between the maximum scan area and minimum scan area using the camera's zoom rocker. As a result, the camera can deliver 2.3x maximum zoom for HD or 1.25x maximum zoom for 4K. The new Prime Zoom feature can also be used as a lens extender for zoom lenses'. We're not sure whether this is a digital zoom equivalent or something else but will ask JVC.
V2 also adds a histogram display, also a colour matrix adjustment, spot meter for setting exposure values, and black paint setting to precisely adjust colour temperature of master black. Additional performance and streaming enhancements include a new 70Mbps recording mode, which makes it possible to record 4K on economical Class 10 SDHC/SDXC memory cards.
The upgrade is free for current owners.