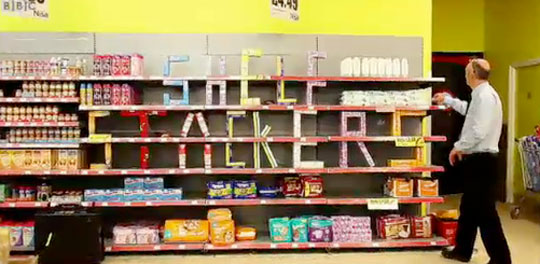 Another BBC Series Shot On The Canon 5D Mk2
Posted on Sep 3, 2010 by Alex Fice
Shelf Stackers is a new BBC comedy series shot entirely on the Canon 5D Mk2Shelf Stackers is a new six episode BBC comedy (Part one is transmitted tomorrow Saturday 4th September at 12.50 pm on BBC2) shot entirely on the Canon 5D Mk2 without a rig or even monitoring, the Director Dom Bridges also shot the series and the only stabilisation used was the camera strap tensioned against the back of his head!
The series is shot in a working supermarket in Liverpool with the real staff working and real customers shopping. The cast worked amongst everyone else with Dom shooting and directing with one other person who was the sound man.
"The broadcasters initially thought it was a bad idea using the Canon as it had previously been turned down by the BBC for lack of quality in terms of broadcast. They thought I was a lunatic!"
The show is a production through Lime Pictures who shoot and produce the soap Hollyoaks, they weren't sure about what Dom wanted to do and initially quoted him 45 days to handle all the data and get it in to the editing suites. "I had to take them all through Final Cut and how it's imported and ProRes and how PluralEyes re-synchs the sound. I felt a bit like a 'Leper' having to deal with quite an archaic structure that seemed to exist on the ethic 'If it's not broke don't fix it'.
"The show is a very low budget production and to make sure we had extras I decided to shoot in a open supermarket, some of our cast are recognisable from programmes such as SKINS. I wanted to keep the crew small myself operating and a sound guy. However I still wanted to give the show an aesthetic.
"I think eventually we got to shoot the show because it was low budget and things do slip through. It was shot with no lights just the strip lights from the supermarket.
"The Canon 5D looks like a stills camera so most of the time customers just thought I was some kinda of odd ball just taking pictures of the new staff! Another more serious reason for the camera choice was the depth of field I'm getting. Originally I'm from a commercials/music video background and I'm constantly baffled by the difference between cinema and TV. Not all broadcast content has to be flat and two dimensional, we can shoot quickly and efficiently and still have beautiful imagery with depth that allows us to connect emotionally with the characters so I chose the 5D for this reason."
Budget for the series was £160,000 part of an experiment to produce £1000 a minute TV content
Another great reason the 5D worked so well for Dom was that they shot each half hour episode in 2 and half days, so two episodes a week! "That's fast and there was no way on earth we could have shot such low budget content and still make it look cool without the use of the Canon 5D."
Dom ran into the BBC approval process that said at the time that they would never broadcast anything that had been shot with the camera, then he ran in to the focus issues. "There were all sorts of parameters I was unaware of. Things like they won't broadcast anything that drops focus, so shooting on lenses that were f1.2 in a supermarket with no lights with a cast that I was trying to give as much freedom as possible was really hard. I felt that was more of an issue than the camera itself.
"If you watch programmes like Eastenders or The Bill, everything's in focus all the time and for me as a viewer you feel detached from it even more because it in no way reflects how you view the world."
See clips from the series
http://www.bbc.co.uk/programmes/b00tt8m3
Dom Bridges web site