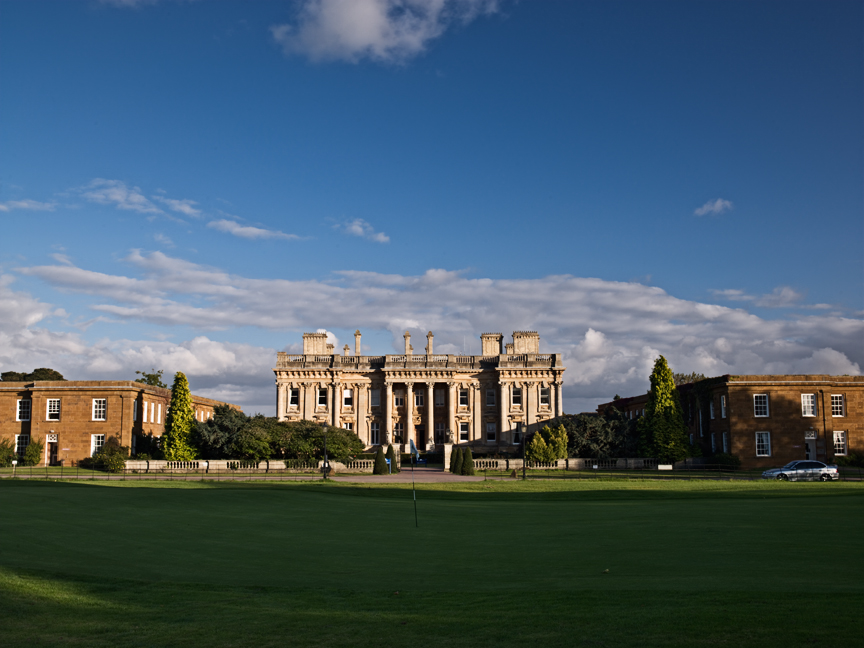 HPA Tech Retreat UK Unveils Expanded Programme
Posted on Jun 17, 2016 by Julian Mitchell
Heythrop Park Resort, venue for HPA's UK Tech Retreat, July 13-14 this year.
The HPA Tech Retreat, a pivotal gathering of those supporting the creation, management and dissemination of content, makes its UK debut in Oxfordshire, 13 – 14 July. JULIAN MITCHELL reports.
The Tech Retreat UK has announced an expanded agenda for the two-day event which features two solid days of the sessions on today's timeliest and relevant topics and projects. HPA and SMPTE formalised a partnership last year, and the event is presented by HPA in collaboration with SMPTE. HPA Tech Retreat UK takes place at the Heythrop Park Resort, a manor house that serves as both a 4-star hotel and a top-flight conference centre.
In addition to the conference sessions, the Tech Retreat features a curated Innovation Zone where companies will demonstrate their latest technologies. Also, pre-Retreat sessions will be presented by the Digital Production Partnership (DPP) as well as a seminar by Charles Poynton and John Watkinson.
Richard Welsh, former SMPTE Governor, leads the Tech Retreat UK with HPA Board Member Jerry Pierce. Welsh noted, 'If you have not been to the US event, this is an excellent opportunity to experience the HPA vibe at our new Oxfordshire event. HPA is an unrivaled opportunity for networking, technology discovery and learning. The opening sessions alone speak to the quality of HPA events with HBO, Disney, Pixar and Netflix productions all being discussed by the creative and technical talent behind them. This against a fun and relaxed backdrop with plenty of opportunities to socialise and network with the leading minds in the industry'.
A few highlights of the programme include:
Exploring VFX of The Jungle Book: Delve into the technology and techniques the team at MPC used to bring the jungle and Rudyard Kipling's iconic characters to life. This session explores the ground-breaking visual effects (VFX) work on Jon Favreau's remake of the Disney classic.
Finding Dory – A dive into the technology of Pixar's latest release: Hear from the top technical talent at Pixar about their work on their newest release, the much-anticipated follow-up to the hit Finding Nemo. With Finding Dory fresh on screens, this will be an unmissable opportunity to hear about the latest technological and creative thinking from the industry leading experts at Pixar.
Game of Thrones – Go Behind the Scenes of Series 6: In a special session created exclusively for HPA Tech Retreat UK, event goers will explore the production and post of the smash hit HBO series.
Ultra Everything: An exploration of what ultra high definition (UHD) and associated technological advances mean for content creators, distributors and the audience. A discussion of how improvements in frame rate, wider colour gamut (WCG), high-dynamic-range (HDR) and object-based audio are affecting content.
Producing Netflix Originals: How does Netflix create content for the future, today?
Emerging Media Technology: Will cinema become a virtual reality (VR) world, or will augmented reality (AR) find it's way into cinema? Will on-demand usher in an era of experiential choice? Leaders and practitioners discuss their experiences with the next generation of entertainment formats
Ultra Movies: 120fps 3D 4K HDR for Cinema: Use of time-shaping techniques on Ang Lee's upcoming: Billy Lynn's Long Halftime Walk.
Why SMPTE DCP? Progress in Europe: To manage the transition to SMPTE Standard DCPs in Europe, European Digital Cinema Forum (EDCF) and The International Union of Cinemas (UNIC) have formed a joint task force to assist distributors, exhibitors and suppliers
The European Update – 2016: The interoperable delivery format: Distant dream or hiding under the bed?
Decoding CES: How Trends Trend: Does the Consumer Electronics Show (CES), actually surface any significant trends? The answer lies in the detective work applied to each new show and in the narrative provided by CES over time. This session takes a unique look at the last seven years of CES and presents new perspectives on how technology trends unfold.
Minisession – Workflow Innovation: Post and VFX From set through dailies and approvals to rough cuts and archive, and then to delivery, the cloud is servicing the global production and distribution worlds. A look at the business and technical opportunities and risks for production, distribution and post.
VFX & Rendering Securely in the Cloud: A discussion on cloud rendering that demonstrates the benefits of expanding VFX houses compute abilities beyond in-house walls.
From the Machine – A look at the Oscar-winning VFX on Ex Machina.
Minisession – HDR Live: Challenges of Working with High Dynamic Range in Real-Time: HDR in Live Production, Deploying HDR for Live TV – The Back Compatibility Question and Fibre/ Coarse wavelength division multiplexing (CWDM) Infrastructure for Live and Remote REC 2020 and HDR Application.
Many of the industry's leading experts will be participating at The HPA Tech Retreat UK. Programme speakers include Steven Beres (HBO), Phil Crawley (Root6), Chris Fetner (Netflix), Simon Gauntlet (DTG), Matthew Goldman (Ericsson), Mark Harrison(DPP), Hans Hoffman, (EBU), Andrew Johnston, Chuck Parker (Sohonet), Andy Quested (BBC), Adam Valdez (MPC), Klaus Weber, (Grass Valley), Richard Welsh (Sundog Media Toolkit), Kate Wendleboe (BT), Mike Whipple (Netflix), and many more.
The day before the HPA Tech Retreat UK kicks off, on 12 July, two significant additional events are taking place:
DPP: the first plugfest – Click here for registration, separate from the HPA Tech Retreat registration, direct to DPP.
'Practical Aspects of HDR: Implementation and Deployment Seminar' will be presented by Charles Poynton and John Watkinson. Registration can be made as an addition to the HPA Tech Retreat, here.
Barbara Lange, executive director of SMPTE and HPA, concluded, 'The world in which our members – HPA, SMPTE – and the industry at large are operating, is one of transformation, improvement, and expansion. Standards, workflows, and new creative tools are evolving. These gatherings illuminate these advances, and the conversation and collaboration they inspire, are crucial to our industry's progression. We are delighted that the SMPTE – HPA partnership is able to bring is able to bring this incredible event to Oxfordshire.'
The fully immersive HPA Tech Retreat UK features a number of activities in addition to the programme. The Innovation Zone is a lively environment where a small group of handpicked companies demonstrate and discuss their latest technologies, services, and workflows. Find the complete list, here. Networking opportunities are plentiful, from breakfast roundtables to cocktails and dinners and every conversation in between. Catered lunches, breaks, The HPA Tech Retreat Welcome Dinner and sponsored social events are all included in HPA Tech Retreat Registration.
For complete information on the HPA Tech Retreat UK,including a full conference programme visit the HPA website.