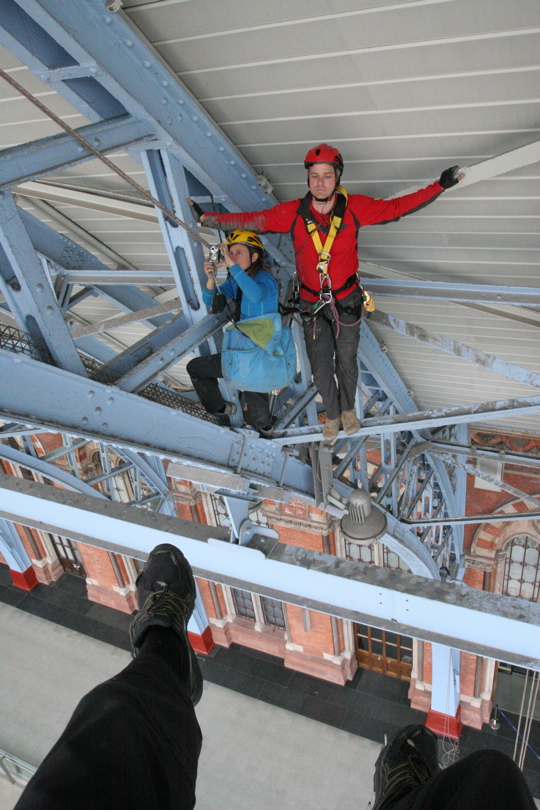 ITN's First HD Programme for BBC Reaches New Heights
Posted on Sep 6, 2010 by Alex Fice
Ian Burton, the intrepid cameraman for Climbing Great Buildings on BBC2 and BBCHD at 6.30pm todayIt was always going to be a tough schedule, 15 half hour programs in 30 shooting days, with between 4-6 hours of very strenuous climbing within each 14 hours day. But I am always up for a challenge and this seemed like a good one!
I was filming ITN's first commission for the BBC, on a subject matter the production company had no experience of, and with no time to make any mistakes. Climbing is not a thing to rush, but filmed right, it looks stunning.
The Sony EX3 battered and bruised but still working although the NanoFlash recorder had issues
The camera list was short but not an easy choice. it was either a Sony HDCAM 750, an EX3 or a DSLR. A month of discussions between me, the BBC and ITN we came to a conclusion, the 750 wasn't actually available for the shoot, so it was changed to the HDCAM 730. I wanted to shoot Progressive so that was out.
The DSLR was apparently not accepted by the BBC as full HD so we had one choice, the EX3. Unfortunately the SxS cards don't shoot full HD either, I grew to love the image whilst filming last years Epic film The Asgard Project, so a solution had to be found to use this camera whilst recording HD.
We came across the convergent design Nanoflash.
I wanted the right camera for the job. Having used Sony's EX1 for the Asgard Project about world class adventurer Leo Houlding (famous for the Top Gear stunt in the Verdon Gorge in France where he beat Jeremy Clarkson in a race). I was confident that the EX3 would perform well.
It has small issues, but mostly because it is a climbing camera and it is not looked after quite as well and sony planned, the rotating lens grip is one example of this.
The Nanoflash was a different story. At first glance the ugly square box looked perfectly suitable for the job, but my opinion soon faltered.
Firstly the screen on the NF seems like it is made with cling film, and the card slots are unprotected, unlike the EX3 card door. On the third program in the series in Caernarfen Castle I nearly ejected both CF cards over the castles parapet wall because the eject buttons are far too sensitive and stick out about half an inch, I found a velcro strap costing a few pennies solved the problem to a certain extent, I ended up snapping one of the buttons off in Blenheim Palace because it got caught in my climbing gear, surely this is a design fault that should have been looked at. It just isn't a slick bit of kit, which is a shame as it could be! The Convergent Design Nanoflash feels like it is first generation and was only released a week last thursday, but it has been going long enough to iron out all these issues!
Footage transfers is always an issues, and a nervous time, we didn't have a trained and dedicated data wrangler on set, and lost footage as a consequence. I want all solid state camera manufacturers to do a firmware update that tells the camera whether or not a card has been transferred and backed up, so when you are about to the format a card you know for sure that you are safe to do so. Not a problem on a big set with loads of time, but low budget, fast turn around shoots filming on solid state, the extra reassurance would be worth it!
The team in St Paul's Cathedral
Climbing Great Buildings starts tonight 6th Sept at 6.30 pm on BBCHD and BBC2, and continues every weeknight for 3 weeks. It is a UK tour of 15 of the countries most iconic buildings from Durham Cathedral, to Lloyds of London and St Paul's Cathedral to the Clifton suspension Bridge. With presenter Dr Jonathan Foyle, climber Lucy Creamer and me as 'fearless and intrepid' cameraman, we will learn about how they were built and why each was the first in building history. In all a 1000 years of building history is covered.
Oh, and one other thing Dr Foyle has never climbed a day in his life before this series!! it is going to be interesting to watch!
In the first program we see Jonathan Foyle  performing a 'postmans walk' nearly 100 ft over the knave floor and then a dramatic swing out of the west towers to climb to the top of the Norman Structure. Later in the series we zip line 250 ft between the towers of the Liver Building in Liverpool, and climb the main train sheds of St Pancras station with the Eurostar pulling in underneath us! One of the most memorable things for me was swinging 'conker like' on the side of the modern Imperial war Museum.
…and St Pancras
No camera is made for the traumatic world of climbing, and the EX3 is no exception, but I have never used a camera that is so able to deal with the punishment I put it through. I will be using it for every project I can in the near future.
I had fairly few problems with the EX3, most of which were caused by my climbing. I had a lot of problems with the nanoflash, I would still use the setup again, knowing all the issues. I think it was the best set up for the budget and the timescale. Given a second series I would want to use the EX, I just hope that Convergent design sort out its issues.
Ian Burton – www.ianburton.co.uk