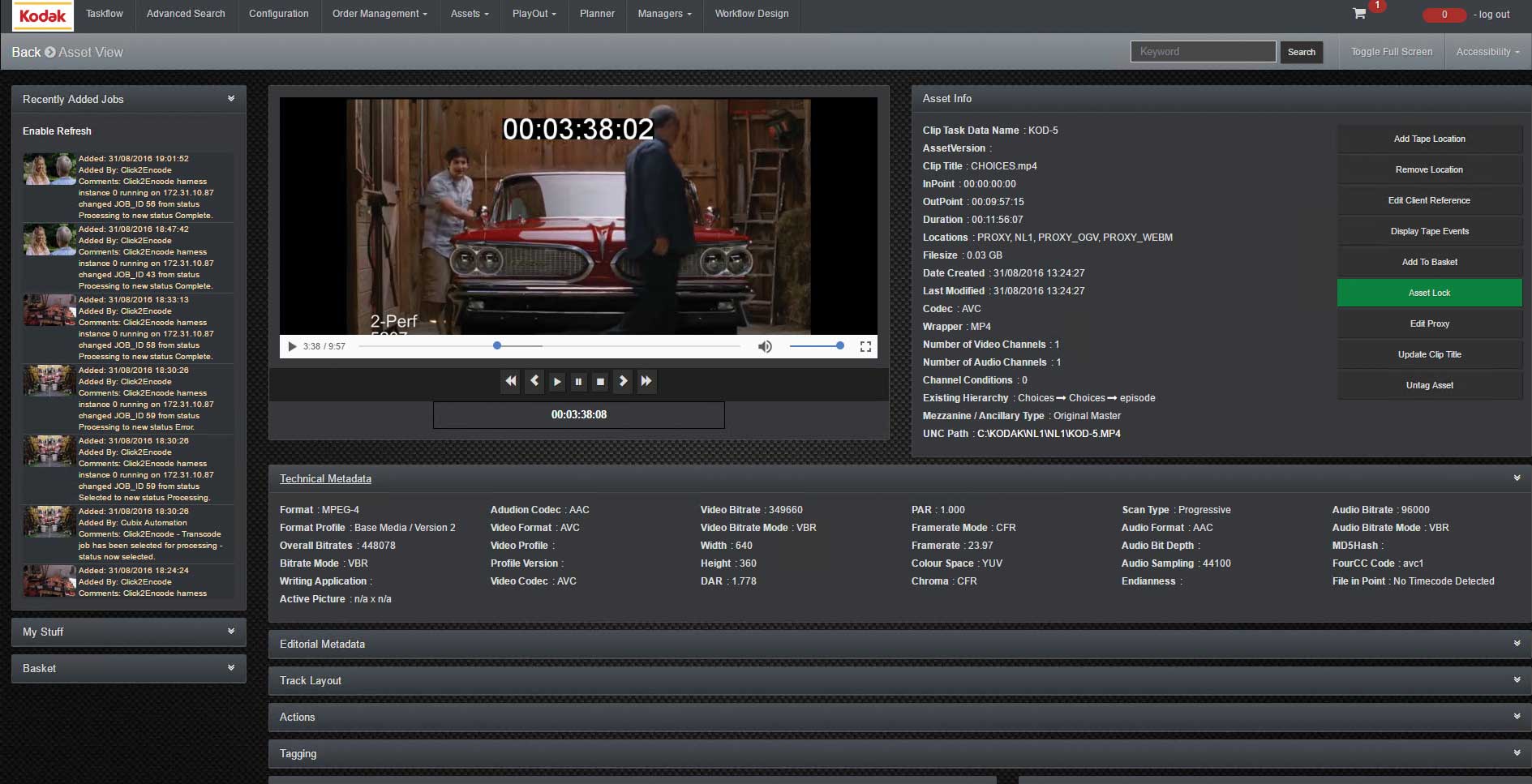 What KODAK Did Next
Posted on Jan 4, 2017 by Julian Mitchell
Kodak's white-label content asset management system.
Following Kodak's new film processing plans, the company is also launching a high volume film content asset management business. But what's the end goal?
When acolyte digital cinematographers herald that 'film is dead', they perhaps should be saying that film is sleeping. Digitising film can be a messy business, cost and restoration wise. Stage two of Kodak's own restoration (the first is the new processing the company is launching) involves digitising film in extreme volume, the only way, they say, to make it a viable business.
Kodak's Antonio Rasura sees this moment as a perfect storm of cheaper scanners, large amounts of film content and a will to do something about them for whatever reason. They're also not talking about just archives, they see their customer base as content holders.
"This is a brand-new initiative for us. Content holders – it's too easy to refer to them as archives like the Imperial War Museum – they could be corporate companies too. Let's say Jaguar for example, a lot of their corporate content was shot on film. They have huge archives or stores of film sitting there, they can't access that content and so there are two options. Either take all this content and go into a traditional post-production studio and say to them that you have this content, can you start to digitise this it so we can have it on a digital platform where we can view it. The issue there is, as we have seen film decline so have the number of scanners in the marketplace within post-production facilities declined, the ones that remain in those post-production facilities usually deal with new work.
"So unless there's downtime, they're not that keen on taking on projects that are just set for digitising, like large libraries of mixed formats of film. The second thing is that a number of skill sets for handling film are also disappearing. We're often called up by people who have found a roll of film asking, 'I don't know what it is, can you tell me what it is and what should I do with it?' You then start with the basics, is it negative, is it black & white, is it nitrate, is it acetate? So we realised that there is a gap in the market."
Back in 2010 Kodak, in its research labs, worked on a digital platform to be able to ingest the content, enrich it with metadata, tag it, make it searchable in an online fashion and then store that content. It wasn't fully funded at the time so when the company went into Chapter 11, there was a restructure and some of those projects were put by the wayside. Kodak had to look elsewhere for their asset management.
Antonio says: "Fast-forward to 18 months ago and we had a brand-new executive team and I said that it's worth looking into again. At that point we weren't capable of going into our research labs again to build an application of our own, but I didn't feel it was necessary to do so. There are companies out there who have very capable applications that could work for us. We just needed to find the best in class and work with one that was prepared to give us, for want of a better term, a white-labelled solution that would cater for those needs. So I looked at Ortana, amongst many others, and we were impressed with the way we were able to mould this into a system that would suit our needs."
So what we have here is a Kodak asset management system. If you lift up the hood it's a type of an enterprise system. You bring your film to them and they will get it onto a digital platform. So there are two components, the first is the application, this is what they launched at IBC in September. You start from analogue film to a point where a user can log in with his own ID and password and view that content. The second part is the actual scanning.
"Imagine a content holder who has shelves and shelves of film on mixed formats and they go, 'I might just buy a scanner'. Our answer to that is that we'll probably see him in 20 years' time when he gets through all of that. What we want to do is bring in the concept of mass digitising, or bulk digitising because that's what labs do, getting it analysed, prepared, cleaned, digitised and uploaded. Those are functions that we don't see content owners wanting to take on for themselves.
Where's the value?
"We will likely launch that part of the service in London next year as that was part of the acquisition of iDailies, because there was already digitising capability, all the film handling experience within the laboratory, we know what to do with it, how to clean it and how to get it ready for scanning.
"We're building up the space to
put in excess of 20 scanners in to be able to get through content at the lowest possible price point. People don't see the value in the scan, they see the value in the content. So we had to make it affordable – we can do that now because of the number of scanners out there. This year in Hall 7 of IBC the number of scanners there, well that just made it wonderful to enter this space."
Kodak is looking at a number of scanner makes like Cintel and Lasergraphics, but others too. "There are also high resolution scanners at higher prices and we will cater for those as well because it's likely for some content a UHD or high definition version for an online delivery is sufficient, but there may well be content that needs to be repurposed which will be of much higher resolution so it'll much more expensive to be scanned by more expensive scanning equipment."
The big unknown with all this film is, where is it, what is it and can it be moved… A case in point: a few months ago a guy, who had just acquired a facility, called Kodak up from Turkey as he had found an entire warehouse of film. He didn't know whether it was 16mm, 35mm or what. Kodak told him that it needed some type of identification to proceed. As he was actually sitting in his car with a roll of film in his fingers, he took a picture of it and sent it over.
"What we discovered was that he had acquired an old TV station which was at the time just using VNF, video news footage, which was film. They had acquired all of this material and wondered initially how they could see it," says Antonio.
"I told them they had to start scanning it. He wondered if I could get him a scanner. I told him I could, but it'd take him an age to get through it."
How many of these examples are there and how will Kodak service sites like this one in Turkey who may not want the films leaving the country?
Kodak says it is happy to replicate the iDailies business model on-site, if needed, in a temporary installation. "The great thing about the equipment of today versus the equipment of the past is that the equipment of the past was delivered once and never moved. It was very heavy and very sensitive to being moved. Today you talk about scanners like Cintel from Blackmagic, you can put that in a flight case, put it in a van and transport it anywhere. Some of these projects may take many years to get through. A good example a few years ago was the Dutch National archive. They wanted to digitise their entire film heritage, which took seven years to complete.
"In the instances where there may be cultural sensitivity to relocating the film like in the Turkey example, there would be no chance that they could move the content to London. We'd certainly look at setting something up that could address that. We could set it up and, of course, decommission it at the end of the project."
Lights Out
There are many content management systems and asset management systems out there, and a lot of these systems were built on historical CRM (customer relationship management) systems. The basis of any of these systems is a database, at its simplest, it's about being able to extract data.
The system produces the results by searching the metadata and you're able to retrieve X. When you're dealing with motion picture film or content in the AV world, you have to get smarter and smarter about the type of contextual metadata that you start to tag this material with and the rate at which you accelerate that content. When you start talking about heavy, heavy files, how do you get to the point where you're not constantly managing it with people and a lot of the functions can happen in a 'lights out' scenario, so in other words you set up a watch folder and this watch folder is watching for X, Y, Z description?
"You should be able to get to a point where once the upload has happened, the system itself starts working for you in a 'lights out' manner, to be able to apportion the content to the right folders, produce the right proxy files, deliver it back to the customer with an email notification and, of course, within the technical portal track and monitor that entire process."
The application is already live. During 2017 Kodak will be building out further to increase the capabilities to scan at higher volumes.
"At the moment we're at lower volumes with two, three, four scanners – we want to build that out to handle mass amounts of content. But we're out there, people are talking to us," explains Antonio.
"These can be long sales cycles, especially with archives that are funded with some kind of cultural or government funding or like the UK where you have BFI, lottery-based funding. They tend to work on an annual basis.
"Do I believe we will be attractive to the BFIs, the Imperial War Museums? Maybe not necessarily because they have their own strategies about what they want to do with their own content. But there are hundreds of other content owners out there who have content sitting on film who need it digitised and that is where we'll come in."
'The Front Page' Gets 4K Restoratio
An all-new 4K restoration of director Lewis Milestone's 1931 film The Front Page has recently been doing the rounds of film festivals. This months-long project was conducted for the Academy Film Archive and The Film Foundation.
Based on the 1928 Broadway hit, The Front Page centres on a tough-talking Chicago newspaper reporter covering the escape of a condemned criminal. The film picked up Oscar nominations for Best Picture, Best Director and Best Actor.
The source element used for the restoration was a black & white composite print of the film's US version discovered in the University of Nevada, Las Vegas' Howard Hughes Collection. The print was produced in the 1970s from the now lost original camera negative. The Academy Film Archive's Michael Pogorzelski and Heather Linville compared the print to surviving copies of an alternate European version and noted significant differences in action, dialogue and camera placement. The US version has not been seen in decades.
Restoration began with a 4K wet-gate scanning of the complete 35mm print at ImagePro, Burbank. The scanned elements then underwent several stages of automated and customised restoration at MTI Film's facilities in Hollywood and Tianjin, China, using its proprietary DRS NOVA technology. Although the source elements were in generally good condition, a number of significant issues required close attention. Parts of the film were affected by chemical staining and mould. One reel, in particular, was affected in its entirety.
MTI Film restoration artists employed a variety of newly developed DRS NOVA features to address the staining issue as well as problems with flicker and warping. "We used all the tools in our toolbox, and did so in unconventional and creative ways," explains director of restoration and preservation Bridgid O'Donnell-Farquhar. "Our grain management tool allowed us to analyse and replicate the grain pattern of the original film elements. We used that to mute much of the fungus and mould staining. Simultaneously, we replaced the grain in a manner identical to what it once was."
The film also went through complete colour grading and remastering. Colourist Alex Chernoff notes that the aim was to create a consistent look that was as close as possible to what moviegoers experienced in 1931. "With films from this period, it can be a challenge to get the black levels and density right without losing detail," Chernoff says. "Some of the scenes in the newspaper offices were especially tricky due to the light level and the complexity of the environment."
The remastering process included the production of a new 4K film negative for archiving at Universal Studios' UDS facility.