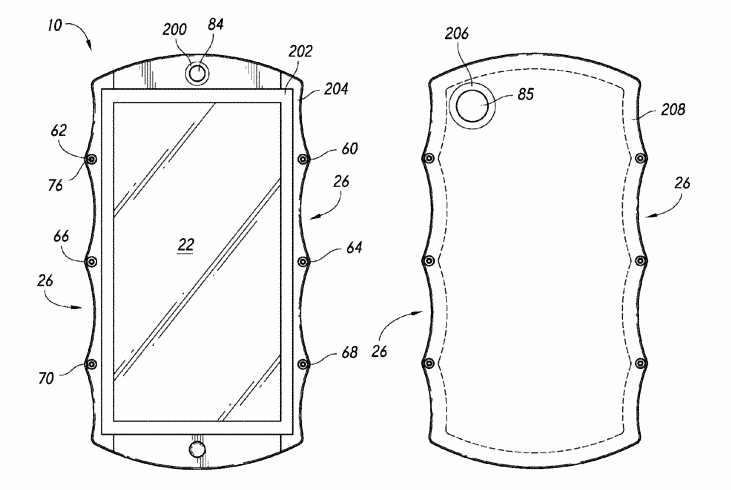 Are RED Building A 6K Smart Phone Camera?
Posted on May 7, 2016 by Alex Fice
A patent for a 'Multi-layer handheld electronic device' has been filed by RED Cinema's James Jannard amongst others but this is far more than something you can buy from the phone accessories tab in the Apple store. The device is described as a Palm camera that integrates with a phone but also adds that it can incorporate a 6K, 3D camera with miniature recessed lens mounts.
"Preferably, the camera includes a capability for capturing still images with various and/or adjustable resolutions and aspect ratios for example but without limitation, as high as 6144×3160 pixels or higher with aspect ratios such as 2:1, 2.4:1, 16:9, etc, and a capability for capturing motion images at resolutions up to about '6K' or higher."
The design of the housing is based on stackable layers connected around a smart phone.
There are touch sensor buttons on the back of the case which would control the camera and the smart phone. A rear plate will be where expanded memory will be housed and a second plate will include a lens mount and you will be able to mount 'external photography lenses or lens mount adapters'.
"The front plate can include one or more connectors on the side opposite the exposed surface , and configured to mate with one or more corresponding connectors carried on a front side of the intermediate plate, facilitating electrical communication between the front plate and some or all of the subsequent plates,"