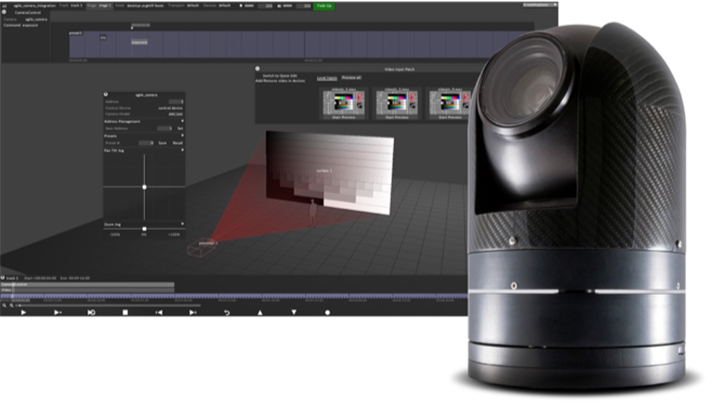 Agile Remote Cameras' PTZ protocol included in latest software from disguise
Posted on Mar 13, 2019 by Alex Fice
Clever video mapping server can now integrate live video from ARC360 PTZ cameras.
disguise has launched their newest version of software, which is used to design, sequence and control live shows and experiences. Version r15.2 includes integrations with Agile Remote Cameras' range of PTZ cameras, enabling live video feeds from the discreet PTZ cameras to be used as part of the visuals on live events.
disguise takes the video content from Agile's ARC360 PTZ cameras and sends it to projectors, LED screens or any other displays. The latest r15.2 software release provides control over exposure, gamma, gain modes and other settings, which can be added to the show as a control command. It's also possible to record, pan, tilt and zoom information as a preset, so that at any given point in a show. This can all be adjusted from the software interface.
The disguise system is based around a 3D engine. To project onto a set at a music concert, you first load a 3D model of the set, then a workflow specialist can use the disguise software to place projectors, cameras and other production elements into the space, seeing in real time the impact of those technical decisions on the design. In order to do this, the disguise system features many integrations with external equipment, including matrix switches and cameras, such as the ARC360 PTZ cameras.
Shows are set up using a timeline, with different modules added in as required, including video files, audio clips, web pages, or control commands for a PTZ camera. The control command unlocks the ability for programmers to be able to use the ARC360 PTZ cameras in the timeline, and these commands can be built into the infrastructure of the show.
A programmer sat front-of-house is now able to see the feed from the cameras and can set these up for each show slightly differently, depending on the venue. Once in the system, the live camera feed is treated in exactly the same way as any video that's coming straight off the server, meaning you can apply visual effects or map it to surfaces.
The ARC360 camera is waterproof and ideal for any weather condition and offers a remote solution for broadcast and live events. It features 3G SDI connectivity, with RS-485 or IP/PoE connectivity for feedback and settings. The IP connection provides many features and benefits for customers, including a web interface for easier address management and network configuration, as well as configuration files for each camera. The native IP interface also removes any requirement of additional protocol converters, with the PoE capability removing the need for additional power supplies.
The disguise servers come with a lifetime software license, plus there's a version of the software that runs on any Windows machine, called 'Designer', which is useful for pre-visualisation and to make changes during a show as required. The disguise system can be triggered from the lighting or sound desks, or via timecode, and can also act as the master. Additionally, the system can also be set to trigger at a certain time of day, which is useful for installed AV applications, such as those found in shopping centres. The new integration with the ARC360 cameras opens up the possibilities of including inobtrusive live video feeds within the system, wherever it may be installed.
For further information Agile cameras visit their website at www.agileremotecameras.com
For more information, please visit disguise's website at www.disguise.one.