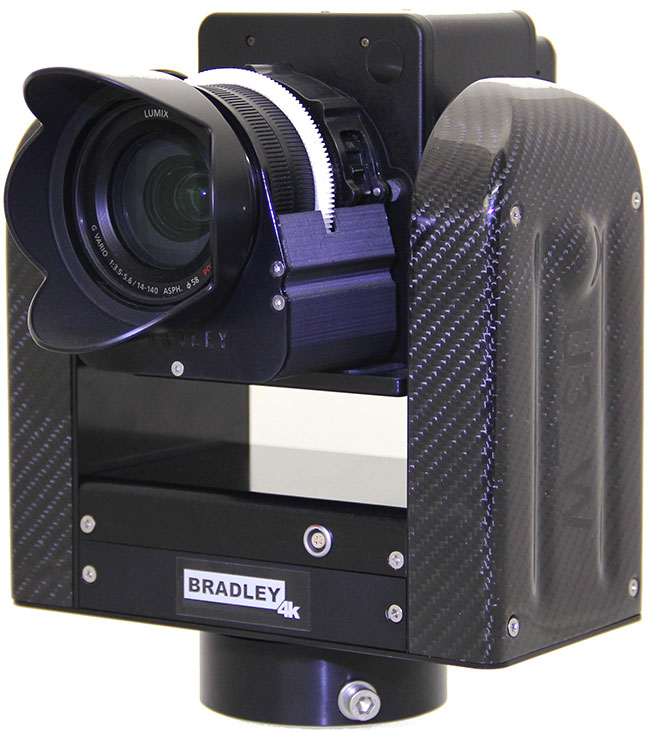 A 4K Camera from Bradley, Altasens and JVC
Posted on Apr 29, 2015 by Alex Fice
At NAB 2015 you may have missed Bradley's finished version of their small, remote controlled 4K camera for high end broadcast applications. The camera is the outcome of a close collaboration between Bradley, JVCKENWOOD and Altasens, which came about after discussions that started at NAB 2014.
The new 4K camera features a full Super 35 sensor from Altasens – as used in the JVC GY-LS300 camera – and a Micro Four Thirds lens interface which offers adaptors for B4 and PL mounts. MFT Zoom servo lenses are available and can be added, if required.
The output is by fibre, directly from the camera. The Bradley Base Station provides a Genlock input, a simple TTL level control protocol and a dual ST fibre connection to distances up to 20 kilometres which includes full control and genlock.
Bradley is offering plenty of accessories as well: a dedicated Pan/Tilt unit – U3_4K, three options for remote camera panels with full CCU control, a fibre base station with SMPTE hybrid options or ST connectors, remote control via fibre, SMPTE Adaptors, zoom servo lenses and lens servos.
The design is based on Bradley's U3 camera head and AltaSens's 4K CMOS image sensor technology. The U3 is a PTZ camera with 99 pre-set positions that can be memorised and recalled controlled remotely, including the Pan, Tilt, Zoom, Iris, Focus, full paint and colour balancing, using Bradley's Remote Control Panel (RCP).
David Bradley says, "The collaboration behind this project has been amazing, with engineers from all three companies, working together as a single team. The result is a true remote camera with outstanding picture quality and few compromises.  There is no need for fibre converters, and with the native option of using MFT lenses the cost of a fully working system can be kept within reasonable 4k budgets. Bradley's philosophy has always been to build cameras the way our customers want them, so we shall be listening carefully to visitors' requirements at NAB, and we plan to announce more joint developments this year."
Darren Paulson, VP of Business Development and Compliance for AltaSens explains: "Bradley Engineering is the ideal company to advise us regarding key design aspects and to subsequently deliver a superb integrated solution for 4K cinema or UHD broadcast, or even for sports broadcast where slow-motion playback is required. In addition, the sensor's extensive programmability enables extremely fast frame rates in many optical formats, creating additional uses for this technology in scientific, military and consumer markets."