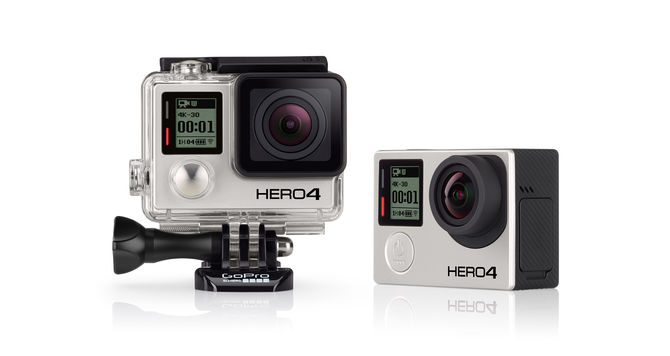 Where Does GoPro Go From Here?
Posted on Apr 29, 2015 by Alex Fice
It's been a big week for GoPro with their impressive first quarter results and news of the acquisition of a ten year old French VR company, Kolor, who specialise in virtual reality and spherical media. The buy-out comes just a month after Facebook bought Oculus VR and their Rift technology. But all the positive news has a slightly bitter after taste for GoPro because although the company's revenue has increased by 54% to $363.1 million and gross margin are 45.1% compared to 40.9% in the first quarter of 2014, the money markets are down on the share price.
GoPros set-up for VR shooting will now use Kolor software to knit the footage or stills together.
Tech analyst Scott Budman applauds the revenue but wonders if the numbers and the share price might attract other attention: "The numbers are healthy so I'm sure there are buyers out there with serious offers on the table". The company has also announced that higher international sales have boosted their numbers with more than half of their net revenues coming from outside the US.
One reason for the downwards share price curve (around 4%) is actually the decline in downloads of their App (2.6 million times this quarter as opposed to 2.8 the previous quarter) but another is perhaps the impression that GoPro are hitting the ceiling on the technology their cameras can offer now 4K has been reached. With the Kolor buy-out the company may be headed towards the service sector. They already have a healthy channel on XBOX One.
Kolor's solutions enable users to combine multiple photographs or videos to produce high-resolution panoramic or spherical content that can be enjoyed on mobile devices, the web or in a virtual reality environment. The market is huge even though the available hardware choices at the moment only include Oculus and Samsung Gear VR. One thing GoPro does not have a problem with is producing content and their users will be ready to produce video for this new market possibly for 'paid for' services like Sports events, teaching and even Doctor's appointments.
Another point in GoPro's favour is their lack of a real competitor. Most big camera manufacturers have their token action camera and UK company Drift Innovation after a promising start seems to be fading.  The consensus is that GoPro need to invest in more mobile applications to arrest the share price dip and also ward off unwanted suitors to remain as dynamic as they have been.