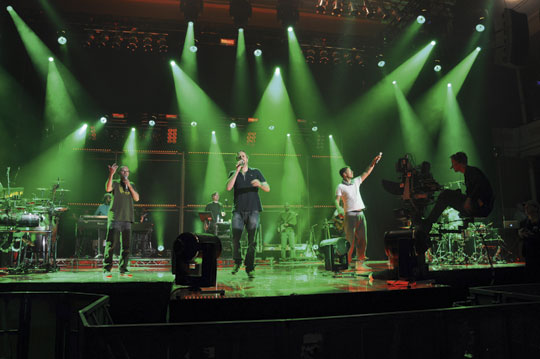 3D Simulcast Is A Step Forward For Broadcast
Posted on Jan 4, 2011 by Alex Fice
German Hip Hop band Die Fantastischen Vier were beamed in real time
Stereoscopic 3D to 100 cinemas over Germany, Austria, Switzerland, Luxembourg and BelgiumAt the recent Forward2Business congress about 3D Cinema and Stereoscopic Media Production in Halle, Germany, a 3D live transmission via satellite from an OB van gave thousands of fans the chance to attend a concert in one of 100 movie theatres all over Germany, Austria, Switzerland, Luxembourg and Belgium. Equipped with 3D glasses, they experienced German Hip Hop band Die Fantastischen in 3D – at the exact same time that the concert took place!
The live broadcast of concerts in
Stereoscopic 3D constitutes a technological step forward. While in post production it is easy to edit and depth grade 3D material, a live situation requires immediate adjustment of stereoscopic parameters in order to guarantee a perfect
Stereoscopic 3D D experience for the audience.
DVS (now a newly acquired company by Rhode & Schwarz) enabled a stereoscopic workflow at the event. In the 3D production chain, DVS' video server VENICE was used both for ingest and play-out in the OB van. DVS integrated STAN, the Stereoscopic Analyzer from the Fraunhofer Heinrich Hertz Institute into its video server.
The team benefitted from time savings thanks to VENICE's high-speed capabilities and appreciated its multi-channel options that allow for both ingest and play-out of stereoscopic 3D material in HD.
The DVS SpycerBox served as the heart of the workflow as the central storage for the entire uncompressed data coming from the five sets of
Stereoscopic 3D cameras involved. The material is currently being edited for the Blu-ray production.
Hans-Ulrich Weidenbruch, DVS CEO: "We always love for our equipment to be part of world premieres as DVS constantly strives for innovation. It was a great pleasure to provide a thrilling 3D concert experience with our VENICE video server – and many more will follow."