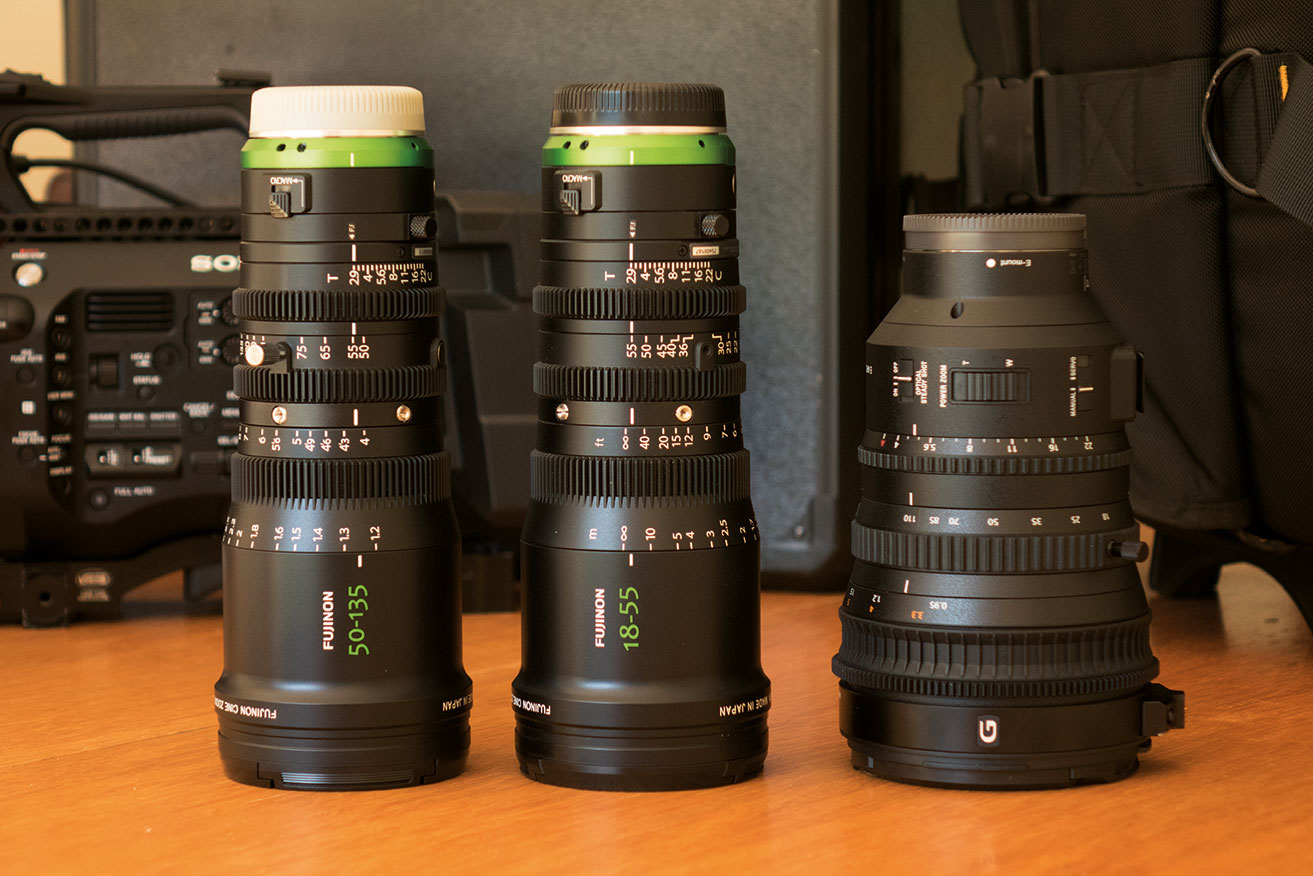 Zoom, Zoom, Zoom
Posted on Feb 14, 2018
Three great zooms from FUJINON and SONY.
Words Mark Moreve
Fujinon has an enviable reputation for its cine lenses but is now concentrating on a wider market. We consider the new MK zooms alongside the latest Sony equivalent
I  have been a cameraman for 25 years now, starting back when 2/3-inch Betacam SP was a popular format, using lenses such as the Fujinon 14×9 Pegasus II – for a wide angle, a Fujinon 8.5×5.5 would be brought out of the crew van! When HD came along Canon stole the march on Fujinon, especially in the UK, where we pretty much all converted.
Although 2/3-inch sensors are still very much the norm for outside broadcasts or news applications, many freelancers these days have moved over to using large sensor cameras shooting in the Super 35mm format for both broadcast and corporate work. Ever since the EOS Canon 5D Mark II was launched with its good(ish) quality video, the trend for large sensor cameras and the shallow depth-of-field look has become ever more popular. I've always embraced this 'large sensor look and feel', as I like the creativity it allows. As a cameraman, being able to choose between shallow depth-of-field or not is a great tool to have in the cameraman's box of tricks. It allows you to direct the viewer's attention to the area you want them to see, as well as making that dull boardroom look fabulous when you throw the background out of focus.
There are a few issues, though – the main one being the lenses. We can break this down into two parts: cost; and operability. PL mount zoom lenses are inherently expensive, with one of the more popular examples – the Canon CN7 – costing around £17,000. It's a great quality 17-120mm Super 35mm zoom lens, but at a price that most people can't afford (or at £300 a day aren't willing to pay the rental for).
Other options
So, what's the other option? For many people, the alternative has been to use stills photography lenses. For my part, I've used Canon EF stills lenses for quite a while. They're relatively cheap and are good quality, but once again they come with their own problems.
Stills lenses do not have a long focus throw, so they're not that easy to use with a follow focus system. The focus on a stills lens can 'breathe' quite a bit, meaning that as you pull the focus, the frame size will shift – not a desirable effect for video. And they are not parfocal, meaning they don't hold their focus throughout the length of the zoom range. Stills lenses' zoom range is usually quite short, like a 24-70mm (2.9x zoom) or 70-200mm (2.85x zoom). If you do get a long zoom lens such as a Tokina 16-300mm then you don't get a constant aperture, which is imperative when shooting video as you don't want your shot to change its brightness halfway through! Finally, and this one has bugged me for an awfully long time, most of these stills lenses don't have external smooth iris rings. They have stepped internal iris rings, which can mean an exposure pull 'in shot' is just not possible without it being noticeable by the viewer, and that is unacceptable, in my opinion.
The relatively recent launches and success of the Sony FS5 and FS7 cameras, both affordable 2K and 4K machines, have ticked many of the boxes that operators and productions are looking for, from high frame rates to excellent operability with viewfinders and shoulder mounts in places they should be. But still the old lens dilemma. Until now…
Suddenly we have been presented with a whole line-up of lenses aimed squarely at this market from a range of companies, including Canon, Zeiss and Fujinon, Sony, Angénieux and Sigma. At last, glass that is cost- effective, parfocal and has that dreamy external iris!
However, this leaves poor old owner-operators like me to make the decision of which to go for. With this much choice, it's a true First World problem – like running out of quinoa at Waitrose!
E Mount
I have been lucky enough to try out the new Fujinon 18-55mm T2.95 and 50-135mm T2.95, and the Sony 18-110mm F4 lenses side by side. All three are built for Super 35mm cameras and are only available in Sony's E mount. The Fujinon will be available with its own proprietary mount later in the year, I believe… but I'm not sure why! 
The E mount is as solid as the Canon EF, so if you're a PL fan this article isn't for you! The Sony flavour is gaining in popularity, with the main benefit being that it has a very shallow flange depth, so you can add any lens to an E-mount camera using any one of the plethora of lens adapters available these days. I would always suggest using a support for heavier lenses though, as I would if using an EF-mount camera.
Starting with the Fujinon lenses, the 18-55mm (35mm equivalent 28.8-80mm), is one of a two-lens set with the other being 50-135mm T2.95 (35mm equivalent 80-216mm). You don't have to buy them as a set, but I feel I would want to. As you would expect, they're very well built and they use the same glass that's in the much more expensive Fujinon XK6 20-120mm T3.5. These lenses are true cine-style products, fully manual, no power servo zoom, no auto focus and no auto iris function. This is as basic as a lens gets – it doesn't even have the contacts that transfer metadata to the camera or viewfinder. I guess it's like one of those expensive sports cars that still have wind-down windows: loads of performance, but really basic – and I love it! Especially the 50-135mm – when you open it up to T2.95. Wow! Lovely, sharp images with a very dreamy soft bokeh. Just what this client ordered!
Long enough?
As you would expect from a Fujinon lens, the lenses have great true colour rendition and good edge-to-edge sharpness, in addition to being parfocal throughout the zoom range. With the 18-55mm being a 3x zoom range and the 50-135mm being a 2.7x zoom range, my test images resolved to a very high level of detail – far above what you'd get if you were shooting with an HDSLR lens. The 18-55mm feels good when shooting hand-held and I only used the 50-135mm on the tripod, but they're both ergonomic, allowing your hand to drift between the focus, zoom and iris easily. I didn't notice any lens breathing when pulling focus, and both zooms handled very straight and true as well. They also both have very fluid iris rings which is the 'holy grail' of lenses for me, as I don't like internal iris lenses. Now as an operator I can tweak the iris in shot without it being noticeable, if required.
They have 0.8 pitch gears on the focus, zoom and iris rings so you can easily fit a remote system if you're working with a focus puller, or on a crane, for instance. The focus barrel has a 200 degree turn which is about twice as much as you get on an HDSLR lens (they can be very hard to track focus) and less than the 300 degrees you get on some cine lenses. What this means in reality is that these lenses are good if you work with a focus puller or if you work on your own – you don't 'run out of wrist' before you hit the focus end stops!
The zooms feel very fluid, with just enough pressure against you when using it that you could easily create smooth zooms in shot or just crash in to get focus. They both have flange focus correction so you can manually adjust the back-focus of the lens to the camera you are using (as this can differ between cameras). As I mentioned, they are parfocal and have a macro switch that you can employ should you require, giving you a close focus down to 0.85cm, which will come in very handy in certain situations. Another aspect I like is the T2.95 constant stop throughout the entire range of the zoom, making this a good lens for low-light use or for allowing the user to create a nice, soft out-of-focus bokeh behind the subject you're filming. Amazingly enough, some lenses that are three times more expensive than this pair don't have constant aperture. It can be such a pain when shooting video that you may have to add extra light or increase your ISO just to get a close-up.
Another aspect of these lenses that I really like is their size. They're the same length, so adjusting a remote focus, zoom or iris servo is easy when swapping lenses, and also they're only 85cm in diameter, meaning you don't need a massive matte box or huge oversized filters. I have about 25 4×4 filters and it's great to think I can use them all with these lenses, rather than having to buy 4×5.65 filters. At under 1kg each they're very light, which is a great bonus when shooting hand-held because some PL lenses can be heavy, especially over a long shooting day.
I think I could use these lenses on any sort of project, from a corporate talking head to a pop promo, commercial and even in a drama situation. They're a good pairing and I know I would be very happy with them, and most importantly they'd allow me to create the kind of images that my clients would be very happy with, too.
If I could change anything about the Fujinon it would be that the 18-55mm and 50-135mm zoom range isn't quite long enough for me. If I wanted that extra zoom range in one lens I could buy the Fujinon XK6 20-120mm T3.5 lens – but that's £9000, whereas the pair of 18-55mm and 50-135mm units are only about £6500! So maybe you can't have your cake and eat it…
Another bonus to having the pair of lenses is that if you shoot with two cameras and have matching lenses, you can have both the close and the wide shot at the same time. You can't have that if you buy just one lens! So, you are getting your cake and eating it – with a cherry on top!
One size fits all
So, on to the Sony 18-110mm F4 (35mm equivalent 28-176mm). This is a 6x zoom range lens that I would describe as a Lexus, if the Fujinon was a sports car. What do I mean by that? Sony lenses have never really been that popular. They made a few zooms for their F3 camera (where are they now?) and primes when the F5 came out (good, but they're very heavy). Like a Lexus, this Sony lens is well built: it has tons of extras and is very good quality (a Japanese Mercedes) but it'll never be as popular as, say, a Range Rover (Zeiss) or a Porsche (Fujinon). Lens snobbery will always be an issue with some users and onlookers! Enough of the analogies, though, and on to the lens. It's compact, lightweight at under 1kg, with an external iris and smooth, manual zoom (which is an upgrade to the full-frame Sony 28-135mm original kit lens with the Sony FS7 Mk I).
The Sony lens also has a very usable variable power zoom feature, which can be operated on the lens or through the LANC input on the FS7 camera. The zoom will either creep or dash, depending on the amount of pressure you apply to it. Switchable auto and manual focus are both present, with a macro that's very close to the end of the lens. There is no manual flange back focus control, but the lens computes the back focus exceptionally quickly and I found this lens to be parfocal throughout the zoom range.
This lens also features an inbuilt optical image stabiliser which is switchable on the side – excellent for hand-held use. The Sony 18-110mm F4 can be bought as part of a kit with Sony FS7 and FS5 cameras or separately for about £2700. Considering it's a 6x zoom capable of shooting 4K images, the price is phenomenal!
With an aperture of f/4 throughout, the range of the zoom is slower than the Fujinon, but the Sony is fine for creating a shallow depth-of-field with a soft bokeh beyond the subject, as well as for shooting in low light. Both the Sony FS7 and FS5 have higher ISO options without adding too much video noise.
What I like about this lens is that it's almost a 'one-lens-fits-all' solution. The 6x zoom range is fabulous and very useful – you could use it whether shooting broadcast or corporate. I recently used it on a commercial shoot during which the focus puller remarked on how sharp he thought it was! It also 'talks' to the camera's in-built lens correction software to correct any aberrations and capture the lens metadata – something you find on much more expensive lenses such as the new Zeiss CP3 XD.
The Sony is a fabulous lens – if I have one gripe it's simply that the F4 stop but then if you need a faster lens with this zoom range you should buy the £17,000 Canon CN7. However, I'm not sure there's £14,300 worth of difference between the two!