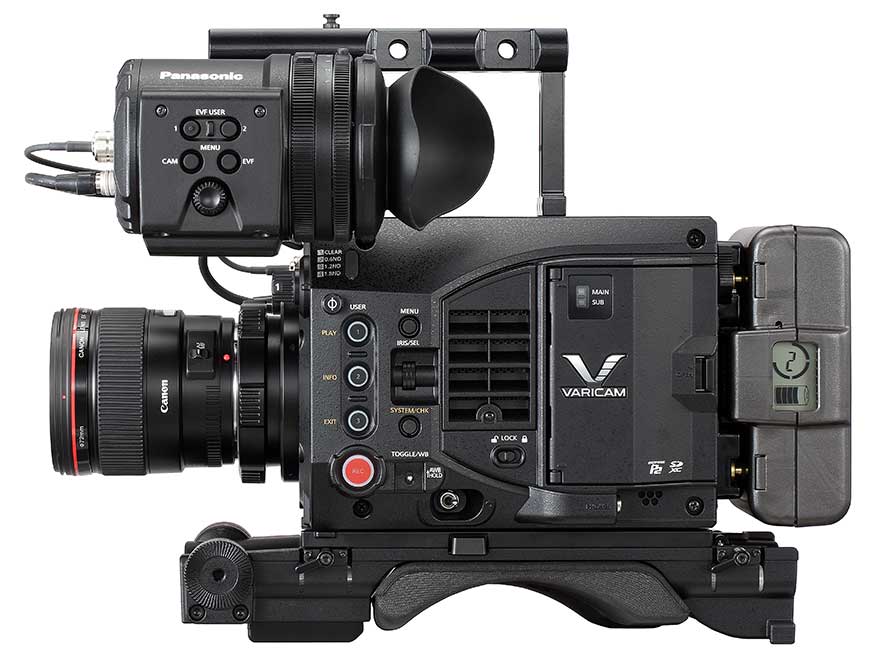 REVIEW: Panasonic VariCam LT
Posted on Dec 23, 2016
The VariCam LT is the smaller and cheaper version of the 35, but as it has the same sensor, it has the unique dual ISO performance that is catching the attention of low-light productions
Words: Jonathan Jones
I knew a little bit about the VariCam LT, obviously I'd used the VariCam 35, its bigger brother – it's an unusual beast and I had mixed experiences with it. Panasonic needed to do something to keep themselves in the game and the LT was the answer to that and it's an interesting camera. The biggest thing for me to test was the night stuff because for me that's the biggest selling point of the camera.
You can recognise the terminology of the camera and the build and button layout if you've come from using an older VariCam; there are certain things that are very similar. With the LT they're not trying to go fully in to the digital cinema world as they're trying to keep a handle in the broadcast world. I can see it as a changeover camera for people who have a 2/3in VariCam or one of the other Panasonic cameras and want to go 4K. They haven't gone 'right let's make a cinema camera'. They thought that their previous users can still get their head around it quite quickly.
All these cameras, the ALEXAs, the REDs, if you break down the settings of what it is you want to record they're actually incredibly simple, there aren't that many settings. The biggest fundamental problem with the LT is switching it off and on again every time you make a decent setting change. So if I wanted to be at ISO 5000 and 25fps because I wanted the best resolution with the highest sensitivity but then I wanted to do a shot at 100fps, for example, I'd have to do all these setting changes and then turn the camera off and back on, wait for it to boot up and only then would it make the changes. With a RED, for example, the settings are so quick to change, it's all at a touch of a button. It was the same with ALEXA – you used to have to turn off and on – but that's all changed with the new models.
That side of the ergonomics is a bit frustrating. For example I changed the frame rate and had to turn it off and on and then realised I had to drop the recording format to access the frame rate and it didn't tell me that so I had to turn it off and on again. That becomes a bit tedious. That said, if you're in a drama situation and shooting at night and you want to access that ISO 5000 ISO setting, and you're only going to make frame rate changes within its frame rate allowance, it's great. But with a lot of shoots you do jump around quite a bit.
Brilliant EF Mount
There are so many variables with the 4K stuff so yes, you can access a higher ISO, but you compromise your overall recording quality. Another fundamental issue is that it's not Raw, it's ProRes 422 and ProRes LT.
The great things are still there, like P2 which is tried and tested and we've worked with it in the most extreme environments. Those cards are reliable and they work, the whole workflow is simple.
The camera itself is incredibly well made and not plastic. Its built-in NDs are a massive help as that's one of the biggest failings of RED, not having those.
I was really impressed with the EOS mount, although you can also easily change to PL. Most EOS mounts are a little bit clunky; for example with the REDs you still have to change apertures via the touchscreen so if I want to be at, say, f/6.3 and open up a bit, I have to physically tap it in and then it happens. The LT has a little roller wheel and it's as smooth as pulling iris – it's amazing. If you're in the TV world it's really useful, but in the film world you never really open up during a shot anyway. I can see some great uses for it; for example if you're on an EOS lens and the sun starts to creep out, you just dial it back so it's great for doco work, but for drama you would stop and restart.
Panasonic appears to want to win drama shows from ARRI and as the price point is half of the ALEXA Mini camera that will happen. With reviews I always ask the question: Would I buy one and if not, why not?
Well think about the sensitivity is how it could affect your lighting budget. If I was doing a film that had a large night requirement or a large lighting requirement, with this, instead of having 18K HMIs, you could have 2.5s or 4K. The sensitivity means you don't need such big lamps. So you save on the cameras and you save a load more on the lighting – that could be thousands of pounds a day. I could light something with practical lights as opposed to using a gaffer so it might save on crew too. If a project's budget has been set though you would then just light it.
For the doco world, one of the biggest challenges we've always had is sequences that go in to the night and very darkly lit atmospheric locations where you can't take a big lighting rig. The sensitivity is remarkable and that in itself is its selling tool. Because of that you will put up with turning the camera on and off to change settings. If you're in the doco world, you pretty much set the camera and go; you don't really change it, especially if you're doing synch. There might be the odd shot with a little stylistic moment to it but then you'd set that up and you've got time.
With our work in the natural history world, we're changing settings very quickly so the camera falls down there for the natural history world. That's where the RED has become the industry standard. Because it's so quick to change settings, you could be doing a shot of a cheetah at 5K and within seconds you could be doing a 240fps 2K close-up. You could get quicker at changing the LT's settings with practice, but it's going to be minutes so that is a consideration.
Form Factor
I found the silver nipple switches on the side of old VariCams awkward, and I think the colour temperature switch here is the same. As there is no raw, the colour temperature is significant as it does bake it in. The colour temperature switch is right above the on/off switch so as I was filming I kept dropping my hand down to turn the camera on and off, but I was finding the colour temperature switch instead. It would be good if the only metal switch was the on/off switch so you can turn it off and on with confidence to change the settings.
The XLR inputs are great and better than the RED's. The menus are very simple, the viewfinder is good, and other than that it's pretty simple with very few buttons. The ND wheel is exactly the same as the old VariCams, which is great for the broadcasters.
There's an unusual control panel on the back, which is quite interesting and meant as a remote, but I felt that leaving it on sped up menu selection. But if you leave it there and start jumping into cars it's just going to snap off as it sits up like a 'whale tale'. But as it has a screen, it's useful for focus pulling and as another monitor. It would be nice to have a bracket so it could sit on the right-hand side of the camera that you don't normally touch so it could feel more streamline. The pistol grip is great with the iris control and record button. The form factor is good for gimbal work as it's a pretty lightweight camera, which is good for cranes.
For the money you could buy a new RED Weapon Scarlet that would shoot 5K Raw at higher frame rates. The sensitivity pushes it above other cameras so if you're doing something at dusk or in dark places this is the camera. RED's ISO 800 against the LT's 5000 is a massive difference.
If you wanted to use this camera every day it would be great, it's going to be a good choice for people who are doing a mixture of projects. The Panasonic gamma curve is always great and from what I could tell, the pictures look lovely. It comes down to whether you have the projects to assign the camera to. For the DoP who perhaps doesn't have access to massive lighting budgets, then the LT would make a massive difference.
The look
If it was Raw you'd have more flexibility in the grade, but it is the VariCam look. It's tried and tested and you know it's going to deliver; you can trust Panasonic that the pictures will be great. You could make it look however you wanted it to and make it work for your project.
The LT would be amazing for something like Eastenders, where you can have much smaller lamps and potentially change the set dynamics, something long form like a Netflix show for instance. I can see it being used on the show's camera channels where the cameras are set so the settings aren't really changed.
I don't want to make too much of the switching off and on of the camera, especially if you're coming from film, it's not a bad thing. You can dial in your frame rates but you've got little caps. If you want to be at its highest recording resolution, your frame rate allowance is capped 1-30fps. Drop the resolution and you get 1-50fps and so on.
It's a war of attrition of frame rates at the moment. The camera with the highest resolution at the highest frame rate will win. With the LT you've got the sensitivity versus the lack of raw versus some functionality but for us as a company I can see the LT working quite well for doco work.
With the LT I mainly went with the EF lenses, because that's where I think it will be winning. Having a lightweight camera with lightweight and very fast lenses like the Canon L series f/1.4 and the sensitivity, you could see things like the aurora borealis. We're getting into that sort of territory and I think more people will ultimately use the LT for it. I think that's why they have developed such a good EOS EF mount. It's amazing how well Canon glass has been received, even big films are shooting on them. The glass quality is fantastic and you can go from a crazy wide-angle to a telephoto quickly.
Jonathan Jones, Ember Films