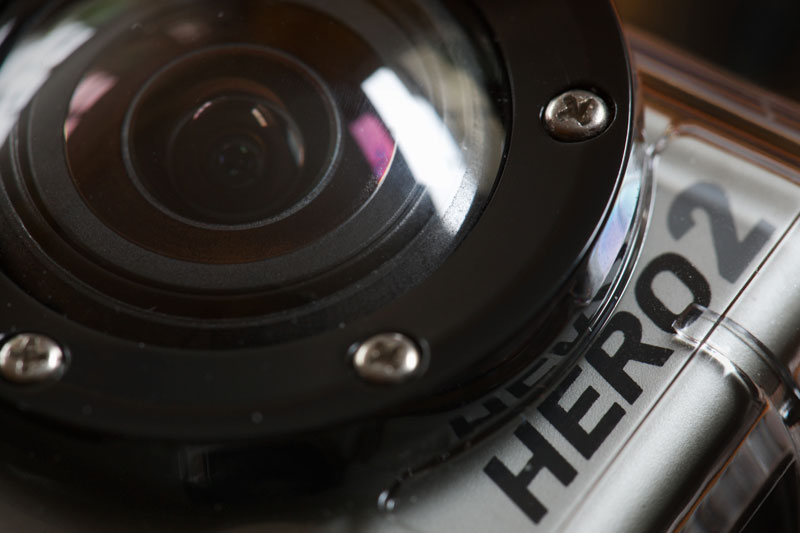 REVIEW – GoPro 2 Camcorder
Posted on Feb 29, 2012 by Alex Fice
GoPro 2's image quality still isn't great but that's not the pointGoPro came and saw and conquered the world of extreme life cinematography. There were limitations and complaints about interfaces and excessive accessories but now, stand by your surfboard, its GoPro2. ADAM GARSTONE dons his protective gear and gets close to his Hero.
Some people like to jump out of perfectly serviceable aircraft in order to 'play' with the parachutes. This ridiculous use of what is, essentially, emergency equipment has always struck me as being a little like crashing your car to 'play' with the seat belts. Nevertheless, they seem to like it, and the camera of choice to capture the few moments of buttock clenching uncertainty as to whether the equipment will function properly is almost always the GoPro Hero.
I recently spent a hot few weeks in Qatar. The company I was working for bought a total of twenty five GoPro Hero cameras, which they attached to everything from racing camels to Parrot A.R. Drones, and even Saluki hounds. The picture quality of a GoPro is far from perfect, the post-production workflow is a little awkward, and the cameras themselves are far from indestructible (when I quit Qatar there were only two working ones left), but they have become ubiquitous where you need a tiny, light, low cost (i.e. expendable), water resistant, sand-storm resistant, go-anywhere… well, you get the picture (pun intended – honest).
In the unlikely event that you have never come across a GoPro, it looks like a tiny (~105g), compact stills camera. Supplied with the camera is a waterproof (to a claimed 60m) clear, plastic housing and a variety of mounting options. Without its armour, the Hero is most definitely not rugged – the lens protrudes from the front of the unit and is very easily damaged. That means that, although there are audio inputs (on a stereo, 3.5mm jack, as well as a built in mic) and, on the Hero2, an HMDI output, you probably won't use them 'in the field'. With the case, the weight goes up to about 200g, and there is a stereo 3D case which allows you to mount two Heros side-by-side. There are just two buttons – one a power/mode button and the other the select/record button – and the Li-Ion battery, which slots into the back, will power the unit for a good couple of hours. As standard, there is no viewfinder of any kind, though there is an optional LCD back, which comes with an extension for the housing so you don't lose any of the ruggedness. The mini-HDMI output could be used for monitoring if, for some reason, you were using a GoPro Hero 2 without its case. In February there will be a back that will stream video over Wi-Fi, along with a smartphone app to view and control the camera – that should be fun (now, where is my quadrocopter?).
The 'Outdoor Edition' kit supplied for review includes a couple of different straps for mounting the camera, as well as several self-adhesive pads and a 3-way pivot arm. There is also a 'Motorsports Edition', with a suction cup mount, and a 'Surf Edition' with surfboard mounts and a high-visibility version of the waterproof case that will float.
The Hero 2 brings a variety of improvements to the original Hero, though the form factor – very sensibly – remains unchanged. Most importantly, it means that the vast range of accessories that exist for the Hero will also fit the Hero 2.
With the original Hero, you needed to remember a series of three digit codes corresponding to the various operating modes of the camera. The new LCD on the Hero 2 has a much better user interface, giving you icons for each mode and real text for resolution, frame rate and so on, plus it includes red record LEDs on the top, front, back and bottom of the case. The Hero 2 also features a new 11M pixel sensor, up from 5MP in the original, and GoPro claim 2x the resolution from a new lens. The new sensor allows the Hero 2 to vary the effective field of view of the lens, so you get 170˚, 127˚ or 90˚ at both 1080p and 720p. The sensor will record up to 120fps at 848×480 resolution and you can shoot stills at 11MP, 8MP or 5MP. There is a faster image processor to handle all these extra pixels, and slightly more flexible timelapse – a feature I love in a weatherproof camera.
The camera records 'GoPro AVC' H.264 at about 15Mb/s (1080p) to SDHC cards of up to 32GByte capacity. Post-production, therefore, generally requires conversion of these files. GoPro provide a utility to convert to CineForm, but it's pretty slow, so I stick with either MPEGStreamClip or Compressor to get the files into editable format – usually ProRes 422 for FCP.
The picture quality is noticeably improved over the original Hero, though it is still hardly cutting edge. Resolution is better and the colour handling is much better – the original camera's images were pretty contrasty and over-saturated. Low light performance is also slightly better, though it's worth noting that you need plenty of light to get the best pictures from this camera. Ultimate image quality isn't what the GoPro is about, of course, but these improvements are very welcome. Coupled with the new user interface and the increased flexibility from the field of view features, this is a really fantastic update to a really cute little camera – a camera that should really be in almost everyone's arsenal. You don't have to hurl yourself from an aircraft dressed like a flying squirrel to find a use for the GoPro Hero 2 – I just tied one to a toddler for an hour of most entertaining footage.