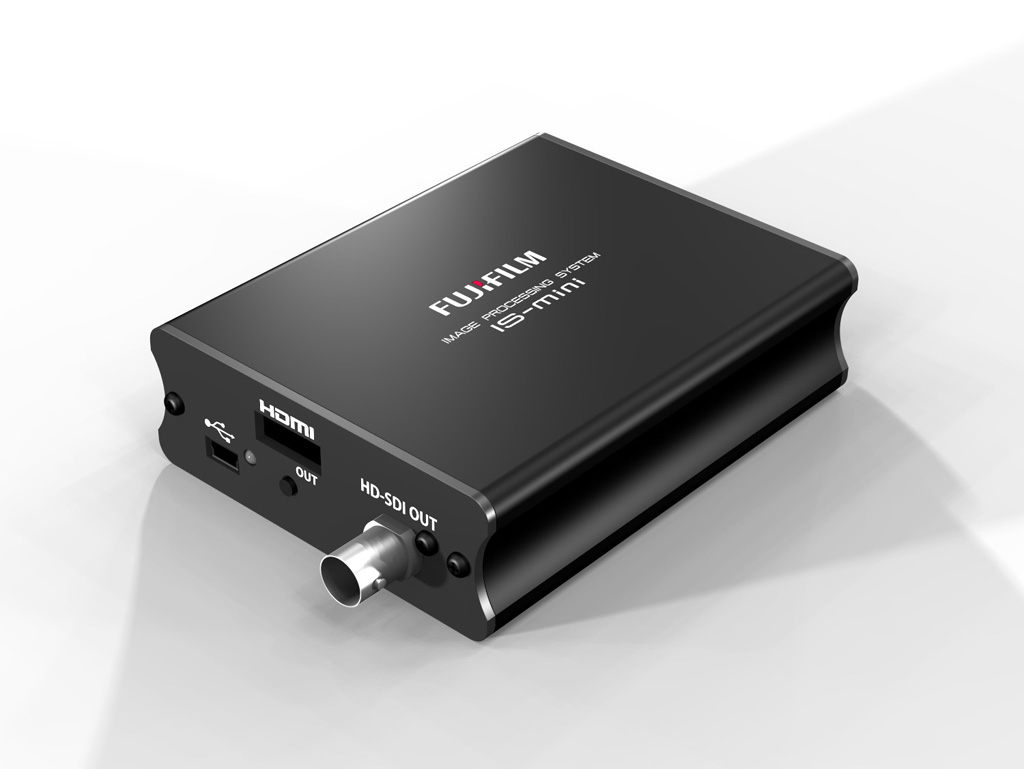 Review: Fuji IS-Mini Image Processing System
Posted on May 29, 2015
The Fujifilm IS-Mini
Look Up Tables are now very much part of any digital workflow, and here Fuji have released their latest example of a small piece of hardware that allows us to store, deliver and manipulate LUTs for each shoot.
From the Thomson LUTher in the mid-2000s, through to the Blackmagic HDlink, Filmlight Truelight and more we have seen systems built and designed to allow the application of LUTs into the visual workflow, and also allow us to capture and store new LUTs (or looks) for use later in the same production workflow.
Now we take a look at the Fujifilm option. Fuji has released the IS-mini, a small unit that can allow the use of LUTs, an SDI-based box to hold a 3D LUT for display profiling and calibration. As mentioned there are a few options on the market but this is entirely relevant for today's colour imaging requirements, especially now that ACES 1.0 is an official release and is now common place for colour workflow development. The IS-mini has full IDT (Input Device Transform) capability for ACES (Academy Color Encoding System).
Grade page with Astro monitor and IS-Mini.
Included software
Fujifilm has also written their own PC and Apple OSX display calibration software that can be used to quickly calibrate and install LUTs for a variety of purposes.  Fujifilm IS-Manager software is included and works quickly. Installing a LUT into the box for preview purposes on set is completed easily and installing a more accurate 3D camera log conversion for your camera is simply accessed via drop down menu options, as mentioned simple, quick and easy.
Calibration and probes
What is also interesting is that Fujifilm designed the IS-mini with a built-in pattern and signal generator that runs with their included  display calibration software. You'll need to add a probe such as the X-Rite i1Pro Spectrophotometer as one option but it also enables 3D calibration and Look LUTs generated via LightSpace CMS to be used for facility display calibration and on-set Look management.
The IS-mini LUT box interfaces seamlessly with Spectracal CalMAN and other probes depending on the level you wish to operate at.
Another option is the IS-100 processing box that allows multiple IS-mini units to be connected via ethernet hub to control many cameras at once if desired, or perhaps use one box and feed through an SDI repeater to feed multiple monitors for both input and output, the choices are there though.
Technical
The box is small and compact, and feels very well built and solid in the hand. Plugging in was straight forward by using 2x USB cables (one for power, one for the software) it was displaying an image in no time. The IS-Manager software boots up quickly and fairly soon it is quite intuitive to be navigating the software and uploading pre-built LUTs into the image path. Nice.
For the test I set up two cameras, an Alexa shooting Arriraw through Convergent Design Odyssey 7Q monitor/recorder to 2 x 256GB SSDs. The second camera was a Blackmagic 4K recording RAW CDNG to its internal SSD. Monitoring was through the Odyssey on camera, a 8" Astro waveform monitor and final output to 24" location monitor.
For the software I used a MacBookPro 13" Retina with Fuji Software version IS 2.5.1
(The cameras, laptop, all test charts and the space to test the equipment was provided by Portsmouth University which allowed me the time and space to test the workflow fully.)
For the image from the Alexa I ran two outputs. Output 1 came from the SDI monitor out of the Alexa direct, set in Colour/Gamma menu to Log-C, to allow for viewing the Log output as would be recorded for the Masters, the second output I took from the Odyssey SDI out so I could monitor that the Odyssey was seeing the image and recording the raw signal, this doubles as a feed from the recorder to monitor all is communicating correctly and as a Log-C preview output. For the Blackmagic the camera was set to film and I used the SDI output. For both cameras the SDI outputs were then fed into the SDI input of the Fuji IS-Mini and the SDI output from the IS-Mini then fed into the waveform and location monitor.
To begin the test I updated the firmware to new version V2.3 and the IS-Manager software to V2.5.1 as usual through online updates. The IS-mini asks you to update the firmware as it is plugged in and powered up.
Opening up IS-Manager you have the main screen showing settings, colour correction, manage monitor calibration and initialise software settings tabs.
Setting
This allows software, firmware and license management to take place, setting Tangent panels  (with Tangent Hub loaded) and other options to let the software do its work.
Colour Correction
One of the two main pages for the loading and correction of LUTs and colour correction/calibration. Here you can select your LUT to load, browse IS-LUTs and select monitor calibration files
Manage Monitor Calibration
Here you can begin your monitor calibration process, measure patches and monitor evaluation, set your output to full or legal. Once created you can then select your ismon (is-monitor) file, show evaluation graph, tweak colour balance and finally export as a new LUT.
Initialise Software Settings
Basic reset to defaults.
Once the software was loaded for this test I firstly created a ismon profile with an X-Rite display i1Pro. This was plugged in and the calibration set from the software. You can set your calibration targets for color space, white point and gamma as well as set for legal or full output. Happy with the monitor profile I took a look at the graph and how it responded and once satisfied loaded this and went back to the LUT page.
The LUTs that the IS-Mini can read include .cube for Truelight and Resolve, .look for Adobe and  .3dl for Scratch and Lustre, so fairly well covered.
Its own LUT format is IS-lut, of which a few have been preloaded (Alexa LogC EI800, Canon C500, RED Epic Dragon, Sony F55 and Panasonic Varicam35). On the left of the UI is a simple folder tree where you can navigate to your own LUTs, I loaded a couple of Blackmagic LUTs from Resolve as .cubes with no problem.
Browse LUTs tab gets even more interesting. Here we can download film emulation LUTs from Fuji for various cameras. This is quite a comprehensive list of LUTs and each download is fairly large in size, for LUTs.
Selecting a camera manufacturer offers Blackmagic, Arri, Canon, RED and more and in each manufacturer selection there is a camera, so for Arri you can choose Alexa or Amira, for Blackmagic Pocket Cinema Camera or 4K Production camera, the list covers nine manufacturers and 44 cameras, including GoPro Hero 4 and Phantom Flex 4K, quite a list.
Once you have selected your manufacturer and camera then a download pack is available to save. For the Blackmagic 4K Production camera this includes rendering selections for AMPAS RRT (Reference Rendering Transform) V1.0.0 or say Kodak Print Premier and then your film look, such as 8573 Eterna 500 or 5219 500T.
As you can imagine this is a fairly comprehensive list of options but covers virtually all major cameras and options so well worth the research and effort in my opinion.
Once you have selected your desired look/LUT for your options or your own preview LUT created through the colourist, then load the LUT and it is then active. A bypass button allows you to toggle on/off the LUT and with your panels attached you can begin adjusting and creating a new look which can then be saved as a new look/LUT for the Project, as an IS-LUT or your own version like .cube for others to use later in the workflow (perhaps save both)
The software has the usual sliders and drag method for adjusting familiar sections in the colour such as Lift/Gamma/Gain, Offset/Slope/Power, Saturation but colour correction can also take place with a Tangent panel through Tanget Hub software.
License + settings
Some sections of software though do require a License+ activation, which is free when first activated for two weeks then becomes a license locked to the box which is sent through once applied for.
Conclusion
In conclusion the Fuji IS-mini is a well constructed and very easy to use system. It has a level of entry 'cost wise' that is appealing and is very user friendly. Along with a strong upgrade path to really get into full calibration using the in-built signal generator and use of external probes then we have, at its price point, a strong piece of equipment that due to its speed of use could be very useful for DITs working on quick turnaround productions where time is critical to set up quick review monitors and to preview raw and log-based imaging.
It wouldn't be difficult to run whole reviews on just each application within the main software. Monitor calibration, Film Emulation downloads for multiple cameras, ACES and IDT, Tangent Panel and more grading options. For a comparatively conservative investment there is a small LUT box here that has enormous expansion potential and deeper calibration/LUT capabilities than first appears on the surface, albeit with added investment for the added equipment required. Along with strong and deep support through the software various options it is a wonderful addition to the colour workflow toolset.
Shout outs :
Fuji IS mini supplied by XTFX, Soho LondonAlexa Cameras, Blackmagic Cameras and facility space Portsmouth University TVFP.