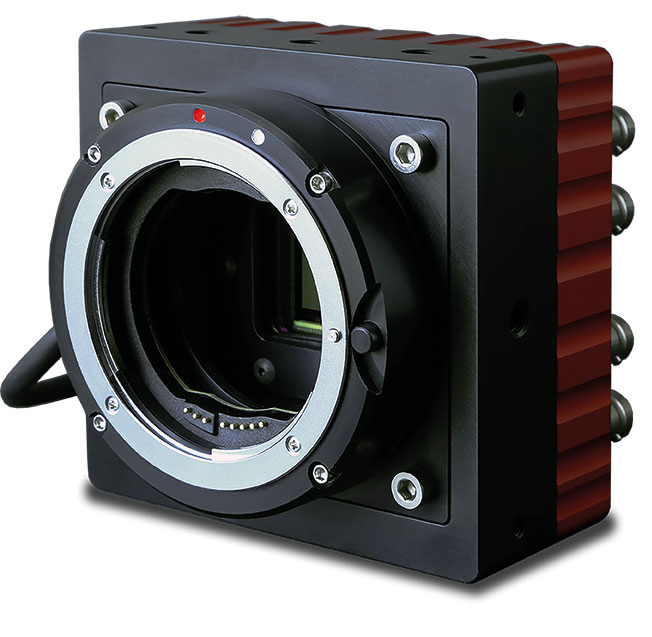 REVIEW: FLARE 4K POV Camera
Posted on Mar 31, 2015 by Daniel Mulligan
The Flare 4K is very small and uses Quad 4K SDI to send the full signal to a relevant recorder, for our test it was the Odyssey 7Q+.
Cinematographer and workflow expert DAN MULLIGAN reviews the IO Industries FLARE 4K camera with a tried and tested sensor and processing that may appeal to the more adventurous.
Since the Thomson Viper camera, back in 2003/2004, we have had a proliferation of 4K digital camera systems that currently now appear to be flooding the market place.
I mention the Viper as it was indeed a 4K camera, using a 4320 x 1920 sensor, but it delivered a sub-sampled 1920 x 1080 HD image. There was also the Dalsa camera, a 4K CCD recording 16-bit RAW 4096 x 2048 around the same time.
Now jump a few years and we have a new 4K camera delivering a 4K pixel count at 4096 x 2160 to your recording device but about the size of two small SSD drives. Nothing perhaps particularly new, except what is new could be a slight game changer as digital matures and grows at a rate probably unknown in film times.
Dan's rig with Cooke Mini S4i 25mm lens, Convergent Design's Odyssey 7Q+ recorder and a full Vocas cage.
The Details
The Flare 4K is very small and uses Quad 4K SDI to send the full signal to a relevant recorder, for this test it was the Odyssey 7Q+. The sensor is a CMOSIS CMV12000 4K at 4160×2160 so records both UHD for TV and DCI for 'Features'.
There are two versions of 4K recording/delivery, similar to how HD cameras would deliver both Progressive and Interlaced images from the same camera.
1. Pixel Interleaved mode – four layered quad images that allows for lower latency so great for TV live Productions.
2. Quad Mode – the image is broken down into four quarters and each segment recorded then joined together for the full 4K image. Simpler but slower latency so used more for TV/Film that requires Post later.
Quad HD-SDI records 23.98-30fps.
Dual 3G-SDI records 23.98-30fps.
Quad 3G-SDI records 48-60fps.
It has mount adapters for Nikon and Canon and also PL mount lenses.
The entire system is driven through a menu that in turn is navigated via their own touchpad unit. New currently is a menu in vision to allow for better navigation. Alternatively the control can be from an RCP or similar through a RS485 protocol.
A small car mount using a lighter Canon zoom 18-52mm VR2 SLR lens.Does size matter?
This camera is very small, and seems to naturally lend itself to applications such as drone photography, car POV shots, body POV shots and any shots that require tight angles and small spaces. The 2K version of this camera is already shooting a Major Motion Feature and more are coming up.
With 4K becoming a standard we are already seeing uses for this size of camera for live sports work, live OB broadcasting, plus Features and TV Productions looking for that small form factor and a 4K delivery Master.
A Cooke Mini S4i 25mm lens was used with the PL mount adapter used.
Initially the system will record a 4K ProRes .mov at 4160 x 2160 resolution. Here you can decide to apply either pre-processed REC709 or REC2020 or a less processed log type curve (cine mode) for more flexibility in Post manipulation and DI/Grading.
ProRes is 4K at 4120 x 2160 in a .mov wrapper in both colour processed REC709/2020 or non-processed log/cine mode.
Another option is to record a sensor RAW image. This will be pure RAW data direct from the sensor as a 4:0:0 (luminance only, no chrominance) and allows for even greater freedom and flexibility to apply a custom debayer for processing perhaps your own characteristic curve for the area of the image you perhaps wish to enhance the most or just better colour reproduction.
RAW DNGs as 4K at 4120 x 2160 either in both colour processed REC709/2020 or non-processed log/cine mode and the third option of the sensor RAW mode for the ultimate in full control of the Masters.
I am using Assimilate Scratch Lab software to mount the rushes and produce test dailies, plus applying some LUTs and general looks and exporting to DPX for a VFX test also.
The Test
For this test we recorded all the versions available at a standard 4K 24p setting with a 172.8º shutter. A DSC chart was also used. Both ProRes and DNG RAW were recorded.
We used a Convergent Design Odyssey 7Q+ recording unit that recorded the Masters to 256GB SSD internally.
One nice feature the Odyssey has is a menu setting for the camera selected (as it has for others) so has the pre-required settings already ready in that setting and ensures you have the correct mode for your camera, a small but nice touch.
Offloading the rushes we used a USB 3.0 – IDE lead allowing for direct mount onto our RAID through a Mac Pro.
All software and hardware was Mac formatted and OSX platform, Assimilate Scratch Lab version 8 was used for all the viewing, playback and transcoding.
Two frame grabs from the FLARE ProRES 4k.
This is recorded with Cine/LOG.Two frame grabs from the FLARE ProRES 4k. This is the corrected version.For the shoot we went locally to a small village and recorded some daylight exteriors in all our versions available. DSC charts were used and we shot for a number of minutes at the different recording options.
A Cooke Mini S4i 25mm lens was used as the main prime lens with the PL mount adapter used. The full Vocas cage with the Odyssey mounted on the rear with a custom bracket made for a build that would sit on a tripod, or with a additional HD viewfinder as a handheld rig. It is light but does, like a lot of cameras this small, become a mid-sized rig once correctly tricked out with a cage and add-ons.
Also we built a small car mount to test the size and weight and used a lighter small Canon zoom 18-52mm VR2 SLR lens. This kept the weight down and made for a more stable build, but some may wish to use better optics but the weight would be a consideration so better rigging would be required for stability.
Results
Everything we shot was recorded as expected so we had versions of the shots as ProRes 4K, CineRAW and sensor RAW. First note is that the full 4K sensor RAW option for recording to the Odyssey is not quite activated as yet, it will be by NAB 2015, so we recorded 1 x Quad signal RAW at 2048 x 1080 2K to replicate the workflow and the look.
13 clips in all at around 1-2 minutes each. DSC charts in vision.
Above are grabs from the ProRes 4K. One is corrected (bottom) the other Cine/Log recorded (top). As with a lot of 4K rushes they appear sharper. Colour reproduction is great and everything is as we would expect, great images at full 4K resolution. Grading was a breeze and everything looked great, the Cooke lens doing a fantastic job with this sensor.
Firstly I was intrigued by the ability to record the sensor RAW images that allows that further custom processing route. For me this is the way we may all be working in the future to truly process the raw digital data as best we can. This is not to knock proprietary software options and their SDK kits but it allows for another route to take and for a small set of those wishing to pursue this approach then it is at least free to choose now, and may possibly be for future camera systems when released.
A set of images from the camera from ProRes (bottom) to CineRAW (centre) to sensor RAW (top).
Above are a set of images from the camera from ProRes to CineRAW to sensor RAW. As you will see the sensor RAW image looks B&W as it has no colour information as yet processed in (debayered) and at this stage is RAW luminance
These images are looking great straight out the box and having such a small unit is great for the applications it will be naturally useful for. The CMV12000 sensor is the same sensor being used in the AJA Cion, Blackmagic Design 4K and the up coming Axiom Open Source camera, so the sensor is proven and works extremely well.
In summary  
At first glance what we have is a 4K camera that is very small and light that will naturally lend itself to POV type work and other applications that require that smaller footprint. Like other cameras it can record  4K with processing applied at source, say REC709 or REC2020, and also like a few more it can record cine/log less processed for that added flexibility in the DI/Grade.
So already it is quite unique in shooting 4K images in such a small package, but then add the capability (for those who choose to do this) to record directly from the sensor and then debayer to your custom requirements before grading then you have an extremely flexible solution for your production.
Future and NAB 2015 
Already there are some interesting developments that are continuing such as new colour science and LUT implementation, 4K sub-sampling to HD for the Odyssey allowing for HD recordings from a 4K device, giving better MTF, colour fidelity and perceived resolution increase.  
Also the CMV1200 sensor is a 4:3 CMOS that is windowed for 16:9/S35mm capture so in the future the full 4:3 could be activated to allow for anamorphic lenses.
Along with the full 4K RAW recording being unlocked at NAB plus these other developments it appears this system will continue grow and expand.