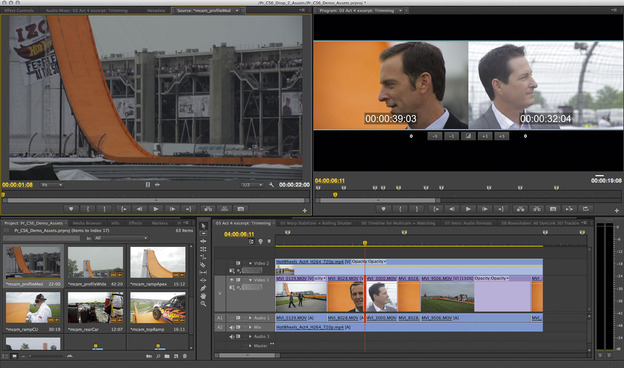 REVIEW: Adobe Production Premium CS6
Posted on Jul 20, 2012 by Alex Fice
The new User Interface for Adobe Production Premium ADAM GARSTONE applauds how far Adobe has come with their premium editor but wonders if they arrived in too much of hurry and not taken care of some important basics.
Tacitly, even Adobe admit that Premiere Pro used to be a bit 'pants'. Several versions ago, it didn't really do much, and just when you had found something it would do, it crashed. I can only think that some of this taint still follows it, as it's never really gained traction in the broadcast and feature film industries, even though it's now a much better product.
The latest version, released as part of CS6 Production Premium (there are other options, discussed later) has some new features which could, just maybe, see them as the go-to alternative to Avid Media Composer, in the same way that Final Cut threw off its 'amateur' mantle in the early 2000s.
Most noticeable, once you have installed the software, is the new-look user interface. As an aside, installing the software was a frustrating experience (on a Mac) – the installer won't run reliably from a disc image, you have to copy the files to your desktop (I found out… eventually… by trial and error).
The new UI has a couple of major attractions. Firstly, it is a lot cleaner than any previous version of Premiere. On a single screen, the default layout has big source and programme monitors in the top half of the screen, with a tabbed Project/Effects/Media window bottom left, and the rest of the screen showing the timeline, tools and audio meters. If you have a couple of monitors, you can throw the Projects window over to the second monitor (and pull out the tabs, have multiple bins open and so on) leaving you with an even cleaner layout on your main monitor. Equally importantly, the transport controls have been reduced to the essentials, and there is a handy button editor (the second major attraction), allowing you to customise which buttons you want to be show on-screen. For me, these two, simple changes have improved Premiere Pro CS6 more than any of the other enhancements – allowing the editor to concentrate on the pictures, sound and the timeline, without any unnecessary visual clutter.
Icon view in the Project panel now has resizable, scrubbable thumbnails, and you can even add In and Out points in this view, without bringing the clip into the Source Monitor. Personally, I'm not sure I'd set In and Outs like this – the image is just too small to check even basic things like focus.
The redesigned Audio Mixer is, on the other hand, very nice indeed. It looks great, has responsive metering, 5.1 pans, submix channels and effects sends. Premiere Pro works with VST plug-ins, though the set that comes with the package is a little underwhelming in comparison to Final Cut Studio, for instance.
Premiere Pro's timeline and editing tools have also been improved. Perhaps my favourite timeline addition is Adjustment Layers. These work similarly to Photoshop or After Effects – simply make a new Adjustment Layer in your bin and add it to a video track in your sequence. You can now drop effects on to the Adjustment Layer 'clip' – the effect will be applied to all the tracks below the Adjustment Layer.
Premiere Pro's adjustment layer featureThere is a new mini-trim editor – double clicking on a transition opens this new editor in the Program monitor. You can add transitions, and perform trims using the frame buttons in the trim editor, or by using the keyboard – the JKL transport controls perform dynamic trimming by 'playing' the transition point (like in Avid Media Composer) or you can use numeric values by typing the number of frames you want to move into the numeric keypad. Sadly, this doesn't work unless you have a numeric keypad, so laptop editors are a bit stuffed.
CS6 brings new multicam features to Premiere Pro. To make a multicam clip, you simply select all the camera angles in the bin and select Create Multi-Camera Source Sequence from the contextual menu. You can sync the clips by In or Out points, timecode or markers and then use the Multi-Camera Monitor to perform a live edit of the multicam material in your timeline (using the on-screen grid of angles or keyboard shortcuts). Should you need to add further clips to a multicam clip, or manually resync anything, you can open the multicam clip in the timeline, just as if it were another sequence. This is pretty similar to FCP X's multicam editor, and works very well.
After Effects' Warp Stabiliser has now been integrated into Premiere Pro, providing sophisticated image stabilisation and enabling a Rolling Shutter Repair effect. The colour corrector has also been improved, and all these effects (and many others) can take advantage of GPU acceleration on suitable hardware. I'm pretty impressed with the capabilities of the Mercury Playback Engine on a Mac Pro with an NVIDIA Quadro 4000 graphics card. As well as handling effects, I found I could play back 4k REDCODE RAW files with no problem, provided the Source and Program monitors were set to ½ resolution – in other words Premiere Pro was decoding and debayering the full 4k file, but only squirting 2k resolution to the Mac's screen. Good enough! PP CS6 also supports ARRI Alexa, RED Scarlet-X, Epic and Canon's C300 natively.
All this is great, and if you are an FCP 7 editor, perhaps working in broadcast or long form film and worried about what software to buy next, Premiere Pro should be a logical step. Adobe have put a lot of effort into seducing FCP users, both in their marketing and in the design of the software. There is even a preset in the keyboard shortcut editor to map the keys to Final Cut 7's default layout (as an aside, I don't much like PP's shortcut editor – it's pretty clunky). In operation, Premiere Pro CS6 feels like a slightly revised Final Cut Pro 7 –  an experienced FCP 7 editor will be flying in PP CS6 after just a couple of days readjustment.
The problems start to appear when you dig into the features that aren't glamourous, but which we rely on in FCP 7. Unlike FCP X, you can export an EDL from Premiere Pro, but there is very little control over the output – basically, it's CMX3600 or nothing. That's fine, I suppose, but things get worse. There are options in the Export menu for both OMF and AAF, but trying them both on a fairly simple 20 minute sequence either crashed Premiere Pro or produced a file that neither Avid nor ProTools could make head or tail of. The online help points out that generating an AAF from a project with merged media isn't supported, and pretty much every feature film, and a lot of high-end TV will use merged media.
Premiere Pro's new trimming featureThere is no way in Premiere Pro to tell if you have duplicate frames in a sequence. This can cause problems when preparing the timeline for export to a finishing suite and, of course, if you are cutting an analog film (remember those) it's vital to know if you need to duplicate camera negative. Indeed, support for celluloid is pretty minimal, in comparison to both FCP 7 and Media Composer – it's of rapidly diminishing importance, but worth mentioning.
Wes Plate, who wrote the fantabulous Automatic Duck plug-ins, is now 'partnering' with Adobe (whatever that means) so I would hope that at least the AAF/OMF problems will, eventually, be sorted out. As it stands, however, I would be nervous to use Premiere Pro CS6 in a situation where I need to send audio to a separate editor – and that is pretty much any mainstream broadcast or film project.
Premiere Pro CS6 is a fantastic release, but it's a shame that Adobe seem to have added lots of attention grabbing new features without fixing some of the fundamentals that are broken, and always have been. With its 64-bit architecture, Mercury Playback Engine, 4k support and complete lack of Magnetic Timeline (ahem!) PP CS6 could have been, in many ways, the missing Final Cut Pro 8.
But it isn't. Not yet.