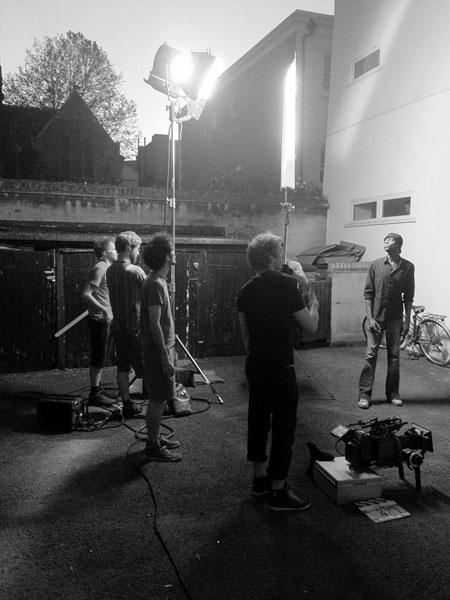 User Review: SONY f65 Cinealta Camera
Posted on Jul 20, 2012 by Alex Fice
DoP David Proctor used the new Sony f65 camera on Roots which needed a very raw and naturalistic look
Handheld f65
ROOTS (extract) from Geoff Bellhouse on Vimeo.
I tested the F65 on its release in January and again in April with the support of Filmscape Media, Panalux, CVP, Mission Digital & Dirty Looks, both in the studio and on location. Since this, I have been keen to give it a proper run for its money on an appropriate film.
Our early testing used the full RAW S-LOG recording at 24p, offlined in DNX and onlined on Dirty Looks' Baselight with colourist Tom Balkwill. We were instantly impressed with the camera's colour rendition, natural skin-tones, native sensitivity and excellent dynamic range. The mechanical rotary shutter also completely eliminates rolling shutter, the plague of all CMOS sensors.
Whilst rated at ISO800 the sensor produces very clean images. However, the F65 seems, in my opinion, to have a slightly more textural quality to it – a subtle, grain like noise giving it a distinctive character, somehow less clinical than other cameras on the market. When director Geoffrey Bellhouse approached me with the script for Roots he was after a very raw, naturalistic feel, taking heavy inspiration from the works of the Dardenne Brothers and their cinematographer Alain Marcoen. Aware of the F65's naturalistic image rendition, and with the rotary shutter well suited to the demands of handheld work, I felt it perfectly suited to the project.
Workflow-wise I had tested the S-LOG RAW 4K with Mission Digital & Dirty Looks but in the days leading up to the Roots shoot Sony released the SLOG2 update. This opened up an array of new options for recording compressions. After some further testing with DIT Mark Kozlowski at Filmscape Studios, we opted for SLOG2 RAWLITE which seemed the best compromise of quality and file-size, in the region of 10GB per minute, as opposed to around 17.5GB per minute of the full RAW. Safe in the knowledge that we had no heavy post-work I felt comfortable that the smaller file sizes, giving us more valuable stock, so to speak, was a worthwhile trade-off.
Again based on previous testing, I opted for a set of Cooke Panchros as our primary lens set with a set of Arri/Zeiss Ultraprimes for a couple of night exterior shots.
Before the REDs, ALEXAs and countless other 35mm sensor cameras hit the market, for years I used the Sony HDW-790p and F900R as regular workhorses, coupled with the P&S Technik PRO35 adapter. Whether in desert sandstorms or humid jungles I have come to expect true reliability from Sony's cameras and the F65 is no exception.
Across the shoot we didn't experience dropped frames, overheating, shutdowns or any of the other problems seemingly common in early release cameras. Also of note, is the simple and intuitive menu design that is both fast to navigate and clear.
Handheld
The two day shoot was 100% handheld and I found the camera ergonomic and well balanced. Aside the images, a real stand-out feature is the viewfinder, which is large, crisp and comfortable with exceptional peaking, useful on scenes where the operator is left to self-focus – either within confined spaces or for more intimate scenes, working without an LCS. The internal ND filters also helped speed and avoided stacked filtration.
Inspired by Malick's recent works, Geoff had specifically requested that lighting be kept minimal. Whilst necessary for the schedule, around 25 scenes across the two days, this was also an aesthetically lead decision. A lighting package was generously supplied by Panalux, and I worked closely with regular Hungarian gaffer, Aaron Szogi. Many scenes were photographed simply manipulating the available light, and others lit with a range of fluorescent, HMI and LED fixtures.
SLOG2 seems to work slightly differently to other LOG formats. It is neither overly flat, nor completely de-saturated – a very strong look, straight out of camera. This made on-set monitoring extremely close to our desired aesthetic and left me to light with my meter and regularly check the waveform.
As space was tight on location and the budget was limited, DIT Mark Kozlowski devised a workflow using the Sony Controller attached via Ethernet cable to a MacBookPro 2.5ghz i7, 16gb RAM and an SSD with two G-Tech drives attached via Esata. Davinci Resolve was used to export the SLOG2 RAWLITE 4K files to PRORES 422HQ for the offline. Maintaining a tight shooting ratio, this laptop setup was able to handle the workflow and all back-ups and transcodes were completed by the time the camera gear was packed.
Overall, I am incredibly impressed with the F65's sensor and thoroughly considered design. It is interesting to see Sony release a camera that is such a strong competitor to the Alexa on every level. The fact that it is possible to get the full quality from the camera without the need of an external recorder is a real selling point. For now I see its place predominantly in drama and features but once its high-speed capabilities have been unlocked it could well make waves in commercials and promos. I certainly look forward to using it on upcoming commercial and dramatic projects alike.
Title: Roots
Format: Sony F65 – Cooke Panchros / Arri/Zeiss Ultraprimes
Ratio: 16:9
Form: Short Fiction
Duration: 13 mins
Country: UK
Producer: Emily O'Connor
Director: Geoffrey Bellhouse
Production Company: The Beat Picture
Camera: Filmscape Media
Lighting: Panalux
Synopsis: Jaco has to make space so his family around him can breathe.