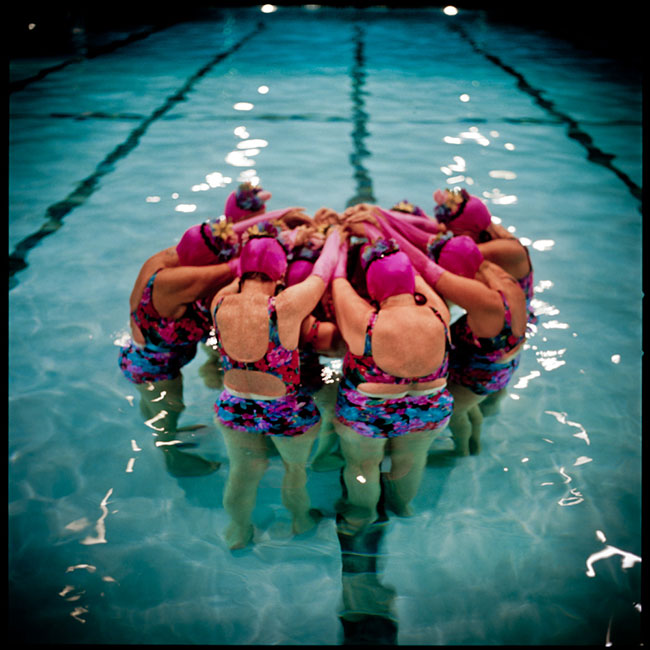 ZCDC – California Is Their Place
Posted on Jan 24, 2013 by Alex Fice
ZCDC – whom friends call Zackary Canepari and Drea Cooper – add some much-needed panache to the oft-tired docu realm with their innovative web series "California is a Place." The site's success has led to commercial work for the likes of Ray Ban, GM, Toyota and more… By Simon Wakelin
ZCDCZCDC is the creative partnership of photojournalist Zackary Canepari and filmmaker Drea Cooper. ZCDC talk with much passion about the image, first making a name for themselves with  California is a Place  and, more recently, creating TV and cinema advertising for the likes of K-Swiss, Ray Ban, GM and Toyota.
California is a Place is an online collection of unique real-world stories, an anthology of interviews that uncover the lives of various Californians in the midst of their everyday antics. It's documentary work that successfully celebrates the human spirit in its many eclectic variants across The Golden State.
Take Cannonball, the first film in the series that follows a group of skateboarders working Fresno's foreclosure market to their own advantage, hopping over fences to skate empty pools and revel in the economic downturn.
Big Vinny came next, the story of a local celebrity and used-car salesman in Alameda who ponders life in empty car lots after the automobile business has tanked. Honey Pie goes one step further, delving into deliciously deviant territory; opening up on hot, pink lips, green eyes, high cheekbones, strawberry hair and supple thighs as we follow Real Doll creator Matt McMullen creating stunning $6,000 sex dolls, goddesses for a blossoming subculture in his San Marco studio.
From California Is A Place – Superman.
California is a Place became a creative testing ground for Zack and Drea, their first independent project since meeting on set as production assistants in 2004.
Both were pursuing Masters degrees at the time and talked at length about working together, but Zack soon found himself on assignment shooting stills in distant locales such as India and Pakistan for the likes of NY Times, WS Journal, TIME and Le Monde while Drea went on to make films in Kosovo, Columbia and New Orleans and started his commercial directing career shooting work for clients including EA Sports, Google, Nokia and Milk-Bone.
It was when Zack returned from assignment in India that the pair finally got their act together. On a whim, they decided to drive down to Fresno to shoot the pool skaters, footage that would eventually become the aforementioned  Cannonball. Nine months later the California is a Place site was live with four films already completed.
Each film stands proudly on its own, but as a collection they are, for the most part, big issues Californians deal with in today's tough economy. Issues include immigration, medical marijuana use, youth culture, the arts – even deviant sex culture with respect to Honey Pie, a short that received 125,000 hits on its first day online and now has almost two million hits. The series was quickly picked up for press by the NY Times, The Atlantic Magazine and was also screened on PBS.
"The response to the site was beyond our imagination. We had no idea it would be as popular as it was," says Zack on public response to their work. "The Vimeo community helped us establish an audience. They placed our films on their home page for days at a time, plus journalists and the filmmaking community kept re-posting and embedding the work."
The project also allowed Zack and Drea to find both rhythm and simpatico working together:
"The partnership works because we have a similar aesthetic," says Drea. "We found that we like the same things in terms of story and tone. We've always been interested in narrative filmmaking and I think we both bring a cinematic style and approach to the work. We pay lot of attention to composition."
"We created a pallet, a style that's naturally ours," adds Zack. "It was never anything we over thought. As we worked together it became easier to create interesting images and visuals to tell our stories."
Their success led to a meeting with Tom Weissferdt, the owner of commercial production company Slim Pictures. He immediately responded to their work and signed them to his company, feeling advertisers could benefit from ZCDC's unique visual offering.
"They have great timing, make good subject choices and I felt it was the right time to bring them into the advertising industry," says Weissferdt. "Their work is compelling and unique. For these boys it's about documenting an event, getting inside the story and re-telling it in an exciting, new way and of course brands can only benefit from this."
ZCDC's first commercials through Slim were on limited funds, shooting for clients including K-Swiss and Ray Ban. Zack found the business side of creating advertising an eye opener compared to his days on assignment in the field.
"I remember the amounts of money that clients were offering as a budget and I was ecstatic – but Tom was, like, no way," laughs Canepari. "As a journalist I thought it was crazy money, but to make a commercial it really was only pennies."
More recent fare has seen Zack and Drea raise both the budget and creativity to higher heights – specifically 12,000 feet on their latest commercial for Skydive, an adrenaline-fuelled ride to promote GM's new Chevy Sonic.
The spot follow a team of professional skydivers who rig a Sonic to fall to earth from the belly of a Lockheed C-130 Transport Aircraft. Once over the drop zone the Sonic is pushed out of the plane and we freefall in spectacular fashion, experiencing the reckless valour of skydiving interweaved with the incredible, poetic ballet of a weightless Chevy Sonic.  ZCDC's work effectively puts the Sonic on an adventurous pedestal and invoked the power of the Chevy motto 'Let's Do This.'
Drea describes the commercial as "all about the big idea of adventure and risk in life," noting the creative brief saw the Sonic as "your adventurous buddy doing things you would never think, or even dream, of doing."
The visceral spot took four days to shoot using a total of 27 cameras: Two Red Epics captured the majority of the aerial footage mounted on the helmets of pro skydivers Joe Jennings and Greg Gasson, while GoPro cameras caught footage strapped on the C-130, inside the Chevy Sonic, on three additional skydivers and in the desert ground below. Canon 5Ds and 7Ds were also in action to capture footage on prep days before the drop.
Another California Is A Place documentary – Honey Pie.
Moments during freefall almost freeze in mid air, created by speed ramping the Red Epic footage – essentially cutting between extremely slow and then even slower motion to add to the poetic feel. The Epic shot at 120fps and was then slowed at critical moments to a rate of almost 1000fps in post.
Dropping cars from the sky was a risky endeavour. GM supplied three Sonics, each dropped over a landing zone replete with flight experts to oversee safety during filming. Beautifully composed music and sound design by Matt Joynt at Plied Sound accompanies the Sonic freefall and adds to the effect.
The work illustrates how ZCDC successfully raised the creative game for GM in a tired automobile genre, sidestepping the customary clichés associated with car advertising;
"The idea became how to create a beautiful reality in the sky and communicate an experience that differentiates it from the norm," says Drea. "It's not your everyday commercial, your usual dose of car porn and beauty shots. There is no other car commercial like this out there."
ZCDC was also tasked with cutting different versions of the commercial for the agency: a 30-second for TV and cinema, 60-second for online and a four-minute version for the Chevy website.
"We paid special attention to sound design during production," recalls Drea. "We hooked up mikes to the pilot and ground crew to get the countdown and communication. This added a really cool quality to the work. We also added a drum track that builds until the car drops out of the plane, at which point a harp comes in to support the beautiful slow motion ballet happening in the sky."
Red Epic was chosen to shoot the freefall at high speed at 4K resolution. It also successfully matched footage caught on all other cameras documenting the event.
"At 5K the sensor gets wider, but at 4K it's exactly 16:9 / 1.78," says Drea. "That's why we decided to shoot 4K at 120fps because the aspect ratio matched every other format we were shooting including full sensor Canon 5D. The beauty of the Epic image at high speed was phenomenal."
Drea notes the new Scarlet-X from RED is another great offering, but notes it comes with aesthetic drawbacks:
"There is no doubt that it's an amazing camera offering 4K acquisition with interchangeable 35mm lens capabilities at such a great price," he says. "But the issue I have is that it crops on the sensor when you shoot slow motion. It only shoots at higher frame rates than 30fps in sub-4K resolution. So your field of view on a 16mm lens at 4K is a beautiful wide image – but as soon as you ramp there's a windowing on the sensor, but I suppose it if didn't it would be an Epic."
Equipment choices aside, one has to wonder where the decisive moment stands in the moving image. Zach's stills work on assignment was always a mixed bag, subject matter that ranged from Afghani dog-fighting to Mexican drug wars, so how was the transition from the still to the moving image after carving a career as a photojournalist?
"The idea of the decisive moment is a heightened moment for a reason," says Zack. "It's that one moment, that singular frame that explains it all. In the context of the moving image you still want that frame to be present but you are holding your shot longer. You allow the critical moment to unfold so that the moment now has a little bit on its head and its tail."
Being in the cut and thrust of advertising also presented a number of minor obstacles for Zack to overcome.
"Starting out I used to run around with my camera grabbing as much as I could," he recalls. "Then I'd get back to the edit and realise I had a lot of half hazard insert shots. Documenting with video is being able to hold back and let moments unfold in front of you. It's really about trying to tell the story in the simplest possible way. The decisive moment totally exists in motion. It all comes together in a beautiful one or two-second moment – but you need other elements to tell the whole story."
What continues to excite Zack and Drea about the filmmaking process is how to best present footage that allows the audience to experiencing the event first hand. "There's a big tradition for re-telling stories using archival footage and, sure, that holds potential but for us it's trying to figure out how to heighten the drama and show real events in a present and interesting way," says Drea on the subject.
It is in the editing room where ZCDC's material comes together. Drea gets down to editing the best moments on each job, then examines how he can best use those shots.
"It's about finding the most interesting images we have before going back out to use something that's part of the story, or we may be able to use various close-ups or something more interesting than a regular shot," he notes.
ZCDC are keeping busy with a number of projects in the works. They are about to shoot another Chevy campaign for GM through Slim, plus are in talks with MTV to create an episodic series about teens in America.
Aquadettes from the California web site.
More short stories have also been shot for California is a Place on subject matter including young ping pong phenoms, a unicycle basketball team and Aquadettes – a short on elderly synchronised swimmers that was just accepted into the 2012 Sundance Film Festival's Short Film Competition where 63 shorts out of 7,600 submissions made the grade.
There is also a short film in the works on Superman – more specifically the Hollywood Boulevard version of the epic comic superhero:
"We got out of our car downtown on a job recently and saw Superman running down his front door steps heading out to work," recalls Drea. "It's going to be a tense, psychological study of a man with a dark past, living a life that most of us just couldn't imagine."
Staying humble is also part of the ZCDC vibe, as is their desire to find real, meaningful moments that drive the pair whether it be for advertisers or not:
"We don't consider ourselves just commercial directors, and by no means do we consider ourselves successful," explains Drea. "We're not veterans. We've made a lot of stuff – but a lot of shit too. It's about finding good stories that need to be told."
Zach adds, "We are fortunate and lucky that corporations want to pay for real stories to be told but, at the end of the day, if we can tell a story in an honest and authentic way we couldn't be happier."
Honey Pie from California is a place. on Vimeo.
EQUIPMENT CHEVY "SKYDIVE"
Canon 5D mark II
Canon 7D
16-35mm L
24-70mm L
70-200mm L
GoPro HD
Red Epic w/
24mm Zeiss lenses
ZACK's PHOTO KIT "very basic but I love it" he says.
5D Mark II
24mm L
35mm L 
50mm L
Hasselblad 500cm
80mm Lens
EQUIPMENT – CALIFORNIA IS A PLACE
The gear for the CIAP is all 5D mark II.  We use the following canon lenses…
16-35mm  L
24-70mm L
70-200mm L
100mmL