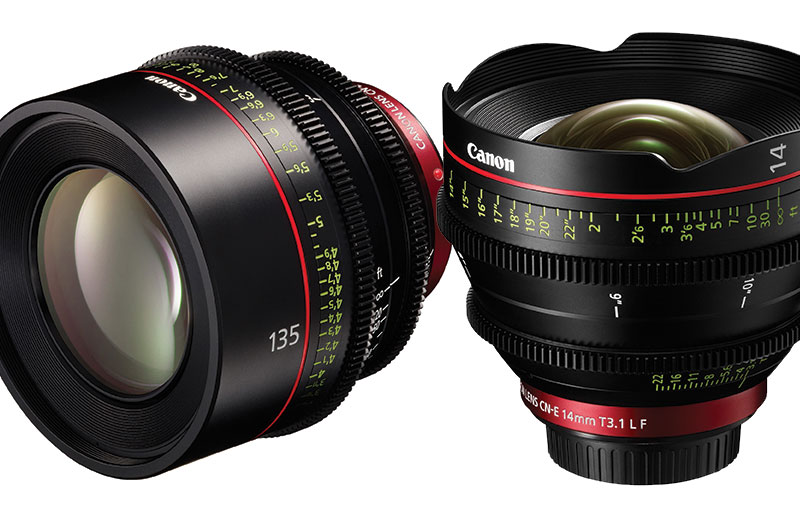 Canon Add Two More EF Cinema Lenses
Posted on Jan 28, 2013 by Alex Fice
Two new lenses for Canon's Cinema EOS brand, this time a very wide angle 14mm and a 135mm for the telephoto end.
CANON has extended it's Cinema EOS System with the addition of two new prime lenses to its EF Cinema Lens line-up – the new CN-E 14mm T3.1 L F and the CN-E 135mm T2.2 L F. Both lenses are good for 4K resolutions.
The launch of the new lenses takes Canon's EF Cinema Lens line-up to nine models, joining the existing CN-E 24mm T1.5 L F, CN-E 50mm T1.3 L F and CN-E 85mm T1.3 L F primes, to create new options at wide-angle and telephoto focal lengths.
Designed to work with Canon's EF mount, each model includes anomalous dispersion glass and large diameter aspherical lenses as well as Canon's latest broadcast lens coatings to reduce ghosting and flare. Additionally, an 11-blade aperture diaphragm can provide fully soft background blur when a subject is isolated from its background.
Each lens features a full-frame image circle that offers compatibility with both 35mm and industry-standard Super 35mm formats, allowing videographers the ability to pair either lens with Canon's range of Cinema EOS System cameras or EOS Digital SLRs.
CN-E 14mm T3.1 L F will be available from May 2013 with a SRP of £ 3,966.00 + VAT.
CN-E 135mm T2.2 L F will be available from June 2013 with an SRP of £ 3,793.00 + VAT.