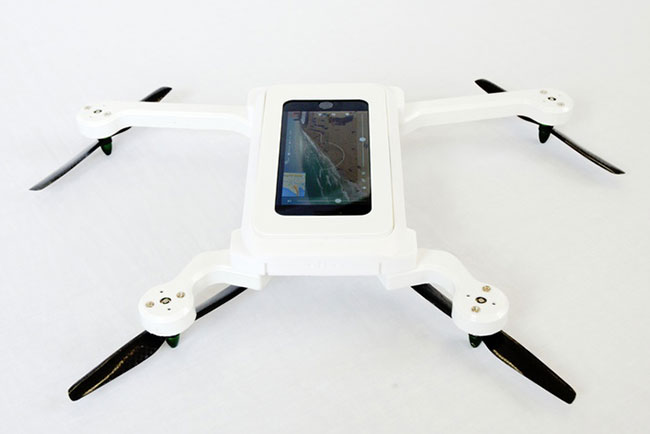 Now the Phone Drone waits to be born
Posted on May 18, 2015 by Alex Fice
Phone Drone can use any sized smart phone.
What's the best drone? The one you have in your pocket. A misquote but one that sums up a new KickStarter project called Phone Drone. The idea could be the start of personal drones as Phone Drone is designed to pack away to a lunch pack size and so be available when the drone urge takes you. Did we ever think professional videographers would use consumer DSLRs? Did we ever think a 4K camera could be sold for around under £5,000? Can you see yourself using your smart phone drone to catch footage that you couldn't get before?
Pretty basic looking hinged mirror for widening your field of view, but can you adjust it in-flight?
Two anomalies come to mind immediately, if you're using a your phone as the video capture device, how do you control it from their App? Their explanation is to either have autonomous flying like the Lily or have a second phone as your controller. Also if the phone is pointing down all the time, doesn't that limit the viewing angle, their answer  to have a mirror to capture other angles, but can you adjust it in-flight?
But whatever problems you see with this design we see a future for localised aerial cinematography devices like PhoneDrone.