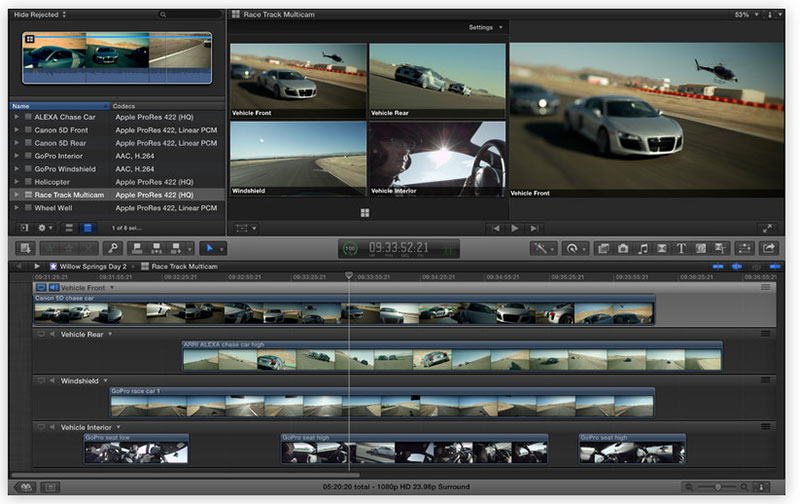 Why you should upgrade to FCPX v10.0.6
Posted on Nov 13, 2012 by Alex Fice
Has the latest upgrade to FCP X answered all the questions when X was launched?
One of the many things that has amazed me about FCPX is the speed at which it has evolved. When first launched most were rightly skeptical about its ability to replace FCP 7 in their workflow and rightly so. The new application was incredibly powerful in a lot of really good ways but, as with all things creative, it was only as good as its worst feature or its greatest deficiency and some of FCPX 1.0's worst bits were surprisingly mighty bad indeed.
It always confused me for example that software capable of automatically using the audio waveform to make media shot in different formats and frame rates into synchronised multi-clips, should also be capable of retaining my 'in' and 'out' points on a clip.
Now in FCPX 10.0.6 I am glad to report almost all of these problems have now been addressed and sorted and the list of next generation professional functionality being added to the app each release, is making this editing solution one that should no longer be ignored by the professional market.
So what is so hot in the latest upgrade for FCPX released that has made me think that the main issues are now a thing of the past? Well in order of emotional happiness for me I guess, is the joyous fact that my range selections are now retained on the clip. I can even have several selections on one clip if I want and that's a little more functional than FCP7!
Next and not far behind this basic but fundamental enhancement, is the return of cut and paste attributes to the toolset. I can now selectively cherry pick from all motion, composite, filters and colour grades copied and paste just the bits I want to onto other clips. The new FCPX even allows me to selectively choose which filters I want to paste onto the new clips, which is again, slightly better than FCP7!
On a more functional level Apple has also re-introduced features like the ability to export a selected range of my edit and then add chapter markers to the export as well if I need to. Bit by bit they are reinstating functionality temporary lost from FCP7 days and wherever possible, enhancing it…
Next comes the return of the viewer window. When every other NLE offers the ability to see source and edited clips side by side, it always seemed a little rude not to be able to do the same, in this next generation tool. Serving a slightly different purpose the new viewer allows you to see any skimmed elements in your event library but, if you want, you can also pull up the new windows own colour scopes and use them to help the editor colour balance the shots. Add to this the fact that, with the new compound clip functionality, I can effectively round trip a selection of shots, from the timeline, back into the event library and then back again into the edit and it is possible to say that I am now empowered to reintroduce familiar workflows and editing strategies if I want.
There are other highlights in this latest release that deserve a mention. Most poignant to the professional market and incidentally, a clear sign that Apple are obviously intent on winning back the professional market, is the introduction of the ability to edit Red Camera .r3d codec natively in the timeline and have the files optimised to ProRes in the background if you want.
At Soho Editors Training we embraced FCPX and have been running accredited Apple authorised training courses since its launch. I personally, have been training what I call 'work arounds' for all the problems highlighted above but now I am so glad that I can say, the worst capabilities of this application are now truly powerful and the best bits are just outstanding.
Rory Cantwell is an authorised FCP trainer at Soho Editors in London