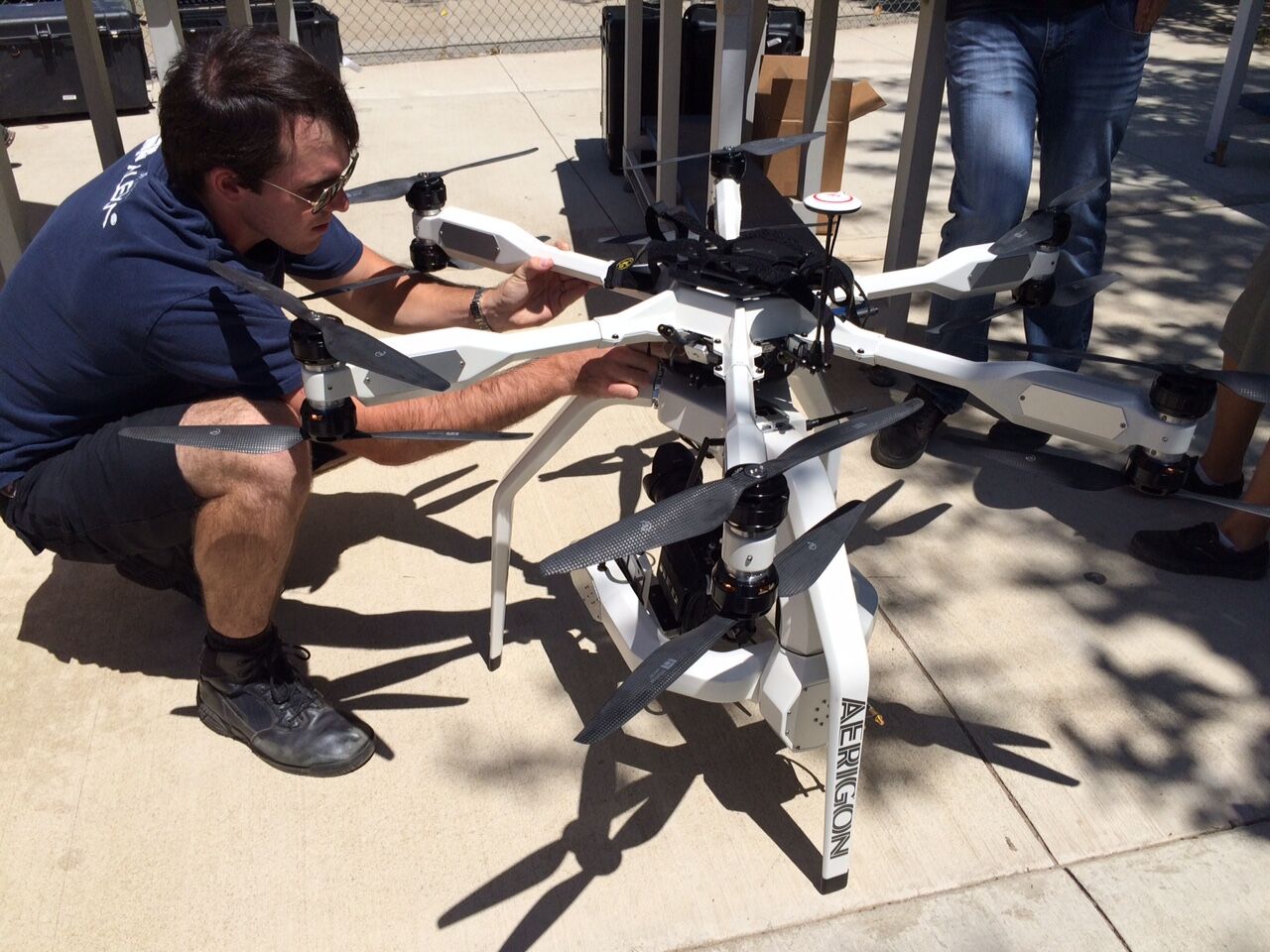 Why Prosumer Drones Won't Work For TV And Film
Posted on Aug 5, 2015 by Alex Fice
Patrick McKernan, UAV and Special Projects Production Coordinator at Welk Aviation who have recently bought their Aerigon Drone.
Intuitive Aerial make the Aerigon UAV or Drone which is becoming popular with TV and movie productions mainly because it can carry over 20 lbs. of camera equipment, along with the gimbal. The drone's gimbal features a proprietary stabilisation system for cameras and professional zoom lenses, with full FIZ (Focus, Iris, Zoom) controls. This allows cameras such as the Phantom Flex4K, Sony F55, RED Epic, and Alexa Mini to be flown.
But Intuitive's VP Eric Bergez has some harsh words to say about what he calls 'prosumer' drones and their suitability in the UAV business.
"Professionals don't have time to play with toys or someone's science experiment," said Eric Bergez, VP at Intuitive Aerial Inc. "Mid-size prosumer drones with their small payload capacities rarely meet the requirements for modern TV and film production. Until the AERIGON, precision capture using a UAV was just not possible.
"Broadcasters have been reluctant to embrace UAVs because they've been disappointed by unfulfilled promises and poor-quality aerial footage. This is where the AERIGON and Welk Aviation's piloting experience in the film and TV realms makes all the difference. The company has developed an FAA-certified Part 141 flight training course for UAV pilots based on its proven training program for conventional helicopter pilots."
"We're trying to set the standard for the industry and create a structured, safe, and knowledgeable environment by training the pilots of the future," Patrick McKernan of Welk Aviation said. "I see so many UAVs being used in ill-advised ways. Safety has always been our paramount concern and the AERIGON goes above and beyond being safe, while meeting the quality standards for aerial camera capture."
Along with the power, performance, and safety of the AERIGON, it was the modularity of the system that sold them.
"If we need to swap out a motor or arm, we can replace it with a new one within minutes instead of hours," said McKernan. "For professional equipment, these kinds of details are essential. Intuitive Aerial is the only manufacturer that has a serial number system for its ARCH so that all parts are identified and can be tracked. The AERIGON doesn't just look professional, it really is."
"We're at the dawn of a unique opportunity in broadcasting and film," said Welk. "I like to compare it to the introduction of TV. Who knows how many new applications we'll find using these aircraft? We're already working on innovations for sports broadcasting and our production business will be enhanced and grow as a result of our relationship with Intuitive Aerial."