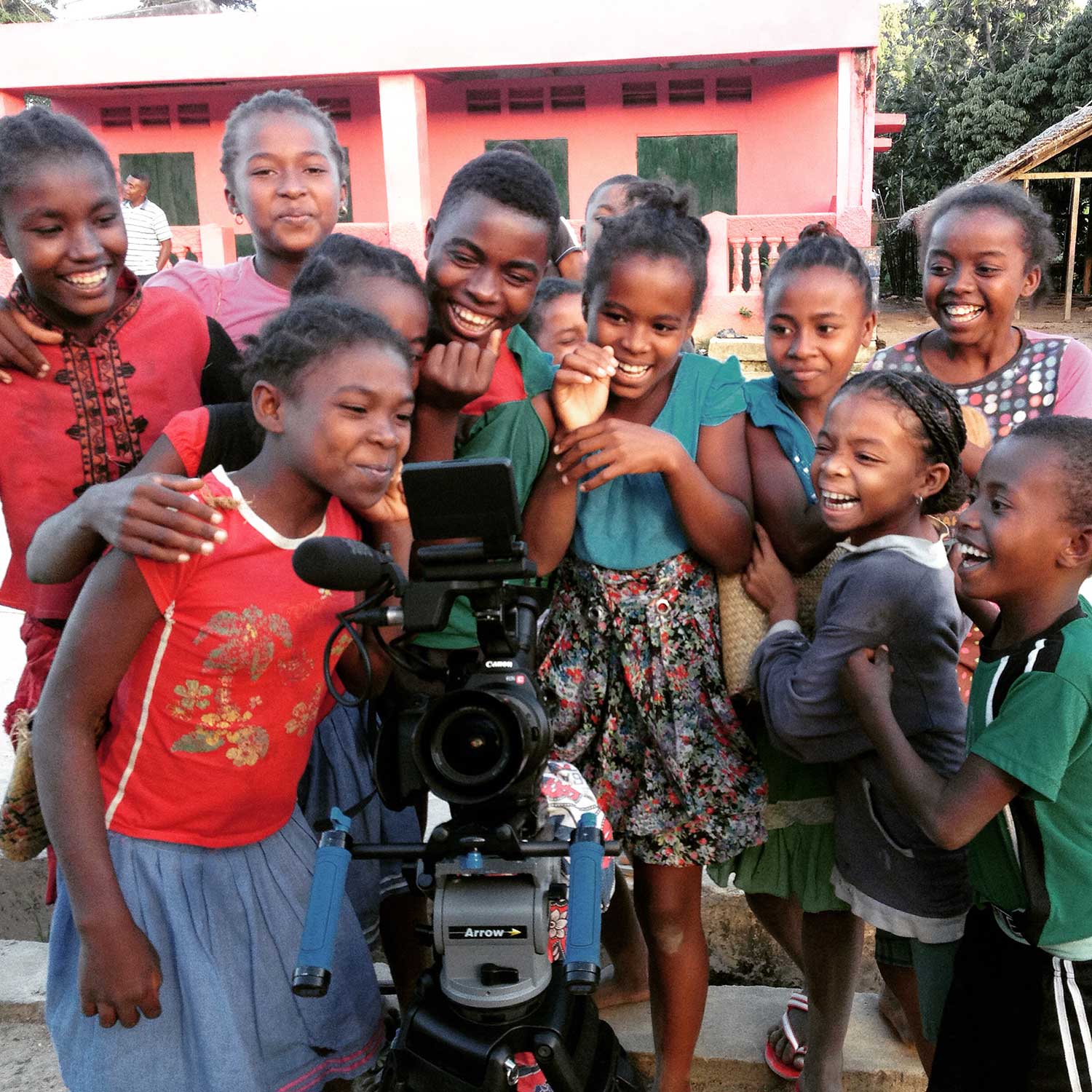 Shooting Experience In Madagascar
Posted on Aug 6, 2015 by Alex Fice
Many of the people we met had never had their photos taken, let alone seen video footage of themselves, they were intrigued to see their own faces and enjoyed looking at each other in the camera monitor.
I have travelled a fair bit over the past 15 years working as a cameraman, but nothing had quite prepared me for working in Madagascar.
The trip sounded pretty simple – we would be away for over ten days with just a small amount of footage to film.  The director and I envisaged the luxury of having time to craft something beautiful, time for recces, time to wait for the right weather, time to wait for the perfect hour of the day to shoot, and so on. The reality was somewhat different.
We had been in the country just a few hours, when our drivers loaded all the kit and luggage onto the roof of the van and promptly drove it under a very low bridge.  There was a loud crunch of suitcase against metal.  Thankfully, all my kit was well protected in rock solid peli cases and it was some unfortunate's suitcase that took the hit.  This would not be the last time I was grateful for decent cases.
The national airline had been on strike for weeks and we needed to fly to the far north of the country.  The plus side of this was, the only way to do this was to travel by private jet.
Turning up at an airfield whenever you want to travel and simply loading up and hoping on a jet has to be the best way to fly.
Leaving behind the cool autumnal weather of the capital Antananarivo, we arrived in the balmy tropical weather of the north.  This is where luxury travel ended.
Most of our filming took place in remote villages and in dense bush, where farmers made their living growing rice, vanilla, and some coco. Along the main roads we would frequently have to stop for wondering chickens, cows or giant potholes.  On the smaller roads we would be slowed to a walking pace.  Unsealed roads were covered with deep gullies, where the rain had washed away the mud. One of our four-wheel drive vehicles even gave up when the going got tough and had to be replaced.  It was this kind of thing that ate up our time.  Roads that were this hard to pass in the day, meant they were too dangerous to venture onto at night.  Each day we needed to wrap well before sunset, so we had time to take the long journey back to the hotel before darkness.
The people we encountered were wonderful.  Many of them had never had their photos taken, let alone seen video footage of themselves, they were intrigued to see their own faces and enjoyed looking at each other in the camera monitor.  Although this was a lot of fun, getting candid shots of villagers going about their day-to-day business was tricky and took time.  As soon as the car stopped and the camera came out, we would have everyone in the village surrounding us, eagerly wanting to look into the monitor.  Getting a shot of kid playing with an old tyre, a mother washing clothes, or cooking lunch on a fire couldn't be achieved until everyone had seen enough and almost become disinterested.  I often set the camera rolling on a scene and then walked away from it, hoping that the person it was trained on would ignore the camera's presence, assuming it was now turned off, and carry on with their day.
The shoot was an amazing experience.  I felt like I learnt a lot.  I learnt to film with people, showing them the shots, making them a part of the film making process, rather than just pointing the camera at them.  In the end we were happy with the footage. We had to constantly re-adjust our expectations and our plans as the shoot progressed, but then this is often the way with any film making endeavour.
Daniel Haggett