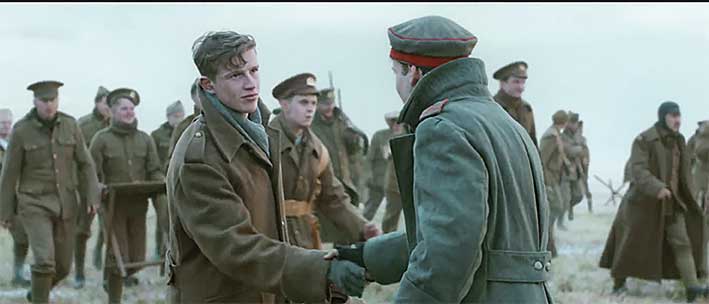 'Want makers' in Broadcast Resolution Dark Ages
Posted on Jan 7, 2015 by Alex Fice
Did you know that most of the TV commercials on UK television that are made in high definition are not and have never been broadcast in HD? Pic © John Lewis PLC.
For 10 years now this magazine has been promoting the high definition and beyond message. So it comes as some surprise to find a format that we had previously assured ourselves was unparalleled in its glorious resolution to be dragging its heels in standard def.
We're talking about the UK's commercials. It is a little known fact that most of them, made in HD or not, have never been transmitted in high definition. A further irony is that the clients aren't the ones pushing for something to be done, it is the newly formed Digital Production Partnership who are putting things right and also stopping the audio high jinks that annoy the nations 'Goggleboxers'.
LFC TV
Phil Edmonds is the MD of Adstream who have just announced that one of the first UK commercials to be transmitted in HD was seen on Liverpool FC's own TV station, he explains why that station and what the commercial's resolution landscape will look like in five years time.
"I've been in agency life for longer than I care to own up to frankly, I've always been the agency account man and we've always made a huge effort to make a high quality as possible ad for our clients because they were paying us to do exactly that. A lot of ads are very expensive to produce so we always use the best kit we possibly can and I think it's there where it starts getting interesting. I think for me as someone who has relatively recently moved over to Adstream it was quite an eye opener to realise that we weren't always playing out in HD espepcially when it was being made in HD. When we did play out the first native HD ad it was really very interesting.
"I think that some HD ads have previously been played out if they've been sent on a tape or they have been internally produced but this was the first external ad to be delivered digitally and played out in HD. The real answer to why this has happened is a mixture of production costs, hardware costs and legacy systems. If you think of the chain that a commercial has to go through, once it's been produced by the production company it goes to the post house who will do whatever editing and finishing that needs to be done on it. Then you've got a beautiful HD commercial that needs to be delivered to the broadcaster. Adstream is a messenger so we'll pick-up that HD Ad in any format, HD, SD if it's has been down converted by the post house or we can even downconvert from HD ourselves. We then deliver the ad to the broadcaster."
How good will the Sainsbury Christmas 2015 commercial look when it's in HD? Pic © Sainsbury PLC.
Content against Commercials
"Obviously the post houses charge a lot of money to produce very high quality ads to the client and we all do everything we can to make them look absolutely beautiful. At the other end of the chain the broadcasters are doing whatever they can and spending as much money as they can to makesure that the content that they have commissioned is also played out in beautiful HD if they have an HD capability. They have recently formed a trade body called the Digital Production Partnership with partners like Channel 4, Channel 5, ITV, SKY, S4C and the BBC. So the main broadcasters that have an HD offering amongst other things."
Standards for Transmission
"They were looking to standardise the programme content material first. In October they started putting some, you could say, rules in place. They were actually strong guidelines of how the files should be standardised, sound levels, picture quality, which ones should be HD, for the programme, very much for the content.
"The Ad serving on the other hand is lagging slightly behind. All of the hardware that is used to play out content for these channels is more or less state of the art because it's what they've been investing in for many years and so we have HD channels that show beautiful Golf, Wild life, Eastenders, whatever it is that you want to watch. But the investment in the hardware for the Ad Servers even within these flagship broadcasters lags behind somewhat. The reason being is if you think of all the different regions for ITV for example, they have multiple channels in multiple regions and because of the regionality of advertising and the fractured nature of the messages we put out, normally you have half a dozen versions or different ad selections, media plans, played out to each one of their regions. You have multiple transmitters to play out to different regions and they'll be mulitple replications."
HD Commercial Another Year Away
"So all of this hardware historically is legacy and not much of it has been upgraded to the same level as the  cutting edge quality of the content. As a consequence it is only now that they have pulled together this trade body. So now they have sorted out their programme quality and made sure there is standardisation around – now they are centering their attention on advertising.
"At the beginning of next year their production plan is to send out notice which will put the timing of when  HD standardisation of HD ads will be. Our best guess is that HD ads will become the norm on HD channels  around about November 2015, still quite a way out but it is on their production plans."
Why Liverpool?
"The reason we were able to play out the 'Talk Talk' commecial in HD was because of course Liverpool FC TV is all state of the art. They've gone out and set themselves up with the newest transmitters for programme content and advertising content and also they don't have the regional problem. They were able to invest in good quality transmitters to get HD out there so any commercial that can be sent to them in HD can be transmitted in HD on their channel.
"Another touchy subject is audio and again the DPP is seeking to standardise it. Some advertisers have complained that their sound levels are low after the standardisation has been implemented. So if you produce a relatively ambient commercial, previsiously you may have been able to 'jack up' the volume and get the music a bit louder. Now it will appear to have less 'cut through' and be less instrusive than a commercial that has more dialogue. Anything more ambient will no longer be allowed to be turned up. They started putting that in to effect in October."
Are Clients Watching?
"The whole irony for me coming from an agency background is that the client has always driven us to create the best quality ad we can get and yet no one has ever really noticed that it is not played out in high definition! Even when it is played in amongst HD content I've never had any  complaints which is very odd. So it's not really the clients that are demanding high quality transmission, it's more the agencies and the production houses that are applying pressure to the DPP. The DPP is in turn saying that now they've sorted out all of their HD content lets turn our attention to the other revenue stream the advertising HD.
"When HD commercials become the norm, the ones that aren't in HD will stand out. There will then be a quick shift in the marketplace for the majority of commercials to be played out in HD. All production costs including delivery will then be slightly higher. Slowly but surely people will find cheaper ways of achieving the same thing and ultimately in say five years time the costs will be the same as they are now for SD. So there will be a bit of a spike in production costs as everyone will be rushing to makesure they are not the one standing out for being poor quality in the break."
LFC TV
Adstream, a leading advertising digital asset management, workflow and distribution company, has delivered the first native HD advertisement in the UK; a defining moment in British broadcasting history.
 Adstream delivered the commercial, a 60-second Talk Talk commercial to showcase the brand's digital TV service, on behalf of its client, creative agency, CHI&Partners. The advertisement was broadcast on Tuesday 4th November on LFCTV, the official television channel of Liverpool Football Club, and is the first native HD commercial in the UK to be broadcast on a HD channel.
 Until now, all commercials broadcast in the UK have typically been delivered in standard definition (SD) and up-scaled for HD transmission if required, as will be the case when the Talk Talk ad is delivered to other, larger UK broadcasters.
 However, in this instance, the Talk Talk ad was re-rendered as a HD master at the post-production house and delivered in native HD by Adstream, before being broadcast by LFCTV in the same format.
Jason Coward, TalkTalk Team Lead at CHI&Partners, comments: "It's always exciting to be involved in a media first – innovating and redefining creative, tech and media boundaries remains a primary focus for us and our clients. Agencies and production companies alike tend to film their ads in HD, so it's a milestone moment for the industry to see the bar raised in broadcast – delivering our spots to the public at the high level of quality in which they were created."