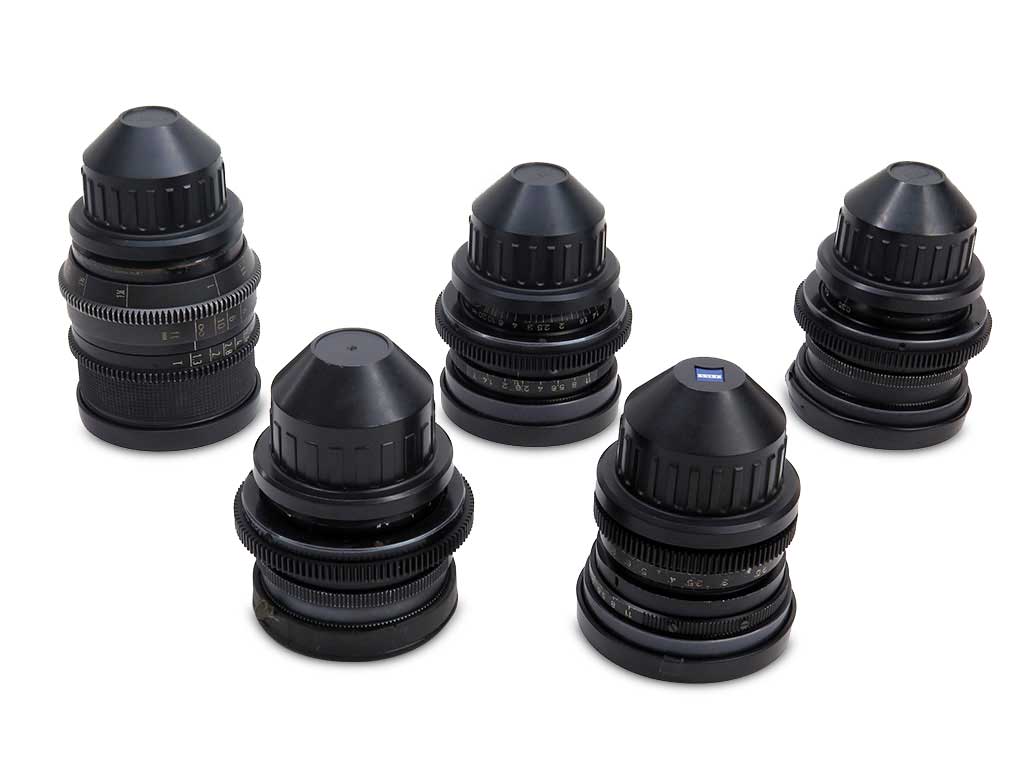 Vintage Stock – Nine of the best vintage lenses
Posted on Aug 30, 2017 by Julian Mitchell
Nine of the best vintage lenses. Our regular Gear Group this month is all about looking back to make sense of the present. What we mean is that vintage lenses, like vinyl, are more popular than ever as it's their age and deficiencies that tame the digital-ness of modern-day cameras. We have a pick of the most popular oldies on the market.
BAUSCH & LOMB – SUPER BALTARS
There are some DOPs who love vintage glass like some dog owners love three-legged hounds. They see the glass as something damaged but they love them because of that. They ostensibly want them to 'ruin' their digital capture. It's almost like they are in conflict with themselves. One of these guys is Anthony Dod Mantle. He's from a family of painters so is more moved more by the look of something than how many pixels he can use to shoot it.
For the movie Rush he used the Super Baltars to counter the digital cinematography. "I love it if I can go out and shoot with as much latitude as possible, control the exposure and take it back into my little harbour of love in the grade. Then it goes to the editing and I get it again and I know what I've got and where I can take it. So for me the optimal situation is to get as much latitude as possible and ability to shoot with a resolution I can control, partially with old glass, as I did on Rush, and inferior and damaged glass."
If you've seen the film he obviously used the Super Baltars to enhance the vintage look of the image and recreate the 1970s faded look. A vintage look? Use a vintage lens – it can't be that simple.
If you think that you've heard of the makers before then you're probably right, Bausch and Lomb used to make contact lenses, glasses and sunglasses but they got out of the cinema lens business in the 1980s when an accountant's red pen ended their manufacture.
These beautiful 1950's lenses were used on the likes of Star Wars and again in the first two Godfather films. They have minimal flare and a low contrast, perfect for the vintage look. They give a beautiful and artistic quality to the images hitting the sensor.
A set of these jewels are from a T2.3 20mm up to a weighty T3 152mm.
CANON K35 HIGH SPEEDS
If there was a list of vintage lenses that people are waiting to use or to be rehoused then the Canon K35s would be on top. But there is a problem. Three lenses in the set have floating elements in them. For the others there is only one element you move backwards and forwards, but on the tricky three you have different elements moving at different rates. They have to be in particular positions at any one time.
Apparently the focus pullers absolutely hated these, especially on the wider focal lengths from ten foot to infinity there was no even spreading of numbers at all.
When you mention the Canon K35s most people will respond with the fact that they were used to shoot James Cameron's Aliens movie to emphasise the shadows and grittiness. But we like to add the recent BAFTA award-winning drama Doctor Foster, shot with the Panasonic VariCam 35. DOP Jean-Philippe Gossart commented, "I did find the camera a little sharp but that's something you can find in many of the new 4K cameras. I decided to counter that by using older lenses; the Canon K35 vintage range took away the sharpness but gave something pleasing in terms of skin tone rendition and a soft texture without being overwhelming."
These high-speed aspherical lenses were Canon's answer to the Zeiss Superspeeds. Launched in the 1970's, they were offered with PL mount.
One Stop Films in London have one of the few full sets of K35 lenses that also include the super rare 10mm. "They are a great option for features, commercials or promos; fast and small lenses with a characteristic look and an almost perfect round iris. They're one of the most popular lens choices recently." The standard set includes 18, 24, 35, 55 and 85mm.
"We also stock the 25-120mm zoom, a really beautiful lens that alongside an extended set of the primes would make a perfect choice for a feature film or drama.
CINESCOPE LEICA R
If the glass in your lens is good enough then it's virtually ageless, since it can be rehoused and updated, ready for anything the modern film industry can throw at it. This is exactly the process that Cinescope Optics is carrying out, its marquee product being based around the renowned Leica R Summicron, Elmarit and Summilux families. Long revered by both stills photographers and filmmakers, these lenses have been redesigned and engineered to the highest standards to create a product that is fit to partner the very highest spec cinema cameras.
The first six optics in the range arethe Leica R Elmarit 19mm T2.9, Leica R Elmarit 28mm T2.9, Leica R Summicron 35mm T2.1, Leica R Summicron 50mm T2.1, Leica R Summicron 90mm T2.1 and Leica R Elmarit 135mm T2.9.
Five further lenses are also available to order: the Leica R Summilux 35mm T1.5, Leica R Summilux 50mm T1.5, Leica R Elmarit Macro 60mm T2.9, Leica R Summilux 80mm T1.5 and Leica R Elmarit Macro 100mm T2.9.
To create a product that's truly up to the requirements of even the most discerning professional, Cinescope Optics turned to the world-renowned lens designing and engineering specialist True Lens Services (TLS). They then used all their considerable expertise to refashion the vintage products they had to work with into state-of-the-art lenses for today's digital age. The result is a cinematic look that's steeped in timeless character, partnered with a product that is really easy to work with and also bang up to date in every way.
Cinescope are reporting brisk business with these rare rehoused gems so there is a four-week waiting list. Although Cinescope Optics stresses that this timescale might be subject to fluctuations created by demand. We should be reviewing these lenses in our next issue.
COOKE S2 SPEED PANCHROS
With these lenses we are really going back in time, especially when the original designer's name was Horace. Horace W Lee designed the original Cooke Speed Panchro in the 1920s.
This was a cine prime lens that chromatically enhanced an image when filming under restricted illumination. Cooke Speed Panchros combined a relative aperture as wide as f/2.0 with an angular field of view and definition previously impossible with much smaller apertures. These lenses quickly gained a worldwide reputation for quality cinema production and they were widely used throughout the 20th century.
Cooke Speed Panchros were the standard by which other lenses were measured for much of the golden age of cinema, prominently being used in classical Hollywood cinema between the 1930s and 1960s.
Image makers love the Speed Panchros as they produce images that you can't recreate in post. Surprisingly sharp with pleasing flare and low contrast, they have the warmth of the 'Cooke Look' but with that added character of a vintage lens.
Ironies upon ironies, with the growing demand for vintage Cooke Speed Panchro lenses from the 1920s to 1960s, Cooke themselves are introducing a modern redesign of the vintage classic. Namely the Cooke Panchro/i Classic T2.2 to T3.2 prime lenses.
Cooke promise a new Panchro, that is "true to the original look of the now legendary Speed Panchro, recreates the same look and feel of the original with the advantage of modern glass mounted for today's cameras." The new lenses come equipped with /i Technology for frame by frame digital information capture.
Available soon, the new Panchro is available in these focal lengths – 18, 25, 32, 40, 50, 75, 100, 152mm from all good vintage lens stores.
KOWA CINE PROMINAR
These rare Japanese primes were known for being sharp but low contrast so no surprise that they featured on movies like Rocky and The Godfather II – not that Godfather DOP Gordon Willis needed any help in getting a low contrast and exposure look.
But if you need a shoot with bags of character then look no further than these Kowa Cines. We've heard multiple descriptions of how they look but like any lens, it's subjective. The best we can do is "They have a warm soft flare" or "they have a cool look with a warmer flare", "sharp images with a lower contrast", now we're getting somewhere.
But practically these lenses from the 1960s are small and compact, which makes them great for handheld and Steadicam use. But lets be honest, it's this low-contrast look with it's cooler colour transition that gets everyone licking their lips. We always try to avoid this non-word, but the word is that the look is 'interesting' but you have to pick them for the right project. That kind ofsums up the whole subject of using vintage lenses however.
The optical designs are closely related to Super Baltars and Cooke Speed Panchro lenses but the Cine Prominars have a light yellow single coating.
The great thing about all these vintage lenses is finding companies like True Lens Services who rehouse lenses like this for modern film sets.
Re-housing by True Lens Services turns old lenses into ones that have high-grade aluminium alloy and stainless steel housing (for a clip-on mattebox) new cam form focus drive (for smooth focus adjustments) and engraved dual focus scales (in metric scale) and standard 110mm front ring.
But hearing these rave reviews of Cine Prominars, we conclude that there is nothing else like their cooler tones, with punchy contrast and lovely large golden flares. The set includes eight focal lengths – from a sluggish T4 15mm to T2.6 100mm.
LOMO SQUARE ANAMORPHICS
These gear groups usually have a left field entry and welcome to this month's one. These Russian lenses definitely have what's called 'personality', a mixed phrase if ever I heard one. A bit like 'quirky', which for some people means leave the hell alone. But they are an experience and you can rejoice in the Russians' love of widescreen cinema.
There are square-fronted ones and round-fronted ones and you can get them converted to PL mount. But you do get some fascinating effects, very easy horizontal lens flare (sometimes greenish), ridiculously shallow depth-of-field and lots of lens breathing.
If you're looking for a lens to 'damage' your digital then this is the one; vintage definitely means vintage. Other drawbacks are a limited set and the lenses that there are include very heavy elements and obvious distortion. Matte box use is said to be difficult, too. But there is a interesting 40-240mm zoom.
The advise we get is to make sure they are serviced regularly and to beware of any which haven't been. They are known to have poor mechanics across the range.
The anamorphic look is back in fashion and if you can find a set then Lomos are a value for money way to go to avoid paying out a lot of cash for brand-new anamorphic lenses. Round fronts are physically easier to use than the earlier square fronts as they are not dual focus but are single focus. The fronts can rotate so it's advisable to use a matte box supported on bars.
The round ones are also the most advanced of the Lomo anamorphics, created just before production was stopped when the USSR collapsed. Our advice is to look for well maintained sets before you venture on eBay.
PANAVISION – PRIMO V
If you've never talked to Panavision about which lenses are right for your production, it's like a concierge service. Take the recent movie Ghost In The Shell. DOP Jess Hall was very specific as to what he needed to partner the ARRI ALEXA65 6K camera he was using. Well he thought he was until he started talking with Dan Sasaki, their VP of optical engineering. "Dan Sasaki was able to create three high-speed lenses in specific focal lengths – a 40, 50 and 75mm" said Jess Hall. "The Sphero's were the perfect complement providing what I was looking for in terms of texture." Let me emphasise that these were custom-made for the movie.
So it's clear that Panavision don't compromise on the glass, even vintage glass. Their Primo V series are specifically designed to work with high-resolution 35mm digital cameras.
Panavision's Primo V lenses are designed to bring the look and feel of Panavision Primos to digital cinematography, using the lens elements from existing Primo lenses.
This could be seen as an indictment of the downsides of digital cinematography but Panavision live in the real world where budgets don't include film. It's true to say that some digital is harsh and lacks personality – ouch! Panavision's Dan Sasaki says, "That's one reason why there's so much emphasis on glass these days. The Primo V lenses bring the smooth, organic flavour of Primo lenses to the high fidelity digital image. Our philosophy is to take what cinematographers love about the Primos, and then update them for the digital world."
Digital cameras require additional optical elements including low-pass and IR filters that increase off-axis aberrations. Primo V lenses have been re-engineered to correct for this. Primo V primes include 14.5, 17.5, 21, 27, 35, 40, 50, 75 and 100mm focal lengths.
PANAVISION –  PVINTAGE
The Panavision PVintage ultra-speeds have never been out of circulation and quite rightly have been consistently maintained for new generations of cinematographers. They were originally designed in the 1970s and Panavision's own re-engineering gave them modern external housings and smooth internal mechanical designs.
They're based on the award-winning Panavision Ultra Speed Prime lenses, but now with a superior mechanical performance while still retaining their characteristically smooth organic imagery. Strangely Panavision state that they "didn't just make these 'look like' vintage glass". I'm not even sure that makes sense. In fact, the PVintage series uses true vintage glass from actual Ultra Speed Prime lenses, rehoused in modern mechanics to be more user friendly.
The new 4.44in Primo diameter eliminates the need for adapter rings, and the bold, easy-to-read dual-side focus and aperture scales allow you to work on both sides of the camera.
Panavision Ultra Speed lenses have enjoyed continuous demand since their debut in 1976. The PVintage Series uses the best features of the original Ultra Speed lenses, re-engineered and restored to their peak performance. PVintage lenses are the same lenses top cinematographers have chosen for more than 35 years, with the enhanced mechanical performance that today's filmmakers demand.
A set of PVintage glass to rent is yours to negotiate but they will be expensive. The range goes from the PVS14 which is unsurprisingly a 14mm starter to the PVS100. All lenses are beautifully fast, the 14mm is T1.9 and the 100mm seems incredible at T1.6. The other seven lenses are PVS17, PVS24, PVS29, PVS35, PVS40, PVS50 and the PVS75.
Look online for the movies shot with them – the proof is in the credits.
ZEISS – SUPER SPEEDS
When Zeiss first introduced their first series of Super Speeds back in the 1970s they also introduced the largest aperture that the world had ever seen for cinematography use, an f/1.2 – hence the very apt name.
The second series set were all f/1.2 and directors of photography love them. Perhaps the most famous use was for the film Barry Lyndon and especially the candlelight scene. The director was Stanley Kubrick.
Apparently the lens origins go back to a NASA commission in the 1960s.
You could argue that now the Zeiss Super Speed PL Lens set are the most popular of all the vintage prime sets. They are very fast, at T1.3, for the famous low-light performance but are light and compact. They are also very sharp above T2.8 but below that they give a soft look that directors love. One of the main reasons that vintage lenses have become so popular is that they offer a great solution to the problem of modern camera sensors being too sharp – we're hearing that a lot in this gear group.
Vintage lens specialist One Stop Films describes the lenses, "These lenses have a really distinct and individual triangular bokeh with a slight vintage quality. They have a nice softness to them and a flatter contrast to the later versions. A great set of lenses for lower budget productions that want a distinctive look with a superfast aperture of T1.4.
"They are lightweight and small, and for MōVI or handheld shoots they are an absolute dream."
In 1976 DOP Michael Chapman shot a Scorsese's masterpiece, Taxi Driver on a set of Mk1 Super Speeds. You could argue that it caught the 1970s New York rawness at night. But then again, wouldn't the Canon K35s have done just the same job with their fast lenses? That's the problem with choice – there's so much of it.