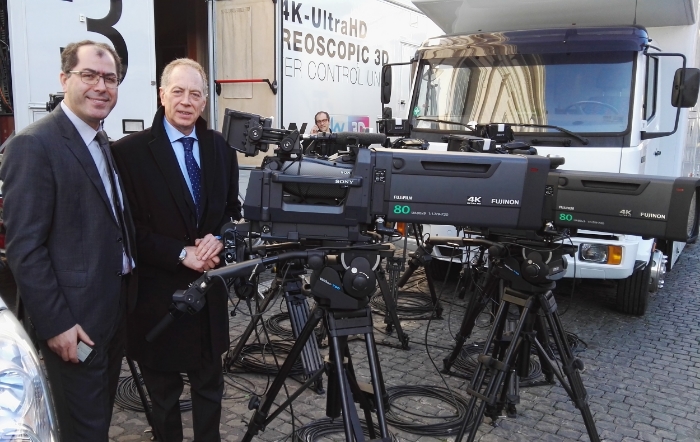 Vatican TV Carries On Their 4k Transition With Fujinon Lenses
Posted on Jan 18, 2016 by Alex Fice
The principal aim of the Vatican Television Centeris to contribute to spreading the universal message of the Gospel by using television to document the Pope's pastoral ministry and the activities of the Apostolic See. The main services offered by CTV are the following: live broadcasts, production, archiving, and daily assistance to other broadcasters. Every year CTV conducts around 130 live broadcasts of events inside the Vatican (the Angelus, the Pope's General Audience and other events or celebrations). In addition there are the live broadcasts associated with the Holy Father's trips in Italy and abroad*.
The recent opening ceremony of the "Feast of Immaculate Conception" on 8th December from the St. Peters Basilica was broadcasted live to a global audience; the ceremony was covered by eight  Sony HDC-4300 cameras carrying eight 4K UHD Fujinon lenses (3x) UA80x9 (9-1440mm) and five UA22x8 (8-352mm) lenses positioned in and around St. Peters Basilica. In addition, to seven Sony F-55 cameras with PL-mount 4K Fujinon ZK-Series lenses (range up to 300mm).
Mr. Stefano D'Agostini (Technical Director – CTV) commented: "Our target is to provide the best viewing experience to our global audience. This can only be achieved with cutting edge acquisition technology. That's why CTV selected 4K 2/3" Sony HDC-4300 cameras and 4K Fujinon UA80x9 & UA22x8 lenses which have a very high dynamic range which contributes to the desired look and image purity which is essential in 4K HDR broadcast productions.
The UA80x9 (9-1440mm) with OS-TECH (Fujinon's optical stabilisation) and UA22x8 (8-352mm) next generation 2/3-inch 4K UHD broadcast zoom lenses with 16-Bit encoders are compatible with 4K cameras. The applied EBC coating (electron beam) and "floating focus systems" which control multiple lens groups according to the shooting distance, delivering high-resolution, high dynamic range images thru the entire focal range, from close-up to infinity; enabling 4K HDR video production with a realistic visual sensation with premium picture quality.