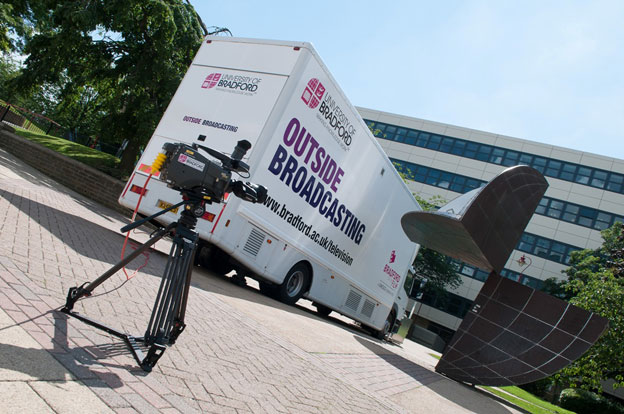 University Launches £1 Million Student Facilities
Posted on Jul 25, 2012 by Alex Fice
Bradford University's own OB truckThe University of Bradford launched its brand new £1 million broadcasting facilities this week, a new outside broadcasting truck and TV studio in the School of Computing, Informatics and Media.
The £1 million investment was officially opened by BBC Look North broadcaster and Bradford graduate, Tom Ingall.  The new facility, complete with industry standard broadcasting equipment, is one that will hopefully set the university's students apart from their competition when they graduate.
Tom Ingall conducted a live interview in the new TV studio as guests watched on. They then had the opportunity to use the equipment themselves, moving on to the outside broadcasting truck.
Dr Ian Palmer, Dean of the School of Computing, Informatics and Media, said: "The outside broadcasting truck demonstrates the University of Bradford's commitment to graduate employment. Thousands of students graduate every year in media related courses and these facilities mean that students from Bradford will be able to differentiate themselves in the competition for graduate level jobs in the sector."
David Wilson, Director, Bradford City of Film said: "Anyone would expect those graduating from a university in the UNESCO city of film would be among the highest skilled in the UK. As a graduate, experience of industry standard equipment is exactly what you need in order to stand out from the crowd, and here the University of Bradford is providing exactly that."