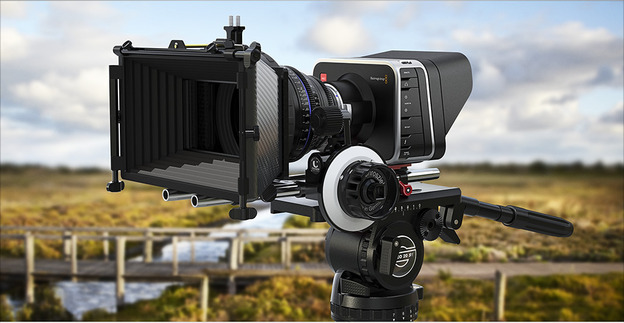 Blackmagic Design UK End User Price Is Announced For Digital Cinema Camera
Posted on Jul 26, 2012 by Alex Fice
The eagerly awaited Blackmagic Design Digital Cinema Camera will be available fully loaded in the UK for £1,925.
When Blackmagic Design releases a new product it's usually both cheaper than it's competitor and does more. Their new Digital Cinema camera isn't the result of an acquisition but was designed from the ground up and announced at this year's NAB with a dollar price of $2,995. Although Blackmagic as a manufacturer can't dictate what price the camera will have in the UK, there is a guide Sterling price of £1,925 including sun visor and power supply. All you have to find is a SSD for storage and a lens for the EF / ZF mount.
Blackmagic fully expect their resellers to put together packages that will be at higher prices than that and include SSDs and accessories but the £1,925 is an end user amount.
An example of a kit from Jigsaw for £5,999.
The camera should be available in the next few weeks and final tweaks and license agreements are going through. The licensing is one of the things that is stopping Blackmagic getting the camera out for pre-sales testing but it should be shipping in the next few weeks.
Specs for the camera are on our HD camera list HERE
PS – CVP in the UK have the camera cheaper at £1790 plus VAT, go here