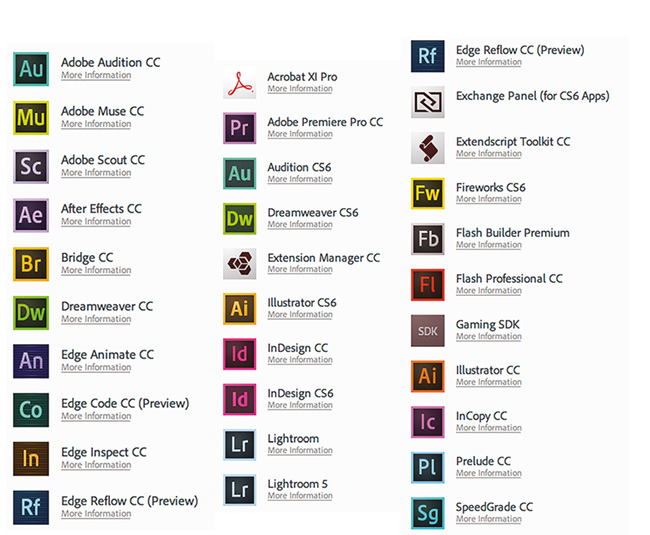 Under A Cloud Adobe Updates Video Apps On Their Cloud
Posted on Nov 6, 2013 by Alex Fice
Adobe's current roll call of Apps in their Creative Cloud.
Adobe enhancement of their 'Creative Cloud' offering continues apace. These improvements for video users comes at a time when Adobe is under huge pressure from its users to explain and possibly reimburse a number of them over the huge hacking that the site experienced a couple of months ago. Subscribers names were taken as well as encrypted credit card information and the numbers of users affected seem to be much larger than first thought. Some of Adobe's own code was also hacked.
Adobe's own forums are full of unhappy CC users looking for money back and more support internationally from Adobe. It feels like Adobe is hunkering down and hoping this all goes away in the light of free updates for some of their video apps.
Adobe is updating the video tools in Adobe Creative Cloud. With over 150 new features, this release has new capabilities for Adobe Premiere Pro CC, Adobe After Effects CC, Adobe SpeedGrade CC, Adobe Prelude CC , Adobe Media Encoder CC and Adobe Story CC Plus.
Important updates will also be added to Adobe Anywhere for video, which enables large virtual teams of talent to shoot, log, edit, share and finish video productions together. The announcement goes some way to show Adobe's commitment to providing continuous innovation for Creative Cloud members, especially after some unrest over the price per month of subscription.
Key new updates include:
• A new Direct Link Colour Pipeline between Adobe Premiere Pro CC and SpeedGrade CC provides an integrated workflow that allows users to move multi-track timelines seamlessly back and forth; open Adobe Premiere Pro CC sequences in SpeedGrade quickly; and see the results as effects in Adobe Premiere Pro CC that are managed by the Lumetri Deep Colour Engine.
• Expanded native support for UltraHD, 4K and higher resolutions, high frame rates and RAW formats, enables editors to work with footage from the hottest new high-res cameras natively – without having to wait to transcode and re-wrap files.
• The Mask Tracker in After Effects enables video professionals to create masks and apply effects that track automatically frame-by-frame throughout a composition to save countless hours of tedious work.
• Editing is streamlined in Premiere Pro CC, with improved multicam, enhanced closed captioning capabilities, new monitor overlays and audio monitoring features, enabling editors to work faster.
• Performance enhancements punctuate this release with support in Premiere Pro CC for OpenCL, providing editors with the speed and power they need for the most demanding projects; and new GPU delayering of the Cinema DNG file format for real time playback.
• A preview of the upcoming Prelude CC Live Logger iPad app, which enables users to log notes, events, and other data on their iPad while shooting, including the ability to sync with timecode on set via supported wireless timecode generators, and then sync metadata to footage via Creative Cloud for faster editing.
• Advanced colour grading with the new SpeedLooks in Speed Grade CC offers dedicated camera patches. This allows users to match the colour spaces even across different camera formats. New multiple masks and linked mask layers capabilities also enable SpeedGrade users more control over complex looks.
• New Sync Settings in Adobe Media Encoder CC let users now sync application preferences between multiple computers via Creative Cloud.
• New production planning features in Adobe Story Plus provide powerful scheduling and reporting tools for managing productions efficiently, making it easy to modify and share lists between productions and users.