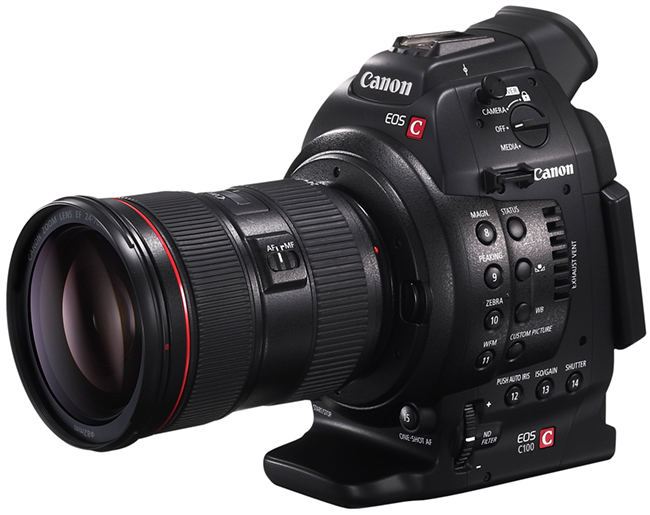 Dual Pixel Autofocus Option For Canon's EOS C100 Camcorder
Posted on Nov 6, 2013 by Alex Fice
The update for the Dual Pixel Autofocus option is a 'back to factory' paid option.
Canon's 70D DSLR has attracted many admirers in the pro field for its AF performance. In an announcement today Canon is offering the same AF performance for their C100 broadcast camcorder as a paid for upgrade. This Dual Pixel CMOS AF functionality (DAF) was designed to provide smooth, fast, high-performance continuous autofocus in large sensor video cameras.
DAF also promises greater accuracy and control of focus when shooting – a crucial factor given the shallow depth of field made possible by the combination of fast glass and a large image sensor. Continuous autofocus is supported by all Canon EF lenses, whilst the existing One-shot AF function becomes approximately twice as fast with any of the 104 supported lenses.
Upgraded performance
Dual Pixel CMOS AF is a sensor-based, phase detection Auto Focus (AF) technology designed to support video shooting, and a compatible CMOS sensor was included in the original design of the EOS C100. Following further technical development since launch, the camera can now be upgraded to offer users enhanced functionality and added value.
While the underlying Dual Pixel CMOS AF sensor technology in the EOS C100 is similar to that found in the Canon EOS 70D digital SLR, it has been adapted to fit the capabilities of the EOS C100. It has been optimised specifically for video shooting, and provides fast, natural focussing in a familiar visual style.
The upgrade is a paid-for option costing approximately £339 ex VAT, and utilises the existing Super35mm sensor in the EOS C100. It will be performed at Canon's network of Regional Competence Centres (RCC) and is expected to be available in Q1 2014.