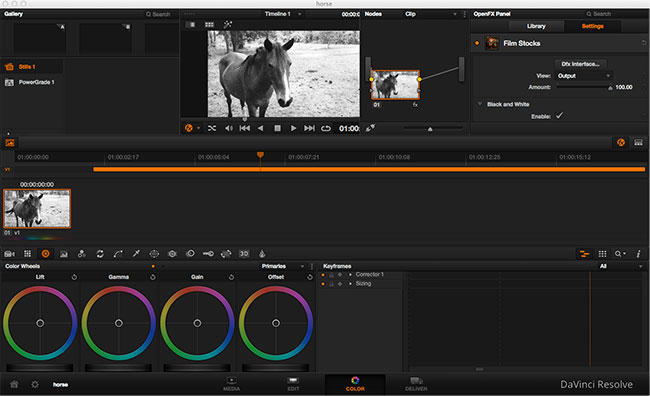 Tiffen's Dfx Now Supports DaVinci Resolve
Posted on Apr 26, 2015 by Alex Fice
Tiffen's Dfx Plug-in is now available for Blackmagic Design's Resolve colour grading platform.
The new version 4 of Tiffen's Dfx filter suite has added support for OFX, making it compatible with the Blackmagic Design DaVinci Resolve and Assimilate Scratch solutions, as well as the high-end Nuke visual effects program from The Foundry. Catherine Pantazopoulos, a senior colourist with La Couleur Poétique echoes the value the new OFX support brings to the Blackmagic Davinci Resolve environment, "For unique pictures and textures, I use a combination of DFX filters within Resolve for commercials, television series and features."
In addition to the digital intermediate system support, Tiffen Dfx 4.0 now supports Sony Vegas and Resolve Lite editing suite. The new version also expands on the filter front, adding 12 new visual effects filters, 93 new historical photographic processes, and 30 new motion picture film stocks. User experience enhancements include a speed increase thanks to GPU acceleration, floating-point precision for a non-destructive workflow, and Retina display support for Mac.
Tiffen Dfx 4 film/video plug-in is available today for 499.95 USD. One Dfx video plug-in will run in Adobe After Effects and Premiere Pro, Apple Final Cut Pro X and Apple Motion 5, and Avid Editing Systems 64 bit, if installed and activated on the same machine.
The Dfx 4 OFX Pro plug-in is now available at an introductory price of USD$999.95 (regularly USD$1499.00). One Dfx 4 OFX Pro plug-in will run in Blackmagic Design DaVinci Resolve, Assimilate SCRATCH and The Foundry's NUKE software, if installed and activated on same machine.